Looking for an apartment is horrible. But technology can help. If you're smart, you can cut through the junk and beat the competition en route to a sweet pad. If you're planning to rent in a city, your search is bound to go through good old Craigslist—especially now that its listings no longer appear on Padmapper. Here's how to navigate the chaos.


The Basics
There's no getting around it, finding an apartment is a lot of work. Get organized, use the technology at your disposal, and you'll save yourself a lot of headaches. There are a few things you should know before you start looking.
Be fast and furious: People who post attractive listings get bombarded with messages. Respond as quickly as possible to make sure you're one of the first people to see the apartment. If you like the place, push to sign a lease as quickly as possible.
Email and etiquette: Have a couple of different form letters ready to go in a text document. One that you send to realtors, another for people who are just looking for someone to live in an open room. If a listing asks you to describe yourself, don't send an epic biography. Focus on what's actually interesting about you and make sure you include three key points: Clean, quiet, gainfully employed.
Paperwork: On apartment visits, bring the following: Checks, a recommendation letter from someone reputable, an employment letter or recent paystub, and a current credit check. You'll need to get all of this information together no matter what, and showing up prepared proves that you're responsible. It also means you can sign on the spot if the place is perfect. For info on a free credit report, check out the FTC's FAQ.
Give yourself enough time: Finding the perfect place at the right price can take a while. Start looking a month or two before you move in. The place you end up taking might not be on the market until a just a couple of weeks before your move-in date, but by starting early, you'll get familiar with the market and you'll know when you've hit a winner.
Don't get scammed: Never wire money to anyone or deal with a landlord who won't meet you in person. Google your landlord to make sure they're legit. Figure out who the current or past tenants are, and make sure he's not a prick.

G/O Media may get a commission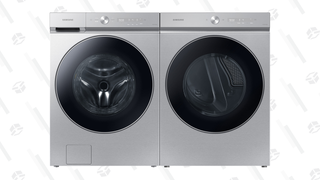 Get $500 back in credit
Last Chance: Samsung Bespoke AI Washer and Dryer Preorder
Craigslist search basics
Open up 20 browser tabs and do keyword searches on Craigslist for everything you could possibly want: Neighborhood, price range, local attractions, public transportation, pets, no broker fee, etc. Make sure to search for possible misspellings (Williamsburgh?). You'll want to save these searches and run them at least a few times a day so that you can jump on a listing when it's up (see the note on speed above).

Advanced searching
You might want to narrow the searches as much as possible if you're getting a lot of irrelevant listings. Craiglist uses boolean search operators so you can narrow down your searches. Here's how they work:
Phrases: You probably already know this, but if you search for a phrase in parentheses the search will only return listings with the exact phrase. Example: "large windows".
Filtering: This allows you to exclude terms. If you wanted to live in Manhattan but nowhere near the Giz office in NoLIta, you can use the minus sign to search "manhattan -nolita," and return all of the listings in Manhattan except those with the term "nolita" in them.
OR searches: You can perform either/or searches to look for two terms at the same time. If you're looking for a place in Williamsburg or Greenpoint, Brooklyn, search: "Williamsburg | Greenpoint". Separating the terms with a vertical line (hit shift and backslash) will display the Williamsburg and Greenpoint results in a single search.
Grouping: All of these operators can be used to create very complex searches. Don't overdo it! You'll want to cast a relatively wide net.

Saving your searches
You could theoretically bookmark all of these searches, but you don't want to open all of those browser tabs a million times a day. You are smarter than that. Here's how to pipe the information to yourself in a manageable way:
RSS: The URL for every single Craigslist page can be dropped into your favorite RSS reader so that you can collect the results into a centralized browser window or standalone program.
IFTTT recipes: "IFTTT" stands for "If this then this". The service allows you to automate actions between many popular online services. You can set up a trigger for each one of your Craigslist searches and send them to email, SMS, Twitter, Instapaper—whatever. It will run the search every 15 minutes and send you new results.

Use maps
Even without Padmapper, you can still check out the location before you visit the apartment. No use in going to see a place if you're immediately turned off by its appearance, location, neighborhood, or proximity to a slaughterhouse.
Mobile maps: Padmapper got the axe because Craigslist won't issue licenses for its content to other websites. But it does issue licences to mobile apps. There are a number of apps like CribQ that collect Craigslist data and map it for you. CribQ also allows you to send a template email to the listing's owner. Hunting for houses on your phone isn't as effective as on your computer, but if something really good comes up while you're out, it's a convenient way to look up the listing, see the location, and send off a quick response.
Streetview: Once you get the address or even the intersection, you can use Google Streetview to verify that it is indeed on a charming, leafy block and that there is in fact a house there with a large, pleasant porch.

Lock down your personal information
Email: Create a burner email account for your apartment hunt. First of all, you don't want housing email to clog up your personal inbox. Furthermore, giving away your email to a stranger who wants to find out more about you is a terrible idea. You better believe they're going to use it to go hunt you down on the far reaches of the internet. Worse, they might pop up on your Gchat at weird times.
Facebook: You should already have the privacy on your social media accounts set so that strangers can only see your most flattering details. But double-check: if your potential roommate/landlord looks you up, you don't want to share all those naughty photos—not until you've had a chance to get to get to know each other, anyway.