If you're one of those unfortunate Pre users that updated to iTunes 8.2.1 without seeing our warning, there are two options. You could either downgrade to iTunes 8.2, or use one of these alternative apps and future-proof yourself.
The problem with downloading to iTunes 8.2 from 8.2.1 is that isn't quite as straightforward as replacing the iTunes app. You have to replace some other support files. The easier way is to use one of these four options. And, you have the freedom to update iTunes to any future version without worrying about whether or not it'll mess up Pre syncing.

1) doubleTwist, by DVD Jon. [Download]

doubleTwist lets you access your iTunes Library in that you can see all the music and playlists (even smart ones) you've already established. Once you connect your Pre in USB mode, all you have to do is drag playlists or individual songs over to the Pre to have it sync. There's no library view, as in you can't drill down into artists, so you should organize your songs into playlists you want to sync inside iTunes first.
G/O Media may get a commission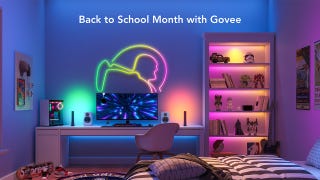 Back to School
Back to School Month with Govee Sale
The downside of this method is that there's no progress bar so you can't see how much of your sync is done. The syncing process also isn't foolproof, and froze on me mid-sync. But it does have the ability to import YouTube videos, which is kinda awesome. And, it doesn't support the actual playlist function on the Pre, so your songs are going to be in one big pile. (You can sift through Artists, Albums, and Genres, of course.)
Update: The Windows version has automatic playlist sync (screenshot here), and the Mac is getting it this fall. What I meant to say was, the playlist support doesn't work on the Pre side, not to be confused with the playlist support on the computer side. Jon of doubleTwist tells me that the Pre doesn't actually support playlists in non-iPod mode right now. Hopefully that'll come some time in the future now that the iTunes sync is becoming an issue. Thanks Jon!
Best all-around experience since this is a media-manager in itself


Doesn't support playlists, and lack of progress bar when syncing

2) Just dragging music over into the media folder

One feature of iTunes that not many people know about is its ability to just drag and drop songs from iTunes the app to any location. So if you open up iTunes to the playlist, select all the songs inside the playlist and drag it into the Pre's USB drive.
Drawback to this method is that it's still one-way sync (you can't uncheck or check a playlist to sync or de-sync easily), so you'll have to clean things up yourself after your sync. It has the same no-playlist support problem as doubleTwist
Easiest method


Bare bones: no playlist support, no song management

3) iTunes Sync on Windows [Download]

It's essentially a very simple version of doubleTwist, where you can select playlists one by one and sync them over to the Pre while it's in USB drive mode. This does have a progress meter, but it's Windows-only.
Progress meter is a plus


Windows-only

4) iTuneMyWalkman [Download]

Mac-only, but it creates a M3U playlist when you're syncing music.
There are other utilities, of course, but one of these four should be enough to get you started. If you have one that does something better than the ones here, feel free to share them in the comments.
Playlist support!


Mac-only

Update: Commenters are also recommending Mediamonkey, Missing Sync and Salling Media Sync. You can give those a try as well.