Cloud storage has transformed the way digital music collectors access their media. But with so many competing hosting services, which should you choose?
How about: All of them. Here's how to sync your music collection throughout the cloud.
iTunes
Apple's supplemented its ubiquitous media management program in 2011 with iCloud, a 20,000 track music locker. Its companion program iTunes Match, for $25 a year, matches songs from your local drive with 256kbit versions already floating in Apple's cloud. This saves you from having to spend hours uploading your entire collection. And it allows you to stream music you don't have locally saved.
However, unlike other services like Google Play or Amazon Cloud Player, iTunes (without Match) doesn't actually stream files from the iCloud. Instead, it downloads tracks individually onto the device, which conserves bandwidth at the expense of local drive space.
Google Play
If you've used iTunes exclusively in the past, syncing your existing collection between it and Google Play Music (GPM) is surprisingly easy:
Go to Google Play Music and sign up for an account.
Download and run the Google Music Manager (runs on both Mac and Windows).
Follow the on-screen instructions to scan and upload files from your iTunes library and playlists.
When prompted, allow for automatic uploads from iTunes to Google Play.
Conversely, in order to sync purchases from Google Play with iTunes, follow these steps:
Open up the GMM and choose Download
Select the "Only include songs since last download" check box
Set your iTunes library as the download location
That's it. GMM will monitor and sync iTunes without any further instruction. Use iTunes as the primary source for your music collection, then point Google Play to the iTunes folder on your local drive—it makes keeping the two competing services in step with each another a breeze.
G/O Media may get a commission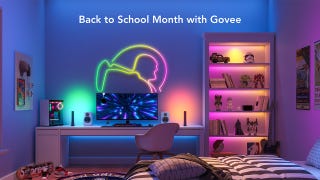 Back to School
Back to School Month with Govee Sale
Amazon Cloud Player
Syncing iTunes with Amazon Cloud Player works much the same way as iTunes/GPM, but requires a bit more work.
Go to Amazon Cloud Player and set up an account.
Amazon uses separate programs for uploading and downloading music, so you'll need to install both.
Log in to ACP, and click on the Import Your Music button in the upper left. Note—the Importer does not work with Chrome.
Follow the on-screen Importer instructions. You can either have it scan your system for songs or you can just point it directly at the iTunes folder.
Back on the ACP website, go to Settings -> Your MP3 Settings.
Set ACP to download purchases to the local drive, in addition to storing it in the cloud. Set your iTunes folder as the storage destination.
This way, whenever you buy music on Amazon, it will automatically sync with iTunes, and, if you followed the instructions above, Google Play as well. Unlike GMM, however, Amazon's player doesn't actively monitor the source folder for changes, so you'll need to re-run the Importer whenever you buy music on iTunes.
Spotify
Though Spotify leans heavily towards streaming services, it also offers playback of local files. As such, you can sync iTunes and Spotify to a degree:
Sign up for the free Spotify service and download the Spotify desktop app.
Open Spotify and select Local Files from the navigation list on the left.
Select the "from your computer" link at the top and select everything under "show tracks from these sources."
Connect your laptop and mobile device to the same WiFi network. Open both the mobile and desktop apps, and sync your files between them.
You won't be able to sync your streaming Spotify selections with the other services, but this method will allow you to effectively play music stored across all four services through a single program.