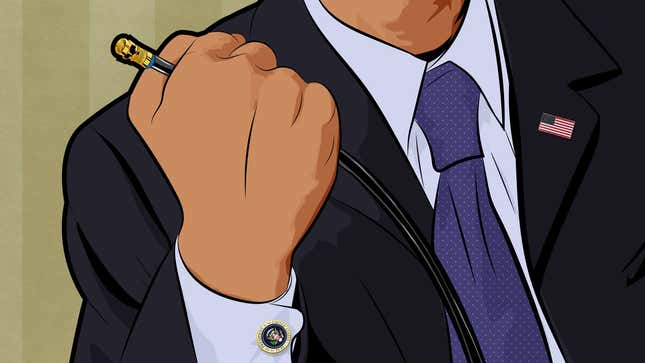 The third and final presidential debate between Donald Trump and Hillary Clinton is tonight at 9pm Eastern, 6pm Pacific, 4am Moscow time. And if you want to watch it without a cable subscription, there are plenty of options.

Boogeyman Star Sophie Thatcher Wrote Howl's Moving Castle Fan Fiction | io9 Interview
The debate is being hosted by Chris Wallace of Fox News in Las Vegas—an appropriate location for the apocalypse, as any Stephen King fan knows. The six topics of the debate have already been announced and will include discussions on immigration, the economy, debt and entitlement spending, the Supreme Court, "foreign hot spots" (whatever that means), and "fitness to be president."
Given the insanity of this election cycle, we fully expect the "fitness to be president" portion of the debate to just be a push-up contest. Tell me you wouldn't watch that. I'd watch that. I'd watch the hell out of that.
Whether it's on YouTube, Twitter, virtual reality, or just an old fashioned browser, you can pick your poison below.
The number of livestreams to choose from is an embarrassment of riches, which is quite a transformation from the days when cordcutters couldn't even watch a presidential debate live. Like those strange and backward days of August of 2015. Remember that era? Look at that stage! It was so big! We were such dorks back then.
YouTube
There are plenty of options for watching the debate on YouTube:
Twitter
Twitter is livestreaming Bloomberg TV's coverage of the second debate at debates.twitter.com.
Facebook
AltspaceVR - Virtual Reality
Much like the first two debates, AltspaceVR has partnered with NBC News for a virtual reality presentation of the debate. If you own a Samsung Gear VR, HTC Vive, or Oculus Rift, you can go to AltspaceVR to watch the debate "with people from around the world" if that's your kind of thing.
Websites
Most of the major news outlets will also have livestreams on their homepages. There's Reuters, CNN, Fox News, MSNBC, CBS News, ABC News, NBC News, C-SPAN, and plenty of others.
---
If you have a cable subscription, but prefer to watch on devices like your tablet or phone, you also have that option. We at Gizmodo call these the "half-cord" options. All of these methods require a cable subscription to login to the major cable networks.
CNN Half-Cord
Fox News Half-Cord
Again, we fully expect there to be plenty of fireworks, since this election season has been nothing but fireworks.
Seriously, can you even remember the scandals of last month? Last week? Yesterday? Probably not. Because when every single moment of your life is filled with fireworks you stop ooh'ing and ahh'ing at the colors and light. At some point those explosions just become the incessant background noise of a pageant that you'd like to stop.
Here's to you and yours, and don't forget to turn off your devices now and then for a mental health break. We still have three more weeks of political explosions. And we all have to try our best to get through it with our minds intact.