You think resetting your router or calling the cable company when your Internet goes out is a pain in the ass? When the network sputtered at Aquarius undersea research base, Dominic Landucci had to dive down with a spool burial-grade cat-5 cable and punch it through the side of the lab without flooding the entire habitat.
As Aquarius' geek-in-residence, Dominic Landucci has a lot of toys. He's got a diver location system that works off acoustic modems. And a coffee table sized ROV that he can deploy from underwater and pilot from anywhere in the world. That baby's courtesy of NASA.
When Landucci showed up to the Aquarius research base in 2004, it needed a little help. The "best practices" for a "live video stream" was a janky system that FTPed a JPG every second to a server. It was not as advanced as befitted an undersea base that, itself, is straight out of science fiction. Dominic has spent the last 8 years changing that.
Since then, he's set up Aquarius with a bonafide modern network: There's wi-fi and Ethernet within the habitat, which connects to the outside world via a gigabit link with the life support buoy 60 feet above. From there, two dishes establish a point to point link with the HQ, 10 miles away. The dishes are aimed in a 60-degree spread to account for the rocking of the buoy. Strangely enough, Landucci says, "The connection is at its fastest when there are 4-6 foot seas, not when the water is flat." The connection runs at 155mbps but is upgradeable to 300.
What do you need that much speed for? Live HD video streams, all the time.
Landucci has a mixing board and access to cameras inside and outside of the base. Last night, I saw him mix a live stream of the video from a red epic camera in an underwater housing and the helmet audio from an aquanaut mid dive, with an interviewer on land—all into UStream. It was the most astounding live broadcast I'd ever seen—like National Geographic meeting the nightly news meeting a TED talk meeting YouTube.
G/O Media may get a commission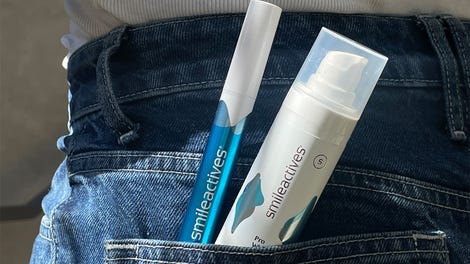 58% off
Whitening Powerhouse Pen & Gel Duo
But the most important contribution the Internet connection makes to the habitat is that the Watch Desk no longer has to be on the water; it used to be on a barge over the base. Now, the link is so good that Aquanauts can trust it with their lives.
Yeah, this man knows how to run the technology in Aquarius Reef Base. But this Saturday is his last day at work, after the end of this mission. The funding cuts that are shutting down the base are already coming into effect.
Don't worry about Landucci: He already has a new job lined up—he's talented and detail oriented and passionate and has a serious résumé. But he also knows that Aquarius Reef Base is important, which is why he's stayed here so long.
---


Mission Aquarius is our week-long trip to the world's last remaining undersea habitat: Aquarius Reef Base.


Brian Lam is an ocean exploration journalist and the editor of The Scuttlefish and The Wirecutter. He is a Gizmodo alum and a Wired Magazine contributor. Videos provided by One World One Ocean, a campaign dedicated to telling the story of the ocean through multimedia.