AMD says their Fusion Accelerated Processing Unit is "Sandy Bridge done right," which combines a CPU and discrete ATI graphics on the same die, allowing more efficient processing, increased battery life and improved graphics performance. Now it's in 11 new HP laptops.
Six of HP's consumer laptops (the dv4, dv6, dv7, g4, g6 and g7) and five of their enterprise notebooks (ProBook 4535s, 4435s, 4436s, 6465b and 6565b) now have the new processor, which promises 6-8 hours of real-life battery usage, and enhanced graphical superpowers when it comes to things like HD flash video and games. The dv series in particular claims a 2x leap in graphics performance compared to previous models.
According to HP, there are Windows apps that will take advantage of the APU right away, and didn't exactly disagree with the suggestion that Windows 8 would take greater advantage of this architecture. On the APU, processor speeds range between 2.3 and 2.5 GHz, while the ATI Radeon graphics range between 1.6 and 2.1 GHz.
G/O Media may get a commission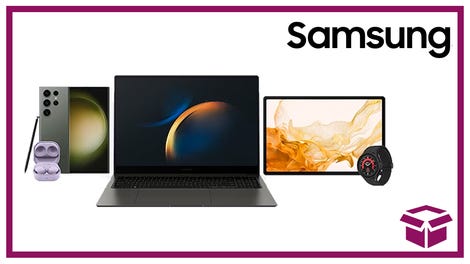 24 hour deals
Discover Samsung - Daily Deal
Aside from the fancy new APUs, HP didn't change much from their last generation of laptops. The dv series will cost between $600 and $700, the g series between $500 and $600, and the ProBook line between $500 and $700. All will be available this summer.
HP Introduces New Notebook Portfolio Powered by AMD

PALO ALTO, Calif., June 14, 2011 – HP today expanded its consumer and business notebook portfolios with 11 new models utilizing AMD's latest VISION Technology for exceptional performance at an affordable price.
Powered by AMD's A-series Accelerated Processing Units (APUs) that combine leading-edge CPU cores and powerful discrete-graphics onto a single die of silicon, HP's new notebooks offer solutions for consumers, small and midsize businesses (SMBs) and large corporations.

- The HP Pavilion dv-series (Pavilion dv4, dv6 and dv7) provides the ultimate entertainment notebook experience and is equipped with innovative features such as HP CoolSense, HP True Vision HD webcam and HP BeatsTM Audio (Pavilion metal dv6 and dv7). The dv-series also offers more than two times the graphics performance compared with previous-generation integrated graphics.

- The HP Pavilion g-series (Pavilion g4, g6 and g7) balances productivity with efficiency for ideal everyday performance. The addition of AMD technology provides rapid page loads, which can enable programs such as Internet Explorer 9(1) to run even faster.

- The HP ProBook b-series (HP ProBook 6465b and ProBook 6565b), featuring AMD VISION Pro technology, offers enhanced security and increased performance, while sporting an attractive new tungsten- colored design with a bead-blasted aluminum display enclosure and smudge- and wear-resistant HP DuraFinish.

- The HP ProBook s-series (ProBook 4535s, 4435s and 4436s) combines a durable brushed-aluminum finish in a metallic gray color in addition to a touchpad with gesture support and an integrated high-definition webcam.

―HP is dedicated to providing customers a choice when it comes to notebook computing,‖ said Ted Clark, senior vice president and general

As the worldwide leader in notebook sales, HP continues to develop customizable, reliable and affordable PCs with innovative designs suited for on-the-go consumers to corporate road warriors.
Powered by AMD Fusion APUs, the HP Pavilion dv- and g-series builds upon HP's MUSE consumer notebook design philosophy, while the HP ProBook b- and s-series furthers the company's FORGE business notebook design framework.

AMD solutions for long-term value and performance

The new notebooks offer AMD A-series APUs, designed to deliver increased processing speed and visual performance with longer battery life.(3) For consumers, HP Pavilion dv- and g-series notebooks offer optional dual graphics, balancing performance with power needs by switching between single- and dual-graphics modes. AMD Image Enhance with AMD Perfect Picture HD also automatically adjusts for dynamic color and contrast, making skin tones appear realistic and video smoother and more vivid.
Business productivity is also improved with AMD VISION Pro Technology and discrete-class AMD Radeon Dual Graphics on the ProBook s- series and UMA graphics on the ProBook b-series, enabling optimal multitasking for video-conferencing, web browsing and graphics-intensive applications. Additionally, AMD Turbo Core Technology balances performance and battery life for more efficient computing, while AMD AllDayTM Power allows for extended notebook runtime.

―HP and AMD's relationship continues to evolve as we collaboratively make strides to benefit customers through outstanding technology innovation and improved performance,‖ said Leslie Sobon, corporate vice president of worldwide marketing at AMD. ―AMD Fusion APUs offer the perfect mix of power, performance and brilliant graphics to enable the next generation of digital experiences, while VISION Technology from AMD simplifies the PC purchasing experience.

Pricing and availability Pricing and availability varies. Not all models are available in all regions.

-The HP Pavilion dv6 starts at $599.99 and the Pavilion dv7 starts at$699.99. The Pavilion dv6 and dv7 are expected to be available in July.

- The HP Pavilion g4 starts at $449.99, the Pavilion g6 starts at $498 and the Pavilion g7 starts at $499. The HP Pavilion g-series is expected to be available in July.

- The HP ProBook b-series starts at $679. The HP ProBook b-series is expected to be available on June 27.

- The HP ProBook s-series starts at $519.