It's been leaked on more than adult diapers, and now the HTC One mini (all lowercase, because it's so small, see?) is real. The idea is that it's a smaller, cheaper version of the our current favorite phone, the HTC One. But to accomplish such shrinkification and encheapenment, sacrifices must be made. Let's take a look.
Let's start with the obvious: The mini isn't really that mini. The screen size drops from 4.7-inches to 4.3-inches. The body goes from 5.41 x 2.69 x 0.37 inches on the One, down to 5.20 x 2.50 x 0.36 inches on the One mini. The weight drops from 5.04 ounces to 4.30 ounces. Are these noticeable changes? Yes. Are they major changes? Not really. That said, we were able to reach the top, bottom, and far corners of the screen on the One mini without having to adjust the phone in our palm at all, which isn't something we can say for the original One. It's definitely something a person with smaller hands would appreciate.
G/O Media may get a commission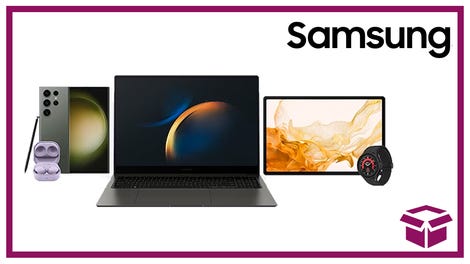 24 hour deals
Discover Samsung - Daily Deal
The build quality is almost identical, and that's a very good thing. It has that same, satisfying, solid feeling to it, with the curved aluminum back (available in black or silver). There's just no give to it. It also has the same stereo BoomSound speakers on the front and it was plenty loud and very clear. The screen drops from a 1080p Super LCD 3 to a 720p Super LCD 2, but it still has a more than adequate 341 pixels per inch (the One has 468PPI, though that's arguably overkill). It was nice and bright, colors looked good, and it was plenty sharp for reading small text.
The lower resolution screen may ultimately be for the good, because the processor has been downgraded as well. We're looking at a dual-core 1.4GHz Snapdragon 400 processor (down from the quad-core 1.7GHz Snapdragon 600 on the One). It also dropped from 2GB of RAM to just 1GB. But because the phone doesn't have as many pixels to push around, it felt just as snappy as its big brother. You'll probably notice the lack of power when loading up HD games, but for day-to-day stuff it's very speedy (see video).
The camera is basically the same F/2.0 4MP "UltraPixel" camera that murders low-light situations for the HTC One. The only difference is on the mini there is no optical image stabilization like the One has, so you'll need a steadier hand. The battery also falls from 2,300 mAh to 1,800 mAh, which is a significant drop, but perhaps the smaller screen and slower processor will balance it out. Maybe. It will come running Android 4.2.2 (which is kind of funny since the U.S. HTC One is currently still on 4.1. Thanks, carriers...) with HTC's Sense skin on top.
The One mini will be launching "internationally" in August and in the U.S. shortly thereafter. (When did the U.S. stop being included in "international"? Actually, don't answer that.) Pricing and carriers have not be announced but we were told it would probably be about $100. Wait, uhh, guys? That's how much Sprint and T-Mobile charge for the HTC One right now! The mini had better be cheaper than that, otherwise the only people who should buy this phone are people who reeeeeally need that 0.4-inches smaller screen despite the other disadvantages.
Other than that stuff, it's basically the same phone. 16GB of built-in memory (not expandable), LTE, NFC (Update: Nope. We were originally told it did, but that's not the case), and all that jazz. Overall, we liked it. It was very comfortable to use and it's just a little bit bigger than an iPhone 5. Would we change to it from an HTC One? No. But our small-handed friends could certainly do much worse.