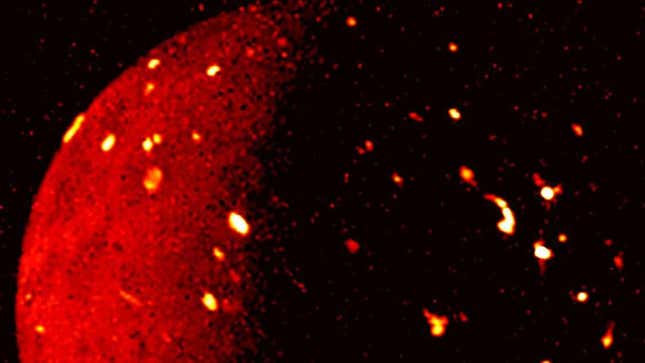 Jupiter's orbit is swarming with nearly 100 moons, but none are as hardcore as the volcanic world Io. That's why it's going to take an iconic collaboration to truly probe the odd satellite in order to unravel its many mysteries.
Webb Telescope Images the Pillars of Creation
The Southwest Research Institute (SwRI) will use the Hubble and James Webb telescopes to simultaneously observe Io from a distance as the Juno spacecraft swings by Jupiter's moon for a series of flybys over the next year.
"The timing of this project is critical," Kurt Retherford, principal investigator of the campaign at SwRI, said in a statement. "The combination of Juno's intensive in situ measurements with our remote-sensing observations will undoubtedly advance our understanding of Io's role in driving coupled phenomena in the Jupiter system."
Io is the most volcanically active body in the Solar System, with hundreds of volcanoes and lakes of molten silicate lava on its surface. The moon is wedged between Jupiter's immense gravitational force, as well as the gravitational tug of its sister moons Europa and Ganymede. As a result, the moon is constantly being stretched and squeezed, which contributes to its volcanic activity.
As the innermost of Jupiter's large moons, Io is the main source of most of the charged particles in the planet's magnetosphere, creating a donut-shaped cloud of ions and electrons that surround Jupiter. The cloud, known as Io Plasma Torus, is formed when atmospheric gases escaping from Io are ionized.
"We hope to gain new insights into Io's dramatic volcanism, plasma-moon interactions and the neutral gas and plasma populations that propagate through Jupiter's vast magnetosphere and trigger intense Jovian auroral emissions," Retherford said.
NASA's Juno spacecraft, which has been studying the Jovian system since 2016, observed Io during previous flybys in May and July. The next time Juno approaches the volcanic world will be on December 30, as well as February 1, 2024, and then again on September 20, 2024. During those upcoming flybys, scientists will have the opportunity to gather data provided by Juno combined with remote observations by Hubble and Webb.
 For more spaceflight in your life, follow us on Twitter and bookmark Gizmodo's dedicated Spaceflight page.