There are lots of annoying telltales of a blowhard, but none quite so insufferable as Hublot's Big Bang Meca-10 P2P watch. It costs an absurd $25,000, but even if you have all those Benjamins in your bank account, you're out of luck—this is a watch that can only be bought with cold, hard Bitcoin.
For $25,000 or whatever the equivalent is in Bitcoin, one might think you'd get a lot of hot tech features to justify the cost. After all, the Apple Watch Series 4 is what I thought to be a whopping $500—just two percent of the Hublot Meca-whatever—but at least it can make phone calls, take an ECG, and tell me if I've got atrial fibrillation. But no. For 25 grand, what Hublot delivers is essentially a time-challenged Bitcoin fanboy's wet dream.
First, there's only going to be 210 of these obscenities made—a reference to the fact that there can only be 21 million Bitcoin in existence. Sure. Also, each will be emblazoned with the Bitcoin transaction number used to buy it. Just in case while you're on your yacht in Bali with your other ludicrously rich buddies, you take off your Meca-10 P2P and a hilarious watch mixup ensues. It lasts for 10 days before you have rewind it, because it's Bitcoin's 10th birthday. And to cap off this premium design, the calf-and-rubber band will be hideously embossed with the word "Blockchain." Because for 25 grand, I want a strap made of leather and RUBBER.
And that's it. That's literally it. No smart capabilities. Of course, that's not what the $25K price tag is buying you. To be clear, Hublot is primarily a luxury Swiss watch brand, and if you look at its other offerings, the cost climbs even higher. And Hublot's not the only luxury brand out there—Rolex, TAG Heuer, Audemars Piguet, just to name a few. Watches have historically been a status symbol. What this nightmare Bitcoin watch is supposed to do is let everyone else know that you're tech savvy, and have a lot of money. Which brings me to my main beef with the Meca-10 P2P: It's a lame way for rich people to signal their tech cred.
Walk down the street in San Francisco and you'll find tons of techies in hoodies sporting Apple Watches with spiffy bands. And while it's more common to spot smartwatches on the NYC subway these days, it still says "Oh hey, I have a smartphone AND enough moolah to shell out for a smartwatch." But there's nothing about the Meca-10 that says anything about your tech prowess. An Apple Watch is recognizable from a distance. This... will just look like an expensive watch.
G/O Media may get a commission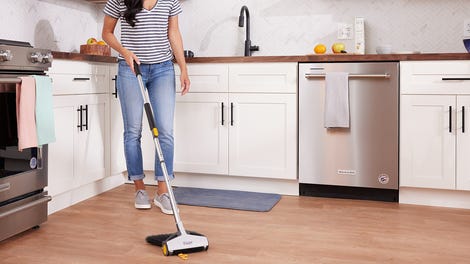 BOGO 50% Off
Flippr - BOGO 50% Off
And really, if you're not telling the world how technologically with-it you are, what's the point of the Meca-10 over any other luxury watch? It doesn't do anything. I'm not going to see you looking at it and ask you what it is. Even the soon-to-be defunct $10,000 Apple Watch Edition could get you push notifications. A $150 Fitbit Charge 3 can go with you into the pool, track your metrics, and tell you if you got a good night of sleep. The $330 Samsung Galaxy Watch has a cool rotating bezel, alerts me when I need to chill the fuck out, and survived me tumbling down a hill while mountain biking.
Actually, I made a short list of things you can buy for $25,000:
A 3-bed, 2-bath house in Manassas, Virginia

2.5 Apple Watch Editions or 50 Apple Watch Series 4

166 Fitbit Charge 3, 125 Fitbit Versa or 92 Fitbit Ionic

71 to 75 Samsung Galaxy Watches depending on which size you get

20 Macbook Airs

27 Surface Pro 6

26 iRobot Roomba i7+ robot vacuums

1 wedding, based on the average cost in the U.S. in 2017

6.7 two-week trips to Japan

1-3 years of college tuition at one of these 25 universities

...and for me, 20 months of rent in my 2-bedroom Brooklyn apartment.

Lastly, even if you have an absurd amount of Bitcoin to spare, buying the Hublot Meca-10 seems a skosh shady. To preorder it, you have to go through OS Limited (OSL), a Hong Kong-based "digital asset" brokerage firm. And they want a lot of information just so you can own one of these monstrous, not-that-smart eyesores. Like, a self-portrait of you holding a photo ID or passport. A copy of your actual passport. Proof of address like utility bills and bank statements from the past three months. And you have a check a tiny little box that allows Hublot and OSL to use your information that you've uploaded onto their surely, very secure website. Isn't that… sort of counter to the whole ethos of cryptocurrency?
Seriously, this is why we can't have nice things. But if there is one positive from this blatant abuse of luxury, it's this: With a glance at a rich tech bro's wrist, the rest of us peasants will be able to identify the world's 210 most obnoxious tryhards.