You might not know what alumina is—neither did I. But hundreds of Hungarians do, after torrents of the stuff poured out of a plant and through their villages, prompting the country to declare a state of emergency. UPDATED
Waves of red toxic muck, gushing from a giant reservoir used by a bauxite refinery—which produces alumina that's later processed into ordinary aluminum—have already killed four people and injured 120 with serious chemical burns. Owners of the plant have brushed their hands of the toxic disaster, saying that not only were there no signs of an impending spill (sounds familiar!) but that the substance isn't classified as toxic by EU standards, and that 98% of the sludge never leaked. That two percent though, has proven to be far from trivial—estimated at 184,920,000 gallons of corrosive mud—enough to cover entire fields, fill houses, and drench residents. "My bathtub is full of this sludge ... when the dam burst, it made a terrible noise. I was in my yard, and I had to run up the steps to the porch but the water was rising faster than I could run," said one victim. [Reuters]
Photo by REUTERS/Bernadett Szabo
UPDATE: Thank you to our Hungarian readers for provided further, even more disturbing imagery of the spill, including local news footage, and a photo gallery better documenting the devastation.
G/O Media may get a commission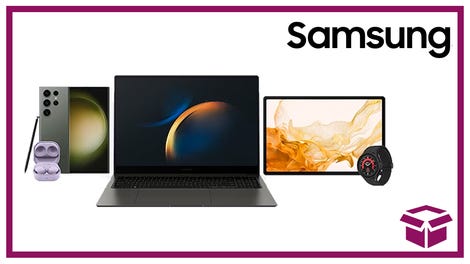 24 hour deals
Discover Samsung - Daily Deal
UPDATE II: Hungarian reader Máté wrote to me with the following:
I live appr. 20 miles from the sight of catastrophe, and my girlfriend works in the Emergency unit of the closest city (Veszprem). She has been called in by the hospital yesterday and today as well due to the situation, and according to her, there were appr. 60 people injured, however the number of victiims may rise, as the search groups could not find everyone reported as missing. She was told, that because of the possibility of a second dam collapse, she will have to stay alert all week, and may be called in 24/7.
Unfortunately, she had seen some of the victims, it has been pretty disturbing, as you may imagine injuries of chemical burn. Most people so far were transferred to hospital in the capital ( Budapest ) which is not very far away. The current number of victims are 4 -confirmed by the correspondent of the Ambulance- the last being a 3 months old. What is strange, is that at least some of the people are not evacuated, but prohibited from leaving the area.
If you're a Hungarian giz reader and have any further information or firsthand accounts, please contact me at sbiddle@gizmodo.com