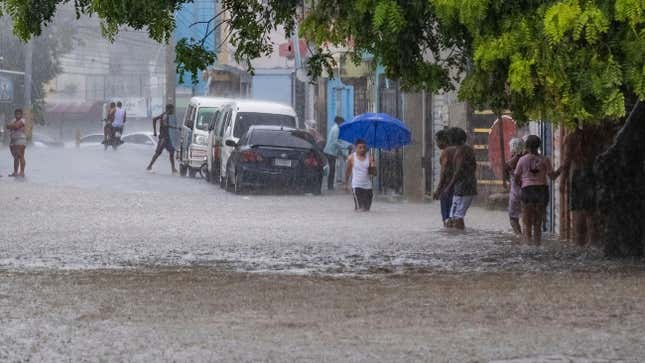 The Atlantic hurricane season is in full swing as two storms, one in the Gulf and one on the Atlantic coast, have recently intensified, according to the National Weather Service (NWS).

Hurricanes and Climate | Extreme Earth
Tropical Storm Idalia is currently off the western coast of Cuba and is forecast to continue gaining strength today. The storm currently has sustained winds of about 65 miles per hour, and national forecasters predict that the storm will bring heavy rain and flash flooding to Cuba.
"Areas of flash and urban flooding, some of which may be locally significant, are expected across portions of the west coast of Florida, the Florida Panhandle, and southern Georgia Tuesday into Wednesday," the NWS' storm alert said.
Further out into the Atlantic, Hurricane Franklin has intensified into a category 4 storm, and a tropical storm watch has been issued for Bermuda, according to the NWS forecast. The hurricane currently has sustained winds of over 100 miles per hour and even stronger gusts of wind. "Life-threatening surf and rip currents are occurring along the east coast of the United States," the National Hurricane Center tweeted.
The storm is expected to begin gradually weakening on Tuesday while Idalia moves towards the U.S. east coast.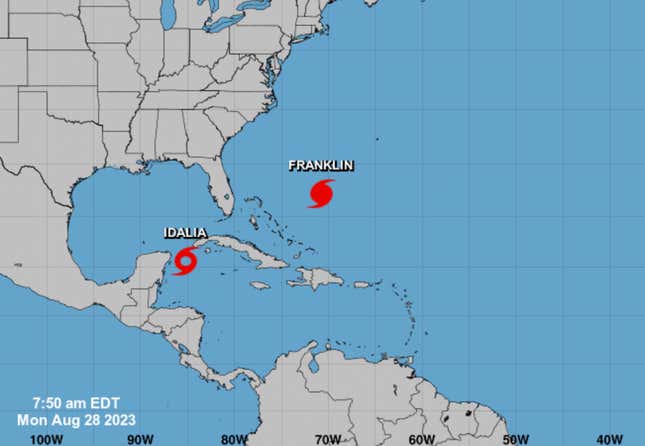 Florida Governor Ron DeSantis declared a state of emergency this Saturday for most of the state's Gulf coast in anticipation of tropical storm Idalia as it moves northward towards the state.
"The Governor and the Florida Division of Emergency Management are taking timely precautions to ensure Florida's communities, infrastructure and resources are prepared, including those communities that are still recovering following Hurricane Ian," an online statement said. The recent declaration covers the Gulf coast from Fort Myers and north through Panama City. More than thirty of the state's counties are currently part of the emergency declaration.
The arrival of both storms is a sign that the Atlantic hurricane season is now in full swing. Hurricane season begins in early June and runs until late November, but it doesn't reach its peak until early fall. NOAA has had to change its original forecast for this year's hurricane season. This May, the agency forecast a near-normal hurricane season with anywhere from 12 to 17 named storms. But as of this month, the updated forecast anticipates that the season will see 14 to 21 named storms.
There are a number of conditions that determine hurricane season forecasts, including if it is an El Niño or a La Niña year. But this year's forecast was updated after alarmingly high ocean temperatures were recorded this year.
Want more climate and environment stories? Check out Earther's guides to decarbonizing your home, divesting from fossil fuels, packing a disaster go bag, and overcoming climate dread. And don't miss our coverage of the latest IPCC climate report, the future of carbon dioxide removal, and the un-greenwashed facts on bioplastics and plastic recycling.