I know they've been ridiculed. I know some people think they're ew. Thing is, I don't believe in judging things on blind emotion. I believe in data. So I recruited two of my friends and their partners, all of whom have a really good sense of humor, to test some female condoms for me.
Why should we care? Advocates for the device say that it gives women more options for contraception and disease prevention, but they don't answer the burning question that pops in our minds – what's it like?
I was in charge of getting the condoms. This was not as easy as it sounds. I checked all of my local drugstores, then the pharmacies at my local Target and Walmart. All of them had a veritable wall of male prophylactics in different styles and colors. None of them had the female version in stock. When I checked online, I found that I could get a package by mail from either Walgreens or drugstore.com for $6, but the shipping costs were brutal — they nearly doubled the price. (To be fair, if I'd bought some toothpaste or conditioner to get over the $25 minimum order, shipping would have been free.)
I finally found a package of FC2 female condoms at a local adult specialty shop. And frankly, the fact that there was this much of a barrier of availability and cost just to get some into my hands, especially in a town with a prominent women's college, has got to be one reason why they're not a more popular choice.
G/O Media may get a commission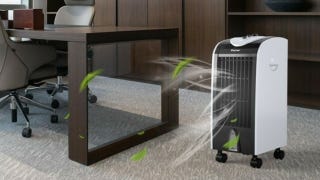 Save $10
Evaporative Portable Air Conditioner Cooler with Filter Knob
But anyway. I stuffed condoms into plain brown envelopes with their instructions for use, and got them to my volunteers. Here's what my crack testing team thought about them.
A Page of Instructions?
The FC2 comes with a page of densely-printed instructions explaining how to use it. The print is very small, which can pose a bit of a problem.
I needed reading glasses to read the instructions - clearly these things are intended for young'uns.
The instructions are really detailed, and cover opening the package (rub the outside of the pouch to spread the lube inside evenly), inserting the condom (make sure it's not twisted), and things to be careful about during its use (make sure you guide the penis into it rather than letting it slip off to one side). Everyone agreed these are probably a good idea for a device when people aren't terribly familiar with its use.
I Felt Totally Ridiculous, But It Worked
One of the selling points of the female condom is supposed to be that a woman can insert it hours before any sexual activity. You can certainly insert it in advance, but both my testers thought it would be far too awkward to spend the day walking around with one.
It felt a bit like walking around with a balloon stuck between my legs. Not painful, just awkward and always aware it was there. I had a hard time forgetting about it.
If I had put it in well in advance, I think I'd be worried about it getting dislodged or I'd just be distracted by it.
And in action? The female condom felt pretty much like... a regular condom.
It definitely lessened sensation for both of us.
We've used regular condoms before, and didn't notice any difference with the female condom during intercourse. Its spread over the vulva makes oral sex a little tricky, but we worked that out.
Final Judgement?
Overall, both testers said that the female condom performed its job perfectly well: insertion was far easier than they'd expected, and they had no problems using it or removing it. But neither of them could see any obvious advantage over a male condom.
I'm not sure what the benefit would be over regular condoms. Perhaps if the man really hated to use condoms, but this isn't much of an improvement there. Or if he refused to use a condom, but then no one should be having sex with him.
---
Contact the author at diane@io9.com.