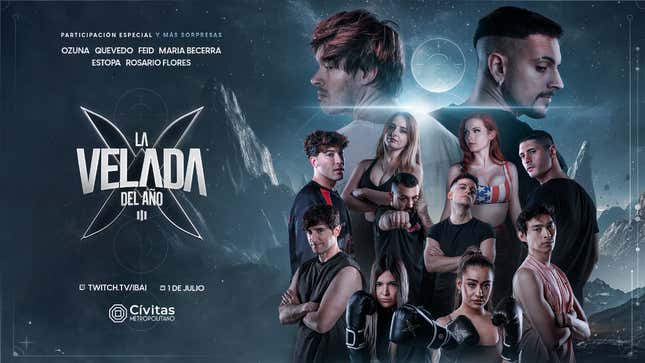 Spanish Twitch streamer Ibai Llanos started the countdown for La Velada del Año III, his yearly streamer vs. streamer boxing match slash summer concert, on Thursday night—selling out all the tickets for the event just an hour after they went on sale online.
How Does Gerard Pique's New Twitch Indoor Soccer League Work?
Llanos revealed the musical lineup for the Velada, which translates to "The Night of the Year III" in English, and opened ticket sales in a livestream on Thursday. Flanked by Kosmos president and ex-soccer player Gerard Piqué, whose company backs the streamer's whacky events and sponsors his esports team, Llanos announced that some of the world's hottest Spanish-speakng artists would perform at the match, including Ozuna, Quevedo, and Feid.
Llanos' two-hour stream was watched by an average of 230,000 people, according to streaming data provider Streams Charts. At one point, 301,819 people tuned in to watch the stream and more than 100,000 waited in a virtual line to buy tickets. In addition, the insane demand temporarily crashed the ticket website during the stream.
"We've sold out an event with 60,000 tickets in one hour," Llanos tweeted shortly before midnight on Thursday. "This is absolutely crazy. We'll try to meet your expectations.
As far as streamers go, the event will face off 12 of the biggest Spanish-speaking streamers in Spain and Latin America, such as Ampeter, PapiGavi, Rivers, Luzu, and Fernanfloo. One of the event's most anticipated fights is between U.S. streamer Amouranth, the first English-speaking streamer to participate in one of Llanos' boxing events, and Spanish streamer Mayichi. On Thursday, Amouranth was banned from Twitch for the first time since 2021, although the reasons behind the ban are currently unknown.
La Velada del Año is Llanos' signature Twitch event. It holds the world record for most simultaneous viewerson Twitch, raking in 3.3 million viewers last year.
La Velada del Año III will be held on July 1 in Madrid, Spain.