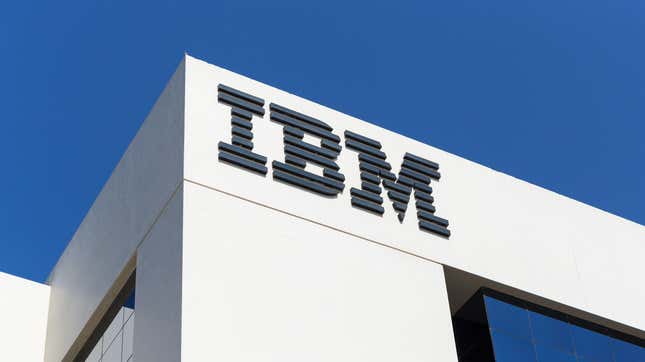 I have no mouth and I must scream—the AI workforce appears to be full steam ahead. IBM CEO Arvind Krishna said that the company is planning to pause or slow hiring in the coming years for roles in which AI could replace humans.

Maybe AI-Written Scripts are a Bad Idea?
Krishna spilled the beans to Bloomberg in an interview, explaining that the slowdown or freeze in hiring would effect back-office positions and departments such as HR. Krishna told the outlet that these non-customer facing positions makeup around 26,000 positions in IBM's workforce, and he said "I could easily see 30% of that getting replaced by AI and automation over a five-year period." That's in the ballpark of 7,800 human jobs that Krishna is interested in automating, and Bloomberg reports that IBM is still hiring customer-facing and software development roles.
"There is no blanket hiring 'pause' in place," Tim Davidson, IBM communications officer, told Gizmodo in an email. "IBM is being deliberate and thoughtful in our hiring with a focus on revenue-generating roles, and we're being very selective when filling jobs that don't directly touch our clients or technology. We are actively hiring for thousands of positions right now."
Still, Krishna's comments and decision to automate points to just how disposable the workforce can be to executives and companies. Prior to this decision, IBM announced layoffs in January that would effect 3,900 positions—or roughly 1.5% of the company's staff at that time. But IBM is not alone in bringing AI into a company's workflow. Walmart has reportedly been using an AI chatbot to negotiate prices with supplies for backend materials like shopping carts, and 75% of suppliers have apparently told the company that they prefer to negotiate with a machine instead of a human.
What companies like IBM are willfully ignoring is that AI could serve a supplement to labor by making menial tasks easier or even non-existent, thereby optimizing the performance of both that artificial intelligence and the human worker. New research from Stanford University and Massachusetts Institute of Technology has found that 14% of employees that used ChatGPT in their workflow saw an increase in productivity—with the least experienced and least skilled workers completing tasks 35% faster.

Want to know more about AI, chatbots, and the future of machine learning? Check out our full coverage of artificial intelligence, or browse our guides to The Best Free AI Art Generators, The Best ChatGPT Alternatives, and Everything We Know About OpenAI's ChatGPT.
Update May 2 10:55 a.m. EST: This article was updated to include comment from IBM.