There are reports Syfy is working on a sequel to 1999 shark film Deep Blue Sea, only without any of the original cast. For that reason alone, they shouldn't bother. Deep Blue Sea's legacy, which stretches past other shark flicks like Open Water, The Shallows, or even Sharknado, is thanks to one man: LL Cool J.

Deep Blue Sea is one of my favorite "so bad it's good" movies, right up there with The Room, Birdemic, and just about any Stephen King made-for-TV film. And please spare me the "secretly brilliant" argument, Deep Blue Sea is genuinely awful. It's about an underwater facility that's conducting secret experiments to find a cure for Alzheimer's disease. Their brilliant plan is to genetically enlarge sharks' brains to produce more tissue, only it made them smarter and more dangerous.
It's a survival horror that features a talking parrot, a runaway gurney, and probably one of the most legendary shark deaths of all time.
But, the real reason the movie has lasting power isn't because of epic shark deaths, although that was a major part. It's because it was atypical. The movie didn't end with the white guy and girl making out as the rescue team arrives. In fact, lead researcher Susan McAlester, who'd beaten all the odds to survive (including stripping out of her wetsuit to keep herself safe while electrocuting a shark), gets eaten right before the end credits.
That means, the so-called "Final Girl" in this horror flick ended up being Preacher, a male cook who was supposed to kick the bucket. And the only reason Preacher survived is because of how awesome LL Cool J was.
Preacher was supposed to die soon after the sharks started attacking the facility. That's one of the reasons why Jackson reportedly rejected the part, because (ironically) he wanted something bigger. But, in a 1999 interview, director Renny Harlin said LL Cool J was so great to work with, they rewrote part of the film to justify keeping him around. That's why, for a good portion of the movie, Preacher is wandering around by himself (except for his talking parrot).
According to Harlin, LL Cool J performed many of his own stunts, and was a team player throughout the entire shoot.
G/O Media may get a commission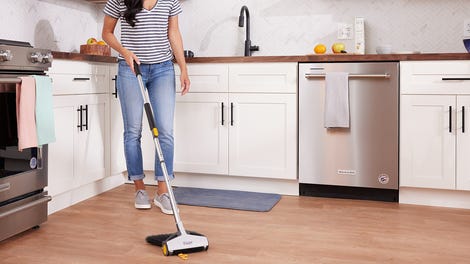 BOGO 50% Off
Flippr - BOGO 50% Off
"LL [Cool J] was pretty great. He had some very uncomfortable situations because he really has to come face to face with the sharks a lot and even ends up in the shark's mouth at the end of the film, but he was always game," Harlin said in 1999. "He was really determined to show that he was not a rap artist who wanted to do little movies but he's a real actor who wants to do something really powerful and interesting."
It feels especially poetic when you consider that the movie was supposed to have that "white guy and girl" ending, with McAlester and Carter Blake being the main two people left. They even filmed an ending with McAlester surviving, but test audiences felt she deserved to die because her experiments killed everyone she loved, so they redid it to kill her off. That's the beauty of Deep Blue Sea: One actor was so good they changed the movie to keep him around, and the Final Girl ended up being too evil to live.
We contacted Syfy and it's not commenting on the possibility of a Deep Blue Sea sequel, but I say it's (LL) Cool J or No Thanks. He represents everything that made Deep Blue Sea a surprise classic, and you can't make lightning strike twice. There's no one else in the world whose hat is like a shark's fin.