Are you one of the four people who owns a Sony phone in the United States? Well get excited because you could be owed up to $300. That's thanks to a new settlement that will see Sony paying owners of Xperia phones due to some less than accurate advertising. One of the reasons Sony phones have remained pretty cool (even while being very difficult to find in the US) is they are, generally speaking, really resistant to water. That's why we got all those Sony commercials that showed people taking underwater photos with their Xperia phones. It seemed pretty fantastic, but it stopped being fun when allegedly water resistant Sony phones started dying.
The problem was with the ads, which promised more than the devices could actually deliver. Take the Xperia Z1 for example. It featured an IP-58 rating for water resistance. That means the phone was only certified to resist strong water jets and temporary immersion (like a quick drop in a toilet), not full photo shoots in pools and rivers. But a quick drop in the water isn't as sexy as models diving into the water, Sony phones clutched in their hands, and Sony continued to make the poor choice of calling its phones waterproof in commercials.
So what happened? Sony got hit with a class action lawsuit alleging that the company's so-called "waterproof" phones weren't actually capable of withstanding normal underwater use. And now, instead of letting the lawsuit continue on forever, Sony has reached a settlement that could see owners of affected Sony phones rewarded with up to 50 percent of the device's MSRP. Depending on the phone and where you got it, that could be as much as $300.
The lawsuit covers 24 Xperia devices including the Xperia Z1 and going all the way up to the Xperia Z5, with a few Xperia and Aqua tablets included as well. (To see a full breakdown of affected devices, check the list below).
If you are an owner of a device named in the lawsuit, you can find more about how to actually make a claim by going here. Additionally, even if you choose not to make a claim, owners of these devices should know that phones and tablets with an active warranty have been automatically extended by 12 months, while devices out-of-warranty get an extra six months of coverage tacked on to the end of the original warranty.
G/O Media may get a commission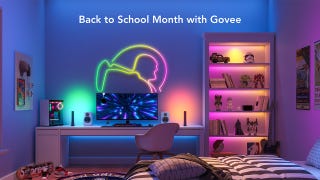 Back to School
Back to School Month with Govee Sale
The Sony devices included in the settlement are:
Xperia M2 Aqua

Xperia M4 Aqua

Xperia ZR

Xperia Z Ultra

Xperia Z1

Xperia Z1 Compact

Xperia Z1s (T-Mobile)

Xperia Z2

Xperia Z3

Xperia Z3 Compact

Xperia Z3 (T-Mobile)

Xperia Z3v (Verizon)

Xperia Z3 Dual

Xperia Z3+ Dual

Xperia Z3+

Xperia Z5

Xperia Z5 Compact

Xperia Z2 Tablet (WiFi)

Xperia Z2 Tablet (LTE)

Xperia Z2 Tablet (Verizon LTE)

Xperia Z3 Tablet Compact (WiFi)

Xperia Z3 Tablet Compact (LTE)

Xperia Z4 Tablet (WiFi)

Xperia Z4 Tablet (LTE)