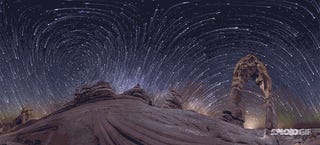 I'm ashamed to admit that I didn't know about The Sagan Series—an ongoing series of educational videos featuring Carl Sagan's voice created by Reid Gower—until today, when I watched The Frontier Is Everywhere. The combination of his words, his voice, and the imagery gave me the chills. Highly recommended.
You can watch the complete series here. You can also follow The Sagan Series on Facebook.
Top: GIF from a 360-degree time-lapse by Vincent Brady.
---
SPLOID is a new blog about awesome stuff. Join us on Facebook