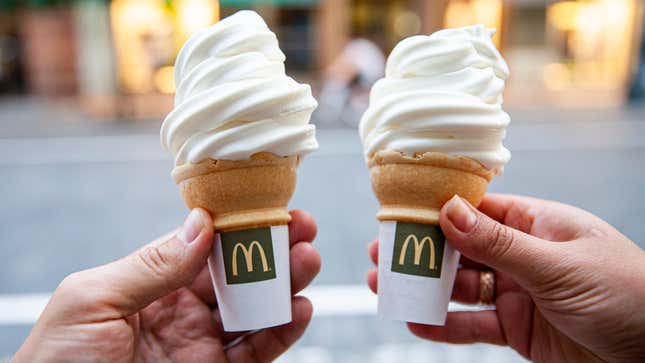 McDonald's busted ice cream machines have long been a meme across cyberspace, but iFixit wants to put an end to it. The popular how-to tech website is appealing to Congress after applying to circumvent a copyright law that prevents the average Joe from fixing the problem.
Taylor Lorenz Talks "Extremely Online"
iFixit posted a video to YouTube today that gets inside the Taylor C709—an ice cream machine that is nearly identical to the kind McDonald's uses—to demonstrate the barrage of errors and four-hour-long heat cycle that can cripple the machine's performance. Taylor and McDonald's entered an agreement that would only allow Taylor to fix the machines when they were downed. When a third-party company called Kytch developed a piece of tech to decode the seemingly nonsensical error messages spat out by the machine, McDonald's told all franchise owners not to use the device—Kytch promptly sued.
In a bid to put pressure on McDonald's and the U.S. government, the website says that they can develop a device like the Kytch that could translate the machine's error codes into a more readable format. Except that would be illegal, according to iFixit's right-to-repair expert Elizabeth Chamberlain, who cites the Digital Millenium Copyright Act, which has shafted consumers of faulty tech products like John Deere tractors. Chamberlain announced that they have applied for an exemption to circumvent the DMCA while also asking Congress to amend the law so the company can distribute its tool to the masses.
McDonald's did not immediately return Gizmodo's request for comment.
While McDonald's broken ice cream machines are merely an inconvenience for some, they're indicative of a larger problem in the United States. The right-to-repair movement seeks to reign in tech company monopolies on the repair of their products by allowing third parties to develop relevant repair equipment or by getting the company itself to release instructions or tools to the public. Currently, only a handful of states have passed right-to-repair laws but the movement has gained momentum in recent years