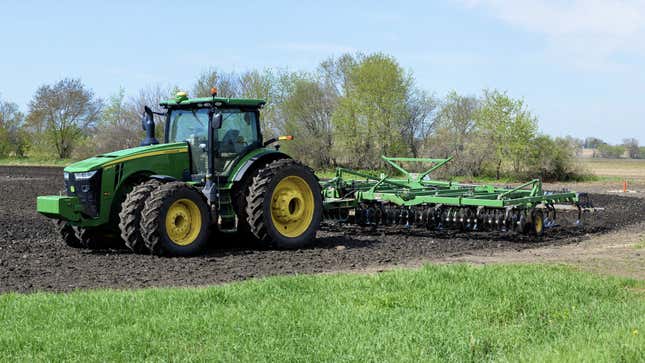 A battle for progressive tech has been waged on America's farmlands, and on Sunday it came to a head. United States farmers using John Deere equipment have the right to repair after the American Farm Bureau Federation and John Deere signed a Memorandum of Understanding.

John Deere Owners Rejoice... Kinda
The six-page long memorandum specifically requires John Deere to provide farmers and independent repair facilities with access to the company's tools, software, and documentation to make repairs to John Deere equipment. The document also defines that equipment as the usual tractor, combine, or other harvesting equipment, but also expands the definition to include "other off-road vehicles primarily designed for use in an agricultural operation."
"[The memorandum] ensures that our farmers can repair their equipment and have access to the diagnostic tools and product guides so that they can find the problems and find solutions for them," said American Farm Bureau Federation president Zippy Duvall. "And this is the beginning of a process that we think is going to be real healthy for our farmers and for the company because what it does is it sets up an opportunity for our farmers to really work with John Deere on a personal basis."
The American Farm Bureau Federation, meanwhile, has made a commitment to John Deere that encourages its state organizations to enact statewide right-to-repair legislation with commitments beyond those outlined in the present memorandum. While the memorandum could be a huge win for farmers who have long been frustrated with John Deere's siloing of repair opportunities, some analysts are wary that the bill will break that much ground.
"Through our research and advocacy, we've made it abundantly clear that farmers don't have everything they need to fix their own tractors, and that they are frustrated that they don't have the repair choices that they deserve," said Kevin O'Reilly in a statement. O'Reilly is the Right to Repair Campaign Director for the Public Interest Research Groups. He continued:

This could be a significant step forward. If Deere truly provides farmers and independent mechanics with the same repair materials that its dealers have, then we would shout our praise from the rooftops. But the [Memorandum of Understanding] contains limited enforcement mechanisms and the best aspects of this agreement could get lost in the legalese.
Right to repair is a broad issue that seeks to reign in tech company monopolies on the repair of their products. Currently only two states—New York and Colorado—have active right-to-repair laws, the latter of which is hyper-specific and only relates to powered wheelchairs. While the agreement between the Federation and John Deere is far from a law, it does offer a framework that other industries can follow to hold companies with products they rely on accountable.
John Deere Owners Rejoice... Kinda
John Deere Owners Rejoice... Kinda