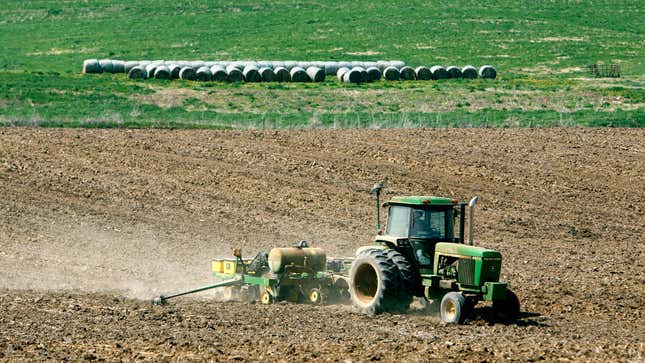 There's plenty of names that probably come to mind when one thinks of satellite operators, but odds are a tractor company isn't at the top of that list. John Deere wants to change that.
John Deere Owners Rejoice... Kinda
The 186-year-old U.S.-based agricultural giant first revealed its interest in exploring satellite tech late last year but now says it's finalizing an agreement with an industry partner to make that interest a reality. In a recent interview with CNBC, John Deere CTO Jahmy Hindman said that partnership could help the company achieve its goal of one day creating a geospatial map farmers can use to monitor and track their crops.
"We really have been focused on trying to solve connectivity, globally," Hindman told CNBC. "We look at the burgeoning efforts that are happening in low Earth orbit satellites as an example—potentially—for us to start to solve some those connectivity issues."
Why satellites?
Some current John Deere models already rely on rudimentary satellite tech, but the company imagines a near future where tractors, both traditional and autonomous, can communicate with orbiting satellites, beaming them real-time information and communication. John Deere believes this flood of new data could help farmers increase productivity, which in turn could yield increased food production.
"We believe SATCOM will unlock significant opportunities in agriculture by enabling farmers to take advantage of innovative technologies that rely on real-time information and communication," Lane Arthur, John Deere's VP of Data, Applications and Analytics said in a statement.
The agricultural company's interest in satellite tech could come at precisely the right time. A record number of satellites have entered Earth's orbit in recent years— a that trend that's only expected to continue. Space focused market intelligence firm Euroconsult estimates over 2,500 additional satellites will launch each year until 2031.
John Deere did not immediately respond to Gizmodo's request for comment.
Though they don't often dominate headlines, John Deere and some of its agricultural competitors have spent years integrating sensors, AI, and other tech into their products. Last year, for example, John Deere revealed a fully autonomous GPS-guided 8R farm tractor that could start shipping this year. Prior to that, the company partnered with Volocopter to create a flying crop dusting drone. In 2023, high-end tractors arguably look more like robots or computers than their early 20th century predecessors.
John Deere says this embrace of evolving technologies could drive down costs for farmers and help them meet rising global demand for food, which they estimate will increase by 50% globally in the next 10 years. Heightened valuations and investments awarded to firms billed as "technology" companies surely doesn't hurt either. Both of those rationals contributed to John Deere spending big in recent years to acquire numerous agricultural tech startups.
"This comes from our realization that technology is going to drive value creation and increase productivity, profitability and sustainability for farmers," Jorge Heraud, John Deere's vice president of automation and autonomy said in an interview with CNBC.
That focus on technology, however, means John Deere increasingly has to address issues once associated with tech firms like cybersecurity, privacy regulations, and right to repair disputes. No small thing.
Correction, 1/17/2022. 11:15 A.M: A previous version of this story referred to Jahmy Hindman as John Deere's CEO. Hindman serves as the company's CTO.