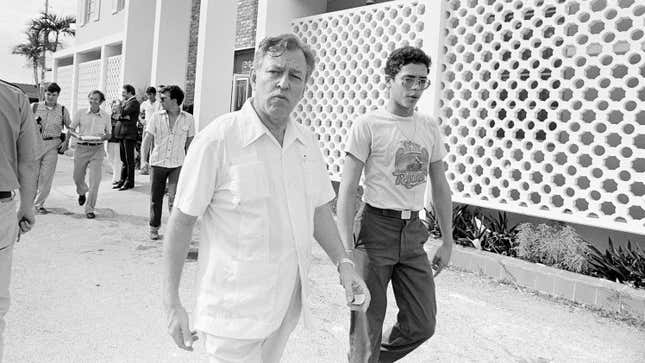 On October 25, 1979, students at a Miami military academy experienced a frightening outbreak of sudden mass hysteria that began in a science class and spread throughout the school. A newspaper article published the next day used a single-word headline to mull the cause: "DEMONS?" Demons? Probably not.
Oscar Issac on How Hope Plays into Leo's Arc
But what else could have caused students and teachers to run through the hallways screaming about spirits and being possessed? To smash windows and rip a door off its hinges?
As Psychology Today reports:
Outbreaks of mystery illness are more common than we think - often a physical culprit is discovered, but psychological stress and anxiety are sometimes the cause. Epidemics of hysteria have been recorded as far back as the Middle-Ages and continue to strike today. Most often, the outbreaks afflict children and teenagers, girls more than boys, and fainting and hyperventilation are the most common symptoms. Occasionally the illness persists for days; but usually, once the afflicted crowd disperses, symptoms tend to disappear, probably because they are only contagious when new victims observe others falling ill. Rumors about the cause of these outbreaks tend to spring up throughout the communities.
Some of the 10th graders at Miami's Aerospace Academy (whose "mystery illness" was clearly of a particularly vigorous strain) had been having an unusual lesson that pre-Halloween day, on hypnotism and the supernatural. The class apparently included a demonstration of hypnotism. As the "DEMONS?" article, which appeared in the Evening Independent, reported, events unfolded "like a domino effect" when one kid after another fainted in class.
It didn't take long before "people were yelling and screaming that they were possessed," according to an entry on the incident in the book Outbreak! The Encyclopedia of Extraordinary Social Behavior. Fire official Dan LaMay reported seeing students "flaking out all over the place" and "screaming about Bloody Mary."
Here's more about the general phenomenon from Psychology Today:
When we face uncertainty, our minds crave explanations. If we have no way to account for symptoms, we feel out of control and our fear escalates. And, if we learn that our own minds may have caused these very real symptoms, we tend to feel more anxiety about what our minds might do next. People may worry that their brains are possessed by some outside spirit, or perhaps a poltergeist has taken charge of their willpower.
Fortunately, none of the school's 300 students were seriously hurt. And the school's president and founder, Evaristo Marina (a colorful character who students called "El General"), had a more cynical explanation for the outbreak, suggesting that it had something to do with his City Council campaign (years later, he ran unsuccessfully for mayor of Miami). "Somebody put the kids up to it," he told a reporter. "One week before the election and everybody is out to get me.
As a follow-up note: This wasn't the last time Aerospace Academy received negative publicity. In 1985, a UPI story noted that the school was under fire for a much more serious reason:
The Miami Aerospace Academy, beleagured by a widening sex scandal, is unlicensed, unaccredited and virtually unregulated because it is a private, non-profit school, education officials said.

Four cadets at the Little Havana military school were arrested on charges of sexually assaulting younger boys. A 17-year-old girl attending the school has said she became pregnant by another cadet who forced his way into her dormitory room at night.

None of the school`s teachers or employees have been implicated in the allegations of sexual abuse, which owner Evaristo Marina maintains are untrue.
In addition to a later rape charge against a cadet (this time, the victim was just five years old), there were also concerns about the living conditions at the school, as well as financial problems, according to the Miami New Times. In 1989, "mired in scandal," the school closed its doors for good, although according to Marina, "[state investigators] could never prove anything."
Update March 6, 2:40 pm: This case is getting new attention thanks to a new documentary streaming on Discovery+ titled The Devil's Academy. Learn more about the show here.
---
Want more io9 news? Check out when to expect the latest Marvel, Star Wars, and Star Trek releases, what's next for the DC Universe on film and TV, and everything you need to know about the future of Doctor Who.