Though Stan Lee has been largely missing from the public eye in the months since his wife's death last summer, troubling reports have been surfacing about his well-being. Now the 95-year-old is speaking out through a new video in which he threatens legal action against those reporting on his life.
The Marvel mainstay came down with pneumonia in February and so his frequent convention appearances were understandably cut back. During this time, multiple reports emerged detailing how hundreds of thousands of dollars, and literal blood, were allegedly stolen from him. In a video sent to TMZ this week that's copyrighted to Keya Morgan (Lee's handler, who is currently in control of all of his communications), Lee says he's prepared to take legal action against any and all media outlets that have reported on the claims that he's being taken advantage of:
"Hithis is Stan Lee and I'm calling on behalf of myself and my friend Keya Morgan. Now, you people have been publishing the most hateful, harmful material about me and about my friend Keya and some others. Material which is totally incorrect, totally based on slander, totally the type of thing that I'm going to sue your ass off when I get a chance.

You have been accusing me and my friends of doing things that are so unrealistic and unbelievable that I don't know what to say. It's as though you suddenly have a personal vendetta against me and against the people I work with. Well I want you to know I'm going to spend every penny I have to put a stop to this and to make you sorry that you've suddenly gone on a one man campaign against somebody with no proof, no evidence, no anything but you've decided that people were mistreating me and therefore you are going to publish those articles.

I'm going to get the best and most expensive lawyers I can and I want you to know if you don't stop these articles and publish retractions, I am going to sue your ass off."
While Lee speaks clearly in the video, it doesn't at all answer the questions being raised in the wake of reports that Morgan, Jerry Olivarez (a former business partner of Lee and his daughter J.C.), and J.C.'s lawyer Kirk Schenck have all been working to keep Lee isolated. Back in February of this year, Lee signed a document notarized with his former lawyer Tom Lallas stating that he believes Olivarez, Morgan, and Schenck to be people with "bad intentions" who'd insinuated themselves into his family's life in order to gain control of his wealth.
Olivarez being named in the document was particularly notable because of his involvement in Hands of Respect, a for-profit novelty pin business that J.C. claims has yet to result in any profit to Lee's estate despite the fact that sales have been made. Hands of Respect is listed as one of the organizations behind the business that was attempting to sell comics signed with ink containing Lee's blood, allegedly stolen from him using forged medical documents that allowed a nurse to take multiple vials of blood from him.
G/O Media may get a commission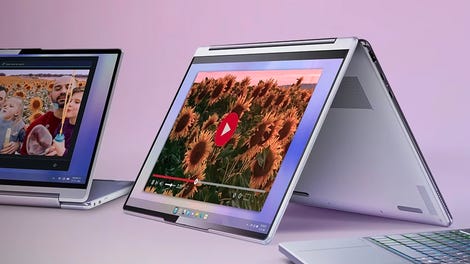 up to 70% off
Lenovo Spring Clearance
While it's good to see Lee energetic and speaking again, the video's almost more unsettling than the radio silence.