Oh, and did we mention that the U.S. brought giant robots with them? And that this was written by Saga's Brian K. Vaughn? We Stand On Guard leads the charge of all the coolest new comics starting this week, but it's not all there is: Barb Wire makes her return! Space Knights! Grant Morrison madness! And more!
Dark Horse
Single Issues
Barb Wire #1 - The most badass bounty hunter in Steel Harbor returns for new contracts and new adventures. Written By: Chris Warner Artists: Pat Olliffe, Tom Nguyen
DC Comics
Trade Paperbacks
Batman: Arkham Origins - A young Batman finds himself going up against Penguin and Black Mask one Christmas in this retelling of the video game. Written By: Adam Beechen & Various Artists: Christian Duce & Various
G/O Media may get a commission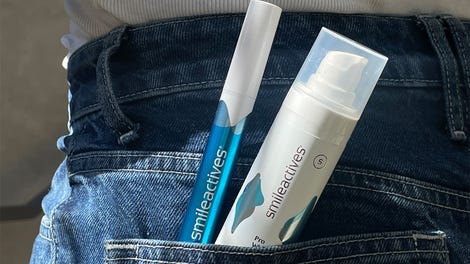 58% off
Whitening Powerhouse Pen & Gel Duo
Collections
Absolute Y The Last Man Volume One - Brian K. Vaughn's seminal series about the last man left alive after a virus targeting beings with the Y chromosome rages across Earth is collected once again. Written By: Brian K. Vaughan Artists: Pia Guerra & Various
IDW
Single Issues
Onyx #1 - A cyborg knight falls to Earth—but is she there to save it, or destroy it? Written By: Chris Ryall Artist: Gabriel Rodriguez
Trade Paperbacks
Monster Motors - Vic Frankenstein does automotive battle with a legion of monsters that have transformed themselves into cars. Written By: Brian Lynch Artist: Nick Roche
Transformers: Drift - Empire of Stone - After leaving the Autobots, Drift continues on a one-man-mission to clean up the Galaxy, until a former friend shows up asking for him to come home. Written By: Shane McCarthy Artist: Guido Guidi
Image
Single Issues
8House Arclight #1 - When a Blood House woman finds herself trapped in an alien body, an imposter claiming to be her wreaks havoc in her Kingdom. Written By: Brandon Graham Artist: Marian Churchland
Athena IX - In this one-shot comic, Athena IX learns a harsh lesson after years of manipulation and subversion. Written By: Ryan Cady Artist: Phillip Sevy
We Stand On Guard - 100 years in the future, a brave band of Canadian freedom fighters decides to fight back against the Mechanised armies of a U.S. invasion of their country. Written By: Brian K. Vaughan Artist: Steve Skroce
Trade Paperbacks
The Autumnlands: Tooth and Claw - In a besieged city, a group of Wizards come together to summon a legendary hero to save them—but they don't find the hero they quite expected. Written By: Kurt Busiek Artist: Ben Dewey
Marvel
Single Issues
Red Skull #1 - The Red Skull is dead. Or he should be. But when news of his legendary villainy grows in the battleworld, a team of villains bands together to seek out their origins. Written By: Joshua Williams Artist: Luca Pizzari
Trade Paperbacks
SHIELD: Perfect Bullets - Phil Coulson, Melinda May, Leo Fitz and Gemma Simmons go on adventures protecting the world through the power of SHIELD. Written By: Mark Waid Artists: Various
Star Wars Legends: The Old Republic - Collecting tales from Dark Horse's run of Star Wars comics, this latest saga follows the story of Zayne Carrick, a Jedi Padawan thousands of years in the past who uncovers a sinister conspiracy involving the Jedi Council.Written By: John Jackson Miller Artists: Various
Collections
The Black Vortex - The Guardians of the Galaxy and the X-Men make an unlikely alliance to stop Mr. Knife from using an artifact that could destroy the entire universe with its power. Written By: Various Artists: Various
Others
Single Issues
Bob's Burgers #1 (D.E.) - The seminal cartoon series following the tribulations of the Belcher family make their way to an ongoing comic series.. Written By: Brian Hall & Various Artists: Frank Forte & Various
Grant Morrison's 18 Days #1 (Graphic India PTE) - A dark fantasy world where three generations of super-warriors do battle to decided the end of the age of Gods. Written By: Grant Morrison Artist: Jeevan Kang
The Spire #1 (Boom!) - A nonhuman Commander of the Spire's City Watch has to solve a series of gruesome murders as a non-human-hating ruler is sworn in, making matters worse. Written By: Simon Spurrier, Jeff Stokely Artist: André May
Will Eisner's The Spirit #1 (D.E.) - Eisner's classic pulp hero returns in a new series as his friends and associates try to piece together the mystery surrounding his apparent death. Written By: Matt Wagner Artist: Dan Schkade
Graphic Novels And Collections
Graphic Novels
Damocles: Body Guards (Cinebook) - In a future where socioeconomic divides have sparked a mysterious spate of kidnappings, Ellie Braxton, a security specialist, finds herself up against tough competition on a contract to protect the child of a British industry magnate. Written By: Joel Callede Artist: Alain Henriet
Nox (Space Goat Productions) - A normal roadtrip turns strange when two friends discover a portal to a weird, dark world. Written By:Shon C. Bury Artists: Allan Goldman, Ed Wayek
Collections
Eternal Warrior: Days of Steel (Valiant) - The Eternal Warrior must defend a young infant who's destiny could change the fate of the world from thousands of Magyar warriors who want it dead. Written By: Peter Milligan Artist: Cary Nord
---
Want to see what else is out this week? You can see the full list here - and find out where your nearest Comic Book Store is here!