Welcome back to Cult Movie Worship! Sorry about the short hiatus! But we've got all types of goodies for you this week, including the trailer for [REC 3]: GENESIS, a short about vampires fighting angels, and a Portuguese superhero!
[REC 3]: GENESIS
We loved [REC] (and its later American copy Quarantine) but hot damn if the trailer for [REC 3]: GENESIS isn't bloody brilliant. Hell, we checked twice to make sure we pulled up the right video, but wait for it, 'cause it gets pretty fantastic.
This addition to the [REC] saga promises to explain where the horrible virus started from, here's the full synopsis:
It's new, it's different, it's the reinvention of the saga! What you've all been waiting for! The virus has left the building… Run, flee and don't look back. With this latest film, director Paco Plaza is pumping new blood into the [REC] franchise.
The third chapter of the saga will have spectators back on the edge of their seats with more action and more humour that will take us back to the essence of the first film: true to life characters and scenarios that the audience can't help but relate to. The happiest day of your life.
G/O Media may get a commission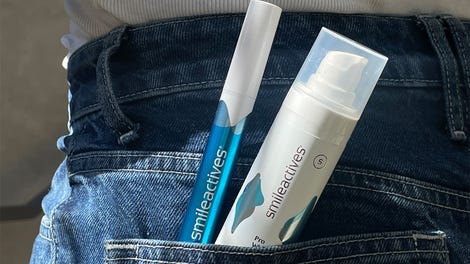 58% off
Whitening Powerhouse Pen & Gel Duo
Bloodtraffick
Finally! A trailer for the long-awaited vampires versus angels short Bloodtraffick. We've been drawn to this 11-minute short every since we started seeing stills of a young woman wandering through an angel-wing trophy room. So which one is a vampire and which one is an angel? For show times check out the website — the next screening is at the San Diego Asian Film Festival.
In a world torn by a war between vampires and angels, a human vigilante on the hunt for her missing sisters is lured into the den of a vampire.
[via Bloodtraffick]
Capitão Falcão
Behold, your next campy hero, Capitão Falcão. Channeling a whole lotta' Batman and a bit of Buck Rogers, this Portuguese hero is kicking all sorts of amazing Communist ass. Did you see the Communist Mummy and the bit of Kung Fu references thrown in there? At the very least Joao Leitao's superhero creation should be a bit of fun.
[Capitão Falcão via Twitch Film]
Monstrosity
Based on the short Unpleasantville, Colton Tran has made a movie about the monster and human world colliding. Also, that Jack O'Lantern has a camera, your argument is invalid.
[via Quiet Earth]
Friends: Naki of Monster Island
Takashi Yamazaki's child-friendly feature is like Monsters Inc., only the monsters are awesome vikings and the baby isn't wearing a lot of clothes. It's adorable.
[via Twitch]