It's an incredibly quiet week in new comics... almost too quiet. Such a sinister environ is perfect for the release of Wild's End: The Enemy Within, the follow-up to the fantastic tale of 1930s anthropomorphic animals holding off an alien invasion (or so they thought!). Let's dig in and check out whats new in comics this week, shall we?
Dark Horse
Single Issues
Power Cubed #1 - A young teenager discovers a technological device that can create anything he wants, but soon finds himself caught between a Nazi scientist intent on using it to rule the world, and a government agent who wants to use it to fight back against an alien invasion of Earth. Written By: Aaron Lopresti Artist: Aaron Lopresti
Collections

The New Deal - A bellhop and maid at the Waldorf Astoria get wrapped up in mysterious thrillers, navigating the social structure of 1930s America to uncover the truth. Written By: Jonathan Case Artist: Jonathan Case

G/O Media may get a commission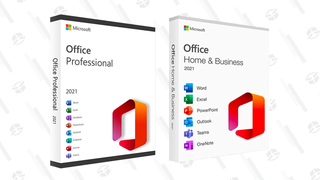 89% off
Microsoft Office Professional 2021 Lifetime License
DC Comics
Collections
Joker: Endgame - Gotham City is overrun by Jokerized victims, and the Joker himself is prowling the streets. Even as Batman confronts the Clown Prince of Crime, ordinary citizens and Arkham inmates must confront the mark the Joker has left on the city and themselves.. Written By: James Tynion IV & Various Artists: Kelley Jones & Various
IDW
Trade Paperbacks
Orphan Black Volume One - New mysteries and adventures for Sarah and the Clone Club unravel in this collected miniseries based on the hit BBC America show. Written By: John Fawcett, Jody Houser and Graeme Manson Artists: Szymon Kudranski, Cat Staggs, Alan Quah and Wayne Nichols.
Amelia Cole and the Impossible Fate - The Council has banished Amelia to the Magic World and Hector to the World of Science, leaving Lemmy and the remains of Omega Company fighting to survive in the war-torn Blended World that sites between them. Written By: Adam P. Knave, D.J. Kirkbride Artist: Nick Brokenshire
Marvel
Single Issues
Fury: SHIELD 50th Anniversary #1 - When a villain from the past shows up in the present day, Nick Fury is forced to team up with the man he least expects to: his father, Nick Fury Sr.! Written By: David Walker Artist: Lee Ferguson
Others
Single Issues
Exit Generation #1 (Comixtribe) - In 2055 most of the world's population has abandoned a resource-depleted Earth in search of a better home in the cosmos. Those left behind find themselves in an unexpected paradise—but Jack is bored out of his mind. He dreams of action, but when a legion of carnivorous aliens arrive, Jack learns he should be careful what he wishes for. Written By: Sam Read Artist: Caio Oliveira
The Pitiful Human-Lizard #1 (Chapter House) - Lucas Barrett is a 9-to-5 office lackey during the day and a struggling superhero on evenings and weekends. He's also broke. While his job salary is not enough to support his crime-fighting hobby, Lucas finds an alternate plan that may heighten his superhero status. Written By: Jason Loo Artist: Jason Loo

Public Relations #1 (Devil's Due/1First Comics) - Dan Clover's office crush wants to go to Dan's father's 50th birthday gala. The problem? Dan's dad is the absolute ruler of a magical kingdom, and Dan's not seen him since he was born. Written By: Matthew Sturges, Dave Justus Artist: David Hahn
Seven Percent #1 (Red 5) - In the year 3499, programmed UNION Soldier 034 infiltrates the Separatist City of Subterra in search of the Psion Machine, humanity's most sought-after and cryptic super technology. The mission falls apart when he finds that he and the infamous machine share a puzzling bond. Written By: Luke Keith, Jeremy Fiest Artist: Jarreau Wimberly
Wild's End: The Enemy Within #1 (Boom!) - As Clive, Susan, Fawkes, and the other survivors of the alien invasion of Lower Crowchurch try to cope with what just happened to their small town, the military arrives in an attempt to cover up the "incident." Town residents are immediately detained, questioned, and treated with suspicion. Are they alien spies, collaborators, sympathizers? Clive and the rest will need to escape imprisonment if they're to get the word out and warn the rest of the world in case the aliens return. Written By: Dan Abnett Artist: I.N.J. Culbard
Graphic Novels And Collections
Graphic Novels
Collections
Black Market (Boom!) - Way Willis is a broken man, a disgraced medical examiner making ends meet by preparing corpses at a funeral parlor. His scientific genius is being wasted...that is, until his estranged criminal brother Denny shows up on his doorstep, supposedly cleaned-up and proposing a once-in-a-lifetime partnership to cure not just cancer, but all disease. The catch? It exists within the DNA of superheroes. Written By: Frank J. Barbiere Artist: Victor Santos
Hexed Harlot & The Thief, Volume One (Boom!) - Luci is a supernatural thief-for-hire, stealing wondrous objects from the dark denizens of the netherworld for her mentor/mother figure, Val Brisendine. But when Lucifer accidentally unleashes a terrible evil from one of the paintings hanging in Val's art gallery, will any of the tricks up her sleeve be enough to stop it? Written By: Michael Alan Nelson Artist: Dan Mora
The Agency (Think Alike Productions) - The United States has created the International Agency of Magic to control the use of magic and stop magical related crimes across the globe. But while the Chief of the IAM orders his agents to locate and detain a fifteen year old boy, a new threat emerges. Written By: Ruben Romero & Various Artist: Eric Koda
---
Want to see what else is out this week? You can see the full list here - and find out where your nearest Comic Book Store is here!