This week on cult worship, we're paying homage to all things spooky. So check out the delightful webseries CO-OP OF THE DAMNED, new werewolf rock anthems, creepy futuristic bug police and a new vampire blood addict.
"Lonely Lunch" Music Video
Twitch Film has found the latest amazing scifi contribution from the Lost For Words director Sean Wainsteim (a project we called a darker Phantom Tollbooth). His latest project is a stunning music video for You Say Party. The track is titled, "Lonely Lunch," though we're not sure it has much to do with the fantastic dystopian chase scene Wainsteim created on the streets of Mumbai. Keep watching all the way through, it's exceptionally clever. Also, the mosquito police squad will haunt our dreams forever.
CO-OP OF THE DAMNED
G/O Media may get a commission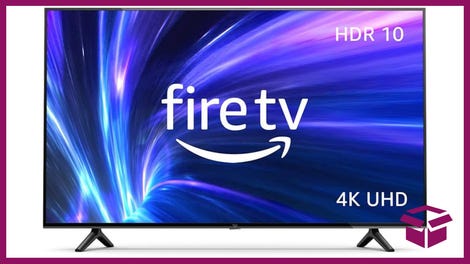 42% Off
Amazon Fire TV 50" 4K Smart TV
We continue the creepy Halloween celebration with the webseries CO-OP OF THE DAMNED. Each week, writer/director Ned Ehrbar uploads another tale from inside the walls of the evil Co-Op. It's two parts adorable and one part blood. Here are our two favorite haunted tenant stories thus far:
Co-op of the Damned: Episode 3 from Ned Ehrbar on Vimeo.
Co-op of the Damned: Episode 2 from Ned Ehrbar on Vimeo.
Check out the THE CO-OP OF THE DAMNED's website for more shorts and weekly updates.
Midnight Son
What would Halloween be without an overly emotional vampire? The latest batch of brooding vamps comes to us from Scott Leberecht's Midnight Son. It looks like it's working the blood addiction angle pretty hard, but just when we thought we'd seen this vampire story before the trailer got exceptionally graphic. The body tied up with a bunch of blood draining tubes really grabbed our attention.
Official Synopsis:
MIDNIGHT SON is the story of Jacob, a young man confined to a life of isolation, due to a rare skin disorder that prevents him from being exposed to sunlight. His world opens up when he meets Mary, a local bartender, and falls in love. Tragically, Jacob's actions become increasingly bizarre as he struggles to cope with the effects of his worsening condition. Forced by the disease to drink human blood for sustenance, he must control his increasingly violent tendencies as local law enforcement narrow their focus on him as a suspect in a series of grisly murders.
‪
Cockpit‬



Quiet Earth stumbled across the fake trailer for Jesse Griffith's screenplay Cockpit, presumably made in attempt to get some attention. We're less intrigued by the premise, but more excited by the buzz the screenplay itself has generated. Also remember this trailer was probably made with $0.00, and it still looks pretty solid, impressive.
Official Synopsis:
In 2103 mankind is at war with the Tarceds, a hostile alien race that can control our minds. Our brave pilots of the U.E.S. Navy holds them at bay at the outer edge of the galaxy. To bomb them from afar is to win. To see them is to fall under their control. Government agents are dispatched to the Starcraft Carriers to insure all pilots follow this rule of engagement.
Invertebrate



The second scariest thing after clowns is bugs. Bugs are disgusting. So rest assured I will not be watching this disgusting thrilled called Invertebrate, which teaser looks like an excuse to scatter centipedes and giant cockroaches everywhere. Shudder. Invertebrate shows what happens when bugs inherit the Earth and enslave the human race. If the world ends and bugs inherit the land, I'm out.
Werewolf Hunters Of The Midwest



Stingray Sam's Cory McAbee is hard at work on his next project Werewolf Hunters Of The Midwest. And he's released a little tease in the form of a song that he and Bobby Lurie have been working on for the film. Yes, this werewolf picture will be yet another amazing cowboy musical. Hunters starts shooting this spring, but you can listen to the first song right now:
Skinned Rabbit by The Billy Nayer Show from Cory McAbee on Vimeo.
Nice, but is it the new "Werewolf Bar Mitzvah?"
[via Twitch Film]