The Canadian government has been on a mission to make the controversial Trans Mountain Pipeline expansion project a reality. A federal appeals court, however, has now put a stop to that.
The Federal Court of Appeal in Canada ruled Thursday that the National Energy Board failed to properly consult First Nations that lie along the project's 715-mile route. First Nations have been protesting the pipeline expansion project, which would triple the amount of tar sands oil flowing from Alberta to British Columbia, for months.
The Squamish Indian Band, Tsleil-Waututh Nation, Coldwater Indian Band, and Squiala First Nation are among the plaintiffs on the case the three-person court heard. The case is a combination of nearly two dozen cases against the crude oil pipeline, according to the Globe and Mail. Other plaintiffs include the cities of Vancouver and Burnaby.
The court ruling requires the board to conduct a completely new review that considers the voices of the indigenous people the pipeline expansion would affect, as well as the how the expected increase in marine tanker traffic would impact the environment and marine mammals.
First Nations are already celebrating this victory, which has the potential to kill the project for good. Developer Kinder Morgan already abandoned the project following intense opposition from indigenous communities and climate activists. The federal government intervened in May as a last-ditch effort to revive it.
G/O Media may get a commission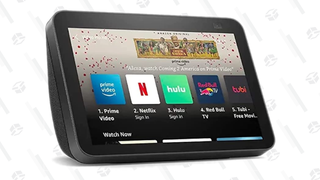 The ruling reads:
Canada failed … to engage, dialogue meaningfully and grapple with the real concerns of the Indigenous applicants so as to explore possible accommodation of those concerns. The duty to consult was not adequately discharged.
Canadian indigenous tribes and nations have been saying the government hasn't adequately consulted with them for ever, and someone's finally recognizing that. Prime Minister Justin Trudeau likes to talk about indigenous reconciliation, even launching a cabinet dedicated to just that Tuesday, but his actions speak louder than words.
Kinder Morgan shareholders voted Thursday to sell the project off to the Canadian government, so this court decision is Trudeau's problem now.