The photos and video emerging from the Indonesian island of Sumatra right now are absolutely terrifying. Thankfully, no one has been hurt, but the smoke and ash bubbling from Mount Sinabung after an eruption earlier today is like watching some kind of mythical monster slowing taking over the sky.
The volcano was dormant for over 400 years before awaking from its slumber in 2010 and killing two people. It killed another 16 people in 2014 and seven people lost their lives to the volcano in 2016. No one has been reported dead or injured from today's eruption.
According to Discover magazine, today's eruption of Mount Sinabung was probably its biggest blast yet—at least vertically. But thankfully, it's unlikely that we'll see any impact on the climate from this explosion.
G/O Media may get a commission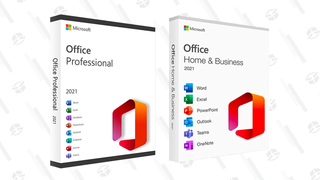 89% off
Microsoft Office Professional 2021 Lifetime License
From Erik Klemetti at Discover:
Even with the relative size of the eruption, there is no chance this causes any climate impact. The initial estimates of sulfur released are too low to cause much atmosphere effects and the height of the plume wasn't tall enough to reach the stratosphere. Current estimates of the ash plume are between 5-7 kilometers, so between 16,000-20,000 feet (down from the initial guesses of over 50,000 feet).
We even had GIFs of what the volcano looks like from space.
As Reuters reports, flight advisories have been issued for as far south as Darwin in the northern tip of Australia. The ash is covering everything in sight, again creating surreal images that seem more appropriate for mythical stories than the real world.
Sutopo Purwo Nugroho, a spokesperson for Indonesia's Disaster Agency, has been tweeting images from the island, including this handful of small rocks that came raining down and crops covered in volcanic dust, like the plants above.

If you're in the area, authorities have advised that people should stay at least 4 miles away from the volcano. Keep you and yours safe out there, friends. The power of a volcano is obviously no joke.
[Discover Magazine and Reuters]