For years, tanning beds, booths, and sunlamps have been linked to an increased risk of skin cancer, yet the number of people using tanning devices continues to rise. An alarming new study shows that indoor tanning costs the US $343 million a year in medical bills, highlighting the severity of this growing health issue.

In 2015, there were an estimated 263,000 cases of skin cancer that could be attributed to indoor tanning, according to a new study published in the Journal of Cancer Policy. These cases amounted to $343.1 million in medical costs during the same year, resulting in a total economic loss of $127 billion over the lifetime of the patients affected.
The lead author of the study, health economist Hugh Waters from the University of Carolina, says something needs to be done given the staggering costs of indoor tanning, both in terms of the economics and the health impacts. "Every time you use indoor tanning you increase your risk of getting skin cancer," he told Gizmodo.
Indeed, there's virtually no doubt that indoor tanning causes skin cancer. Tanning devices blast an unhealthy amount of UV radiation at a person's body, leading to damaged cell integrity, DNA mutations, and reduced immunity—all of which contribute to the rise of skin cancer. Tanning salons have also been linked to other skin disorders, such as dermatitis, keratitis and porokeratosis, as well as vision problems.

The number of people who visit a tanning salon or lie next to a sunlamp has risen over the last two decades. In the US, about 35 percent of adults have used an indoor tanning device at least once, and an estimated 30 million people use a tanning device each year.
G/O Media may get a commission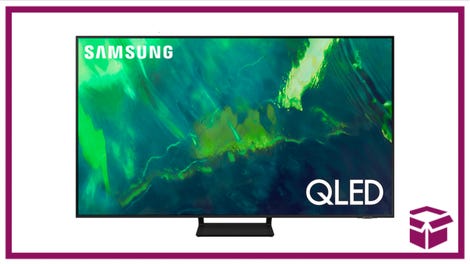 35% off
Samsung Q70A QLED 4K TV
Save big with this Samsung sale
If you're ready to drop some cash on a TV, now's a great time to do it. You can score the 75-inch Samsung Q70A QLED 4K TV for a whopping $800 off. That knocks the price down to $1,500 from $2,300, which is 35% off. This is a lot of TV for the money, and it also happens to be one of the best 4K TVs you can buy right now, according to Gizmodo.
There are now 25,000 tanning salons across the United States. As it stands, the FDA regulates products that emit radiation, such as tanning beds and booths, which are listed as "moderate risk devices." The FDA requires these devices to carry a warning that they shouldn't be used by people under the age of 18, but this isn't enforced by any kind of law. Beyond this, states and local municipalities can extend regulations to salons, making sure that the equipment is clean and that operators are properly trained.

Meanwhile, skin cancer is now the most commonly diagnosed form of cancer in the United States—and like indoor tanning, it's on the rise. The average number of adults treated each year for skin cancer jumped from 3.4 million during the 2002-06 time period to nearly 5 million between 2007-11. The total annual cost of treating skin cancer shot up in step, from $3.6 billion to $8.1 billion over the same period. For the new study, Waters sought to determine the prevalence of indoor tanning-related cancers, and calculate the costs of these preventable diseases.

"Our study starts with the overall prevalence of each of these conditions in the U.S. in 2015, and calculates the proportion of these cases that are attributable to the use of tanning devices," Waters told Gizmodo. "To do this we used data on the prevalence of use of tanning devices, and previously-published estimates of relative risk—the probability of having the disease for people who use tanning devices compared to people who don't."
With his colleague Adewole Adamson, Waters looked at three types of skin cancer, all linked to indoor tanning: cutaneous melanoma (a cancer of the cells that produce melanin), basal cell carcinoma (abnormal growths that arise in the skin's basal cells) and squamous cell carcinoma (uncontrolled growth of abnormal cells within the skin's upper layers).
For melanoma, the calculations were based on a 2012 BMJ meta-analysis estimate of 18 prior studies, resulting in a relative risk of 1.20.
"This means that people who use tanning devices are 1.2 times as likely to develop melanoma as those who do not use tanning devices, after controlling for other exposures and risk factors," said Waters. A separate BMJ meta-analysis, also published in 2012, calculated a Relative Risk of 1.29 for basal cell carcinoma, and 1.67 for squamous cell carcinoma.
Overall, the researchers attributed 9,000 cases of melanoma, 86,000 cases of squamous cell carcinoma, and 168,000 cases of basal cell carcinoma to use of tanning devices. In total, this resulted in nearly 1,200 premature deaths in 2015 as a direct consequence of these cancers.
The researchers calculated the healthcare costs based on the average annual cost of treating patients with each of the diseases, resulting in a total of $343.1 million a year. Waters and Adamson also calculated the years of potential life lost due to the diseases, the average lost earnings per person, and the cost of working time missed due to the health conditions. The resulting productivity losses amounted to jaw-dropping $127 billion over the lifetime of the people who contracted cancer as a result of indoor tanning.
As high as these figures appear, they're actually quite conservative, and the true figures are probably much worse.
First, no national registry exists in the US for basal cell and squamous cell carcinomas, and cases are often underreported. Second, there were additional costs for skin cancer survivors that weren't factored in, such as long-term medical and productivity costs associated with doctor visits and treatments. Lastly, melanoma survivors develop subsequent cases of melanoma and other cancers, such as breast cancer, prostate cancer, and non-Hodgkin lymphoma, and at a higher rate than the general population. These cancers weren't factored in the study, but clearly have their own associated costs.
To deal with this growing health problem, the Obama Administration, via the Affordable Care Act, introduced a 10 percent excise tax on indoor tanning services (the ACA excluded tanning devices that are sold directly to consumers and used at home). This tax seems to be making a (slight) impact. In 2012, tanning salons reported fewer customers after the tax was introduced. President Trump has promised to repeal the ACA, and it's not immediately clear if he'll reinstate the tax in whatever healthcare bill is to follow.
Tax or no tax, more needs to be done to curb tanning device use. The word is clearly not getting out about the risks of indoor tanning, highlighting the need for a widespread information campaign. Given that the majority of tanning salon customers are young, white, and female (typically teens), that would be a good demographic to target.
A positive step came last year when the FDA proposed that minors be restricted from using tanning beds, and that adults sign a waiver acknowledging the risks. Similar guidelines have been implemented in other countries, and it's a good sign that the US is prepared to follow suit. Alternately, the excise tax could be raised even further, placing it out of reach of its typically underaged customers. If these measures don't work, it may be time to consider banning the practice altogether.