My love affair with the infrared Spitzer Space Telescope is no secret. I seek shapes in glowing nebula, and never pass up a multispectral composite image with an infrared layer. But what benefit does it actually serve to stare into space in these longer wavelengths?

Top image: The same scene seen in optical and infrared light. Credit: NASA/JPL-Caltech/R. Hurt (SSC)
Infrared astronomy produces a heat map of the universe. It isn't inherently superior to optical astronomy, but it provides a different view and additional information that can help us piece together another part of the story of what's happening so far away.

G/O Media may get a commission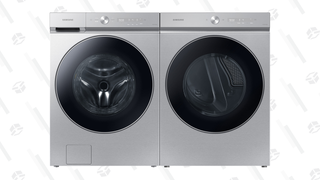 Get $500 back in credit
Last Chance: Samsung Bespoke AI Washer and Dryer Preorder
Transparent glasses and an opaque bag are key characteristics of this visible-light photograph. Image credit: NASA/JPL-Caltech/R. Hurt (SSC)
This photo-pair captured in visible or infrared light produced by the Spitzer team highlights how different telescopes see the world. In optical light, we can see the subject's eyes behind his glasses and the detailed texture of the garbage bag. In infrared light, we can see straight through the bag to see the shape of his hands determining the structure, but lose the details of his face, expression, and gaze into a haze of glowing heat.
Opaque glasses and a transparent bag are key characteristics of this infrared light photograph sensitive to 7.5 to 13 micron wavelengths. Image credit: NASA/JPL-Caltech/R. Hurt (SSC)
In an analogous manner, infrared astronomy allows us to see to the hot heart of a star-forming region, to witness the violent shockwaves transferring heat from epic explosions, and trace out tendriling lanes in distant galaxies. In other views, the infrared camera of the Spitzer Space Telescope can be blinded by extensive clouds of warm gas, revealing an invisible world of wonder beyond the tightly-clustered stars glowing brightly in high-energy X-ray light.
Infrared astronomy would be sadly lacking if it were the only tool in our telescope collection, but when supplemented with observations from telescopes sensitive to other wavelengths, it provides a unique and valuable perspective on the world around us.
That, and it makes for hilariously awkward staged photos that look like some magic trick gone awry paired with an over-zealous attempt at a hip negative colour scheme.