If you're a fan of fantasy games, chances are you've seen Tony DiTerlizzi's work. He's painted Magic cards, helped define the visual feel of the D&D Planescape setting, and co-created The Spiderwick Chronicles. Tony gave us a guided tour of his artistic process and a preview of his upcoming art book, Realms!
DiTerlizzi carved his niche in the world of tabletop gaming in the 1990s, contributing to the D&D Monstrous Manual and the Planescape Campaign Setting. His work has appeared on dozens of Magic: The Gathering cards, including the second version of Brainstorm, one of the most ridiculously powerful commons ever printed.

On June 3rd Kitchen Sink Books, an imprint of Dark Horse Comics, will release Realms: The Roleplaying Game Art of Tony DiTerlizzi, a 224-page hardcover collection of some of DiTerlizzi's classic art, plus new pieces created just for the book, as well as essays by people like Guillermo del Toro and Neil Gaiman who have worked with DiTerlizzi or were influenced by him.
DiTerlizzi shared some photos of a painting in progress with us and explained each step of the process.
G/O Media may get a commission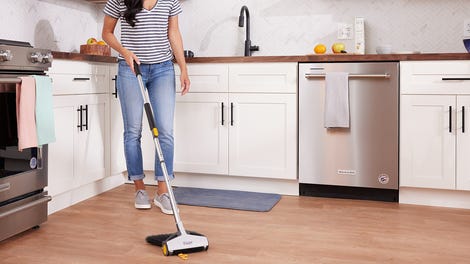 BOGO 50% Off
Flippr - BOGO 50% Off
Tony DiTerlizzi: To celebrate my start as an illustrator for role-playing games, such as the AD&D Planescape campaign setting, I revisited some of my favorite monsters and characters for Realms. The tieflings were a race created by TSR game designer Zeb Cook and introduced in Planescape. I was among the first to draw them for the supplementary booklets. Born of demonic ancestry, I enjoyed the challenge of capturing their fiendish nature in pencils, ink and paint.
DiTerlizzi: For this new rendition I was inspired by the classic portraits of young women painted by the likes of Rapheal and Botticelli. With photographic reference of my model, I began to refine the initial sketch.
DiTerlizzi: The sketch is sized up (usually 2x the size of the final printed image) and traced onto Bristol board using a light table. It is drawn with a Dark Brown colored pencil. There is some tone and shadow here, but it is more about creating a road map for the painting. I decided to add a pet to the portrait: a Displacer Beast cub.
DiTerlizzi: I render the tonal under painting for almost all of my paintings in either umber or sienna. Here I am determining the darkness of the background, which is applied with acrylic paint. The figure will be completed in acryla gouache.
DiTerlizzi: I have to bring a portion of the piece up to finish so I can set the tonal values and catch a glimpse of where I'm heading. For me, it all starts with the eyes.
DiTerlizzi: After staring at a singular image for hours–and even days–on end, you need to see it with fresh eyes. One trick is to work on the piece upside-down, which often reveals mistakes.
DiTerlizzi: I hid icons from my days as a gamer into several of the new images created for Realms. The tiefling's headdress is adorned in 20-sided dice.
DiTerlizzi: I'm about halfway finished with the painting. Her sleeves look a little washed out tonally, but I'll unify the intensity of the shadows once all the elements are painted.
DiTerlizzi: D&D's Displacer Beast was inspired by the coeurl, a monster that first appeared in A.E. Van Vogt's sci-fi short story "Black Destroyer" in 1939. For this piece, I referenced photographs of black panther cubs and octopus tentacles.
DiTerlizzi: I'm applying the final details to the Displacer Beast before I apply clear gloss varnish and complete the painting.
DiTerlizzi: "Portrait of a Young Tiefling," 18x22 Holbein Acryla gouache on Strathmore 4-ply plate bristol board. This take on renaissance portraits of young women is the third (and final) painting in my return to my roleplaying game roots for inclusion in Realms: The RPG Art of Tony DiTerlizzi, and will be available as a signed print in the "Critical Hit" deluxe, slip-cased limited edition of the book.
Now, check out some an exclusive preview of Realms!