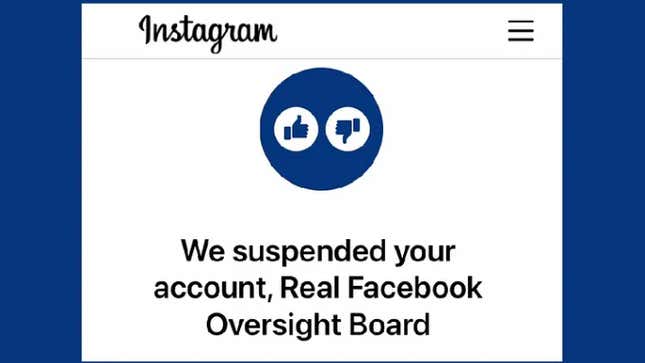 The Real Facebook Oversight Board (RFOB), a prominent internet advocacy organization, had its Instagram account abruptly suspended over the weekend after it posted content critical of Meta's recent threat to cut off news access to news links in Canada and California. Though Meta has since lifted the suspension, consumer advocacy groups speaking with Gizmodo feared the actions were a clear case of a major tech company attempting to silence its critics. Meta would not say why the account was suspended.
Nobody's Really Watching Reels
"Today, after a post on Instagram critical of Meta's threat to ban access to news websites in Canada, our account was suspended," The RFOB said in a statement. "Clearly we struck a nerve, AI or human: our Instagram account has been suspended for vague violations of 'community guidelines.'"
What happened exactly?
Over the weekend, the RFOB published a seven-post "spotlight" thread with the title, "Why Facebook is Threatening the Press." The posts were responding directly to Meta's recent threats to suspend news links in Canada and California if their respective legislatures passed a pair of journalism bills that would force Meta and other internet companies to pay publishers when they access news links. Supporters of the bills say they are necessary to compensate local news organizations that were decimated during the transition from print to digital media. Meta, which briefly cut off news link access in Australia after a similar law passed in 2021, vigorously opposes the new bills, which it says fundamentally misunderstands the relationship between social media and publishers.
In its thread, the RFOB laid out these details and accused Meta of engaging in a "strategy of intimidation" to influence tech legislation. Aside from its public threat, RFOB spokesperson Ben Wyskida told Gizmodo Meta's recent decision to test blocking news links for some Canadian users amounts to another intimidation tactic. Wyskida said RFOB received a notice saying their account had been suspended for violating the company's community guidelines, but Meta wouldn't say what exact policy they supposedly violated. The account was suspended for around four hours and then abruptly reinstated after several journalists tweeted about the incident. Wyskida said the account was mysteriously reinstated before they had a chance to appeal the decision.
The RFOB's account, and the critical thread, are both back online but Meta still won't say why they were removed in the first place. A Meta spokesperson confirmed with Gizmodo that the RFOB account was back online, but would explain why it was taken down. Wyskida admitted they can't be certain whether the suspension was an intentional retaliatory silencing or random content moderation error, though he noted that uncertainty is part of the problem.
"You never know, there's no real recourse and no transparency," Wyskida said. "Meta and its platforms have never mastered competent, coherent content moderation—whether that's moderation of a criticism, a random post from a user or clear disinformation or abuse from a global leader."
"Intentional or not, Meta will always turn to undemocratic intimidation or to obfuscation and PR instead of accepting real regulation and oversight," Wyskida added.
Tech critics accuse Meta of attacking dissenters
Other tech policy organizations critical of Meta told Gizmodo the suspension looked like a retaliatory strike against a critic.
"Kicking the Real Facebook Oversight Board off of Instagram is a blatant attempt by Mark Zuckerberg and Meta to silence their critics," Tech Oversight Project Deputy Executive Director Kyle Morse told Gizmodo. The Tech Oversight Project regularly advocates Big Tech lobbying and efforts by tech executives to influence public policy.
"It is deeply telling that Meta would rather pour its time, energy, and resources into ridding their platforms of 'dissent' rather than addressing their toxic track record of endangering children, spreading disinformation, and platforming extremists," Morse added.
Accountable Tech Co-Founder and Executive Director Nicole Gill agreed with that sentiment and told Gizmodo Meta's "willingness to silence" its critics reinforced the critics of abuse and monopoly power lodged against them in the first place.
"Suspending The Real Facebook Oversight Board's account is a blatant example of how the company will restrict speech in order to limit content that goes against their best interest, and is consistent with their actions to withhold news in Canada and Australia," Gill told Gizmodo. "No platform, including Meta, should have so much unilateral control over how information is distributed to their users."
The RFOB says the temporary suspension of its own account, though frustrating, is merely a symptom of a more deep-rooted problem. In their case, and in California and Canada, Meta appears to be using its power as a heavily relied upon, massive social network to play hardball with political opponents.

"​​We're angry about our Instagram account," The RFOB said, "but this is much bigger—it's about Meta's tactics of silencing critics and using intimidation and threats to end run democratic processes."
Meta has already shown what that political gamesmanship looks like in practice. In 2021, the company followed through with its threat to block news access in Australia. The brief news shutdown impacted an estimated 17 million and left essential services caught in the crossfire. Meta brought news links back, but only after Australia agreed to pass a watered-down version of its bill that's more favorable to the company. Now, Meta's invoking summary threats in Canada and California.
"To be clear: Meta is an unrestrained and unregulated threat to global democracy," the RFOB said. "Their actions in Canada — like Australia before, and potentially US states to follow, is intimidation and an affront to users, who are now barred from seeing important news without recourse."