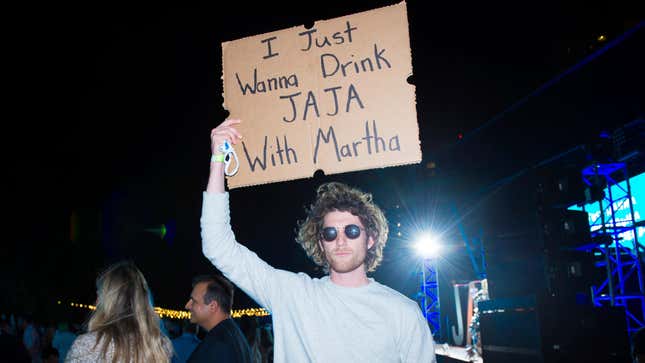 The company behind the viral Dude With Sign meme is suing an Oregon chocolate company, alleging copyright infringement. FJerry LLC, also behind the popular @fuckjerry Instagram account, claims the copyright for the specific Dude holding the particular Sign, accusing JEM Organics of using the Dude's face for posts, and the meme-making company is demanding $150,000 in damages.
Dude With Sign is actually Seth Phillips, a New York City resident and the face of a meme featuring him holding a cardboard sign with various sayings or hot takes scrawled in black ink. Phillips rose to fame throughout the late 2010s and early 2020s via pictures of him in his signature pose. Now he and parent company FJerry LLC are suing JEM Organics for allegedly using his likeness without his permission. Jerry Media is specifically going after JEM Organics for a photo that features Phillips holding up one of his cardboard signs with the original message obscured and the phrase "stop eating nutella" edited in its place, the complaint reads. According to the lawsuit, filed in Manhattan federal court, Phillips registered in September 2022 to have the photo copyrighted after JEM posted its version.
"Hoping to benefit from Phillips' celebrity and influence, Defendant has used Phillips' image, likeness, and persona to promote Defendant's business without Phillips' and without Plaintiff's consent, and specifically to promote Defendant's products," the complaint reads
The original photo was published to Dude With Sign's Instagram profile on May 15, 2022, with the original sign reading "Drop The Whole Season At Once." JEM Organics posted its version of the image on July 20, 2022 with a caption that included "what he said..." and a tag for Dude With Sign's account, according to the suit. FJerry LLC registered to copyright several photos on the Dude With Sign's Instagram account on September 15, 2022—with one of the photos listed in the registration being the photo dated May 15, 2022. The copyright registration was approved on September 19. The offending photo is no longer posted on JEM Organics' Instagram page.
As detailed by KnowYourMeme, Dude With Sign first rose to fame in September 2019 when the account posted its first photo of Phillips holding up a sign that read "Stop 'Replying-All' to Company Wide Emails." A tried and true sentiment that became the first step Phillips took toward internet stardom. Over the next few years, Phillips entered into brand deals and even got the attention of the White House during President Joe Biden's campaign to encourage vaccination during the covid-19 pandemic.
Dude With Sign and JEM Organics did not immediately return Gizmodo's request for comment on the lawsuit.