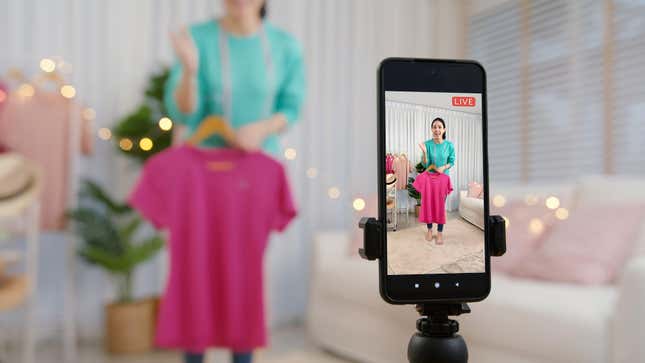 Instagram is nixing the "Live Shopping" feature that's allowed creators to directly tag products and promote links in their live broadcasts for the past couple of years. On Tuesday, the company announced the change in a Help Center post, and noted the feature's official funeral is set for March 16, 2023.

Nobody's Really Watching Reels
"This change will help us focus on products and features that provide the most value to our users," the company added—implying that Live Shopping hasn't done so hot since its 2020 launch. Creators will still be able to livestream on Instagram, they just won't be able to easily integrate product links while they do it.
The move is seemingly part of Meta's cost-cutting and re-focus following a financially turbulent 2022. To assuage doubts and reassure its investors, the tech giant made some big promises to dial down expenses, dubbing 2023 its "year of efficiency," in its most recent earnings call (never mind that the company has been spending more than $1 billion per month on its metaverse and VR ventures).
Facebook, also owned by Meta, announced similar changes back in August 2022—ending its experiment in live shopping links. Then, already this year, Instagram ditched its in-app shopping tab. Though lots of companies bet big on e-commerce during the pandemic, the reality of settling back into a less disrupted national routine has proved that the shift to online shopping wasn't entirely permanent.
And though live commerce has really taken off in some countries like China, tech companies' attempts to make social media app-based, live shopping a major income stream from U.S. users haven't quite panned out. One October 2022 report from TIME noted that social commerce only accounted for an estimated 5% of all e-commerce sales last year. TikTok did launch its in-app shopping feature state-side in November, but even that maneuver was a significant scaling down from the platform's initial plans.
Though Instagram is abandoning Live Shopping, the platform isn't giving up on a place of e-commerce entirely. "Shopping is important to Instagram. 90% of people follow at least one business on Instagram," a company spokesperson wrote in an e-mailed statement to Gizmodo.
Instead of boosting hyper-visible creator sponsorships that allow for in-app purchases, the social platform said it's doubling down on advertising. Users will still be able to directly shop through ads shown on the platform. The company further directed Gizmodo to other recent ad-tech investments like its "Advantage+ shopping campaigns" that uses artificial intelligence to allow companies to make ads (including shoppable ads) more quickly.
The company spokesperson also noted that both Instagram and Facebook continue to allow users to make purchases "in a few taps," via stories, Reels, and the main feed. Instagram might be scrapping one tool that creators had to reap reward from brand sponsorships, but don't worry—the platform will still gladly accept your money.