The ultrabooks you've seen these last few months—and that, good lord, you're going to see in drove these next couple of days? They're plenty capable, sure. But they're pretenders. The real deal, the ultra ultrabooks? Those are still a few months away. And when they get here, they're going to be fast.
The battleground laid out by Intel's Mooly Eden—who, it's worth noting, has tied with Samuel L. Jackson for "Best Use of Kangol" for at least 10 years running—is that laptops are for doing things. "Consumption is good for cows," said Eden, "We are humans." The implicit argument: tablets are fine for show, but ultrabooks are for go. And based on some of the features the company showed off today, it's a hard point to argue.
You can compress 100 sizeable pictures into an easily emailable 2MB file without overtaxing the CPU. DX11 graphics support. Built-in anti-theft technology (a convenient side benefit of that McAfee acquisition). NFC is along for the ride as well. It's a full, comfy suite, the kind of action that—remember—comes in a razor thin package.
G/O Media may get a commission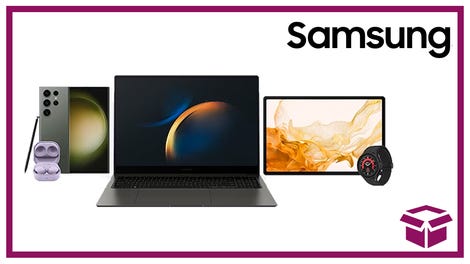 24 hour deals
Discover Samsung - Daily Deal
About that size: every ultrabook is going to be 18mm and below at its thinnest point. And it's then that you realize that while yes, the inevitable sea of sameness that we're going to swim in this week, the MacBook Air clones, the same dark glossy rounded corners, the redundant builds, can be a drag? They're, uh, still really impressive.
And then there's the next next wave, the far future. Eden also showed off a touchscreen ultrabook, an ultrabook with an accelerometer inside. Nuance—the company makes Siri such a good listener—integration will empower the notebooks to recognize voice commands in nine languages. Gesture control, that tracks your hand motions to control the action on the screen (although I'm still kinda partial to eye control, personally). They're laptops that are, for all intents and purposes, also tablets. Just... better.
And keep in mind that this is just Intel's first act; CEO Paul Otellini will be delivering a keynote tomorrow night that will no doubt address the company's redoubled mobile efforts. And PC manufacturers will continue to pull the thin veils off of their ultrabooks throughout the week. But for now, we're reminded that "ultra" is just a word. One that's going to mean something much different this summer than it does today.