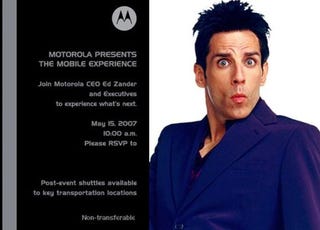 See that on the left of Derek? That's an invite to the NY event, May 15th, 10 a.m., where Motorola saves its ass by unveiling something radically new by way of an iPhone-battling video focused device.
The moneymaking RAZR line has lost its soul. With these countless variants, the last being a yawn-inducing purple model, the once-coveted handsets have turned into the Zoolander of Phones: high on style, but packed with old software.
So, its possible this event could be the unveil of their Blue Steel.

I pretty much skipped their booth at CTIA, while Sony Ericsson, Samsung and Nokia brought new devices to light. But I haven't given up hope for the phone company and Ed Zoolander Zander.
We'll have all the details on May 15th. Good luck, Moto.
Motorola Revealing "Media Monster" on Tuesday [Gizmodo]