No, I'm not switching to the iPhone full-time—I'm too embedded in the Android ecosystem to consider the leap. But I have lived half the time with an iPhone over the last year. I've learned so much about the walled garden and its inner workings, enough to understand that people choose the iPhone because it's consistent. It's not always like that on Android.
If you plan to upgrade from an older iPhone, this is the year to do it. You'll get the new charging standard, plus Apple's "tetraprism" telephoto camera, which keeps images more stable when shooting subjects far away than its predecessors. You'll also get what the iPhone's Pro line is already known for: a strong ecosystem and day-long battery life. Those are things most Android users are still seeking.
Despite their camera and processing improvements, the iPhone 15 Pro and 15 Pro Max do little to move the needle from last year's stellar iPhone 14 Pro/Pro Max release. But the iPhone 15 Pro series is still an impressive package throughout, one that will be especially important for propagating the good word of USB-C now that Apple has fully complied with an EU charging mandate.
From afar, the iPhone 15 Pro and Pro Max appear similar to their predecessors. But up close, the 15 Pro and 14 Pro are very different phones. The change is especially obvious along the phone's outer edges. This subtle design tweak makes the iPhone 15 Pro/Pro Max's edges feel tangibly softer than the iPhone 14 Pro/Pro Max. Likewise, the camera glass on the back appears to protrude less than last year's iPhone, which results in less of that scratchy feeling when running your thumb across the lenses. The iPhone 15 Pro series feels like a brand-new phone design due to this slight contouring, even if it's just an improved replay of the same old standard.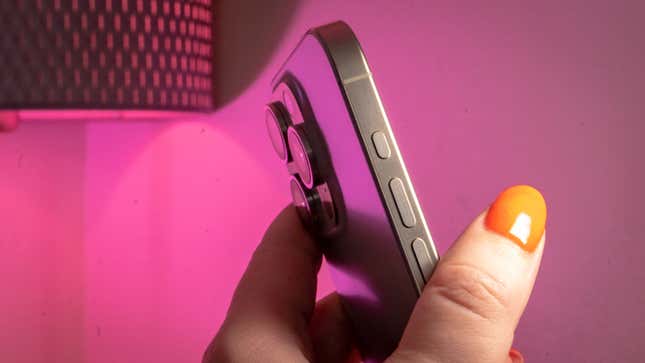 Also different on the iPhone 15 Pro is the Action Button. It's so much easier to use for a set of freshly painted nails than the mute switch on every Pro model before this one. Still, there were a couple of times I accidentally pressed it when I meant to press the Volume Up button instead. By default, you can long-press the Action Button to silence your device. But you can also swap out for another shortcut if the occasion calls for it. For instance, if you're going car camping, you'd want the Action Button to turn on the iPhone's flashlight. It's all customizable in the settings panel, where you can select from various other functions, including firing off a Shortcut or enabling an accessibility feature.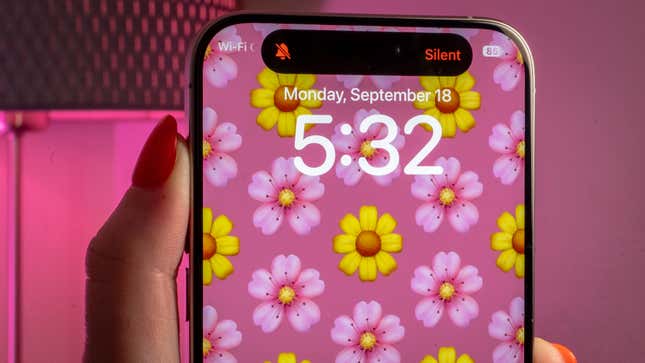 I liked carrying the iPhone 14 Pro Max while hiking because of its camera system. I was not too fond of the heft it added to my pack, though. Holding the 14 Pro Max for prolonged periods, especially in a case with a Pop Socket latched on, tired out my hand. I don't feel as worn out by the end of a mobile photo session with the titanium-encased iPhone 15 Pro Max, even with its eco-friendly case. Without a case, the 15 Pro Max weighs 6.6 ounces compared to the 14 Pro Max's 7.8 ounces. The regular iPhone 15 Pro weighs an ounce less than the standard iPhone 14 Pro.

The iPhone 15 Pro/Pro Max's screen sizes remain unchanged from last year's devices. The iPhone 15 Pro is a 6.1-inch Super Retina XDR display with a variable 120Hz refresh rate. The iPhone 15 Pro Max has a 6.7-inch display with identical specifications. The 15 Pro's brightness maxes out at 2000 nits outdoors, the same as previous generations, but that still makes it one of the brightest smartphone displays in sunlight. By comparison, the Google Pixel 7 Pro—which will be replaced by the 8 Pro soon—offers a peak brightness of 1500 nits, while Samsung's Galaxy S23 Ultra's Super AMOLED display can hit 1750 nits. I still prefer the deep darkening abilities of Samsung's displays to the iPhone's, particularly for reading or browsing at night. The iPhone 15 Pro is still too bright, even with Night Shift turned on.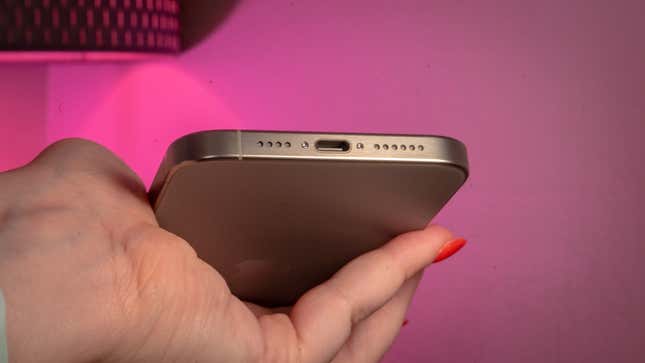 The iPhone 15 is the first from Apple to fulfill the EU mandate that states all electronic makers adopt USB-C as the universal charging standard. If you update to the iPhone 15, you can chuck those Lightning cables. And if you already have a MacBook or iPad, you may not need to buy new USB-C cables. The iPhone 15 Pro/Pro Max comes with one six-foot C-to-C cable for data transfers and quick connects. You'll need to buy a compatible charging brick to get the full 20W charging capability.
When Apple's chips go Pro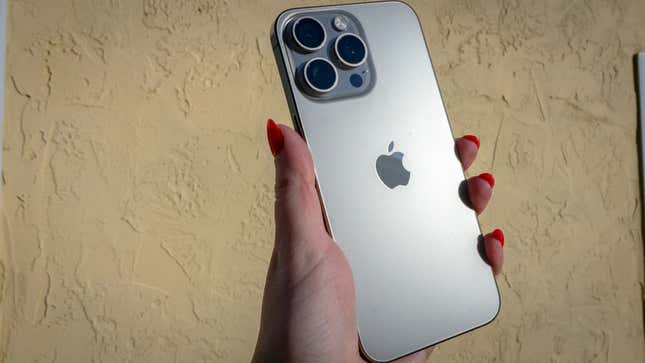 Throughout the mobile industry, the last half of the decade in chip manufacturing has focused mainly on compacting power and ability into the smallest size. With TSMC's manufacturing prowess, Apple has managed to be the first to build a chip on a 3nm processor, beating Samsung to the punch. Shrinking the chip means there's ever-so-slightly less travel time for the A17 Pro's six cores plus its 16-core neural engine. Apple says its new chip is ten percent faster than the old one, with a neural engine that's twice as fast.

The iPhone 15 Pro's GPU is more impressive this time, as it's finally capable of hardware-accelerated ray tracing. The graphics chip renders reflections, lights, and even shadows in a game in real-time. Some Android devices are already capable of ray tracing, including the Samsung Galaxy S23 Ultra and the OnePlus 11 (not the Google Pixel 7 Pro). But Apple is also linking up with game makers like Capcom to bring ray-tracing-ready titles like Resident Evil Village and Resident Evil 4 natively to the iPhone 15 Pro/Pro Max.
iOS 17 feels smoother on the iPhone 15 Pro's A17 Pro than the iPhone 14 Pro's A16 Bionic. There's proof in the pudding, too. In Geekbench 6, a synthetic benchmarking suite that tests a processor's single- and multi-core capabilities with things like batch processing and common AI-facilitated tasks, the iPhone 15 Pro Max scored higher than its predecessor, which was already the best performer on our internal benchmark charts. It also outperformed the best Android flagships, the Pixel 7 Pro—soon to be replaced by a Pixel 8 Pro—and the Galaxy S23 Ultra.
The iPhone 15 Pro Max delivers on its promise of 24-hour battery life. It lasted the longest of any smartphone in our battery rundown benchmarks, which involves streaming a 24-hour long YouTube video at 200 nits until the battery dies. It took 25 hours for the iPhone 15 Pro Max to peter out—about two hours longer than last year's iPhone 14 Pro Max. The regular iPhone 15 Pro was impressive, though it gave out at around 21 hours. Our longest-lasting Android device thus far is the OnePlus 11, which needed to be plugged in at around 20 hours.
iPhone 15 Pro's "seven cameras in one"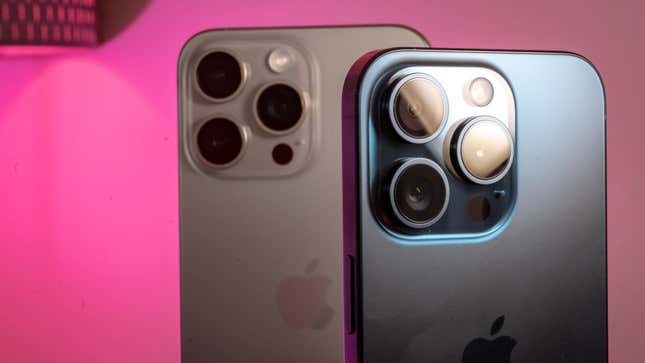 The iPhone 15 Pro and Pro Max cameras are a minimal bump from last year's camera system. The primary camera has a higher aperture of f/1.76 than the iPhone 14 Pro/Pro Max's f/1.6. It manifests as slightly better low-light performance for the 15 Pro, mainly where still-life photography is involved. Astrophotography, or what I like to call "landscape in the dark," mostly remains unchanged in capabilities. The maximum amount you can leave the shutter open to the night sky is 30 seconds, compared to Android devices like the Pixel 7 Pro, which can stay open for up to four minutes.

One of the interesting parts of the 15 Pro's primary camera is that it allows you to switch between three commonly used focal lengths: 24mm, 28mm, and 35mm. You can choose one of those as the default if you so please. They're most helpful when you're shooting at 1x, and you want to hone in on a subject without zooming in to 2x. The focal length feature is especially beneficial for achieving the bokeh effect on action shots of my daughter at play. I like having the option to attempt to expertly frame everyday photos.

Apple has also improved portraits on the iPhone 15 Pro/Pro Max using a bit of Google-like AI processing. When you take a photo that can become a portrait shot later, you'll see a little italicized "F" sprout up in the corner. If you tap on it, the iPhone 15 Pro will immediately hone in on the focus point and snap the photo as a portrait. But even if you don't touch it, the camera app grabs information in the background so you can go into Apple Photos and adjust the portrait effect later.

The only Google Photos feature I ever use is Portrait Blur, so it's clever that Apple prioritized pushing out this AI-infused feature above all else. It's also convenient to utilize this way to create a portrait photo instead of going into Portrait Mode in the camera app—often, it's too aggressive, and you can't adjust it after the fact. I imagine Apple will follow up with similar AI-infused editing features in future versions of its cameras—maybe it'll even figure out how to remove fences before Google does.

There are three other lenses to consider on the iPhone 15/15 Pro Max—seven if you account for those extra three focal lengths. The iPhone 15 Pro/Pro Max has a 12-MP telephoto lens with 2x optical zoom and a similar aperture as the primary camera. There's also a 12-MP ultra wide-angle camera with a 120-degree field of view, just like the iPhone 14 Pro. The front-facing camera is 12-MP, which remains better than what shipped with both the Pixel 7/7 Pro.

Apple did something a little different this year: it equipped the Pro Max with a 5x optical zoom and up to 25x digital zoom, achieved with the help of what Apple calls "an innovative tetraprism design," combined with OIS and a 3D sensor-shift module. It's a periscope camera that can stabilize itself while you're moving, and it's in practice in the rest of the smartphone industry—except on Google's Pixel 7 Pro, so far. In my testing, the iPhone 15 Pro Max, which has the maximum zoom capability, performed on par with the Galaxy s23 Ultra's zoom capabilities. Samsung also uses a periscopic camera to achieve the same effect. The regular iPhone 15 Pro is limited to 3x optical zoom and a maximum of 15x digital zoom.
A good time to upgrade—if you're on Android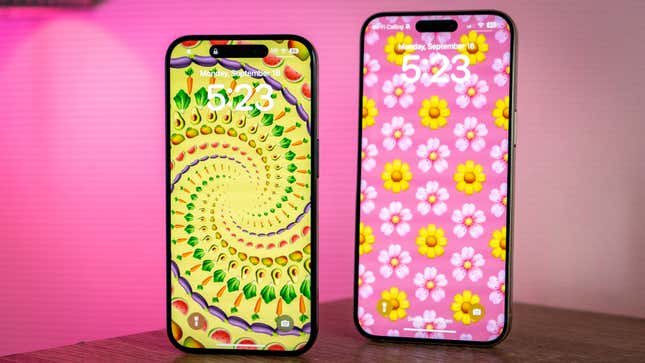 From my perch in Android land, the grass seems to be growing greener on the other side. I distinctly see vibrant patches of meadow I want to pluck out and bring into Google's world. The design of the Pixel 7 Pro feels like a hollowed-out shell compared to the solid-but-light titanium feel of the new iPhone 15 Pro. The 15 Pro's battery life and hardware-accelerated ray-tracing capabilities make me wonder if Google's next Tensor CPU will be able to boast the same taglines. The machine learning algorithms have also improved on the iPhone enough that I can see them creep in on Google's marketing. Things like blurring a photo after you've shot it and improved optical zoom are no longer Pixel-only talking points. Google is going to need to do something extraordinary with the Pixel 8 Pro if it wants to keep its users off the iPhone.

The iPhone 15 Pro/Pro Max is not a required upgrade for the current iPhone user, especially if you're already wielding the 13 Pro/14 Pro series. You still have plenty of runway with those devices, as Apple supports its flagship devices for years after they launch—long beyond Android's maximum five years of support. Software-based features like the portrait blurring effect will also be available for the iPhone 13/iPhone 14, so you won't need to jump on this year's new phone to achieve the same effect.