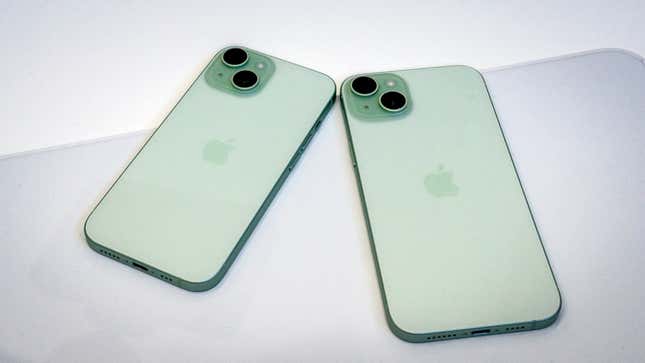 On Tuesday, Apple revealed the upgrades it will bring to the iPhone in the smartphone's 15th iteration. It comes in four models that denote how expensive your next phone may be: iPhone 15, iPhone 15 Plus, iPhone 15 Pro, and iPhone 15 Pro Max. All four phones boast improved cameras, with the high-end iPhones introducing Apple's new "periscope camera" system. The Pro and Pro Max models will also feature a new Action Button on the chassis instead of a mute switch, so you'll be able to program shortcuts as you like via a physical button.

Apple Unveils Its iPhone 15 and Apple Watch Series 9
Read more: Everything Announced at Apple's 'Wonderlust' Event
But perhaps the most exciting part of the new iPhone 15 isn't that the bezels are slimmer, the Pro's titanium chassis is more rugged, or that it features more accurate location data. It's the fact that every iPhone from here on out will take a USB-C cable for charging, finally ending the reign of the proprietary Lightning port.
Oh, and by the way, the iPhone 13 Mini is dead.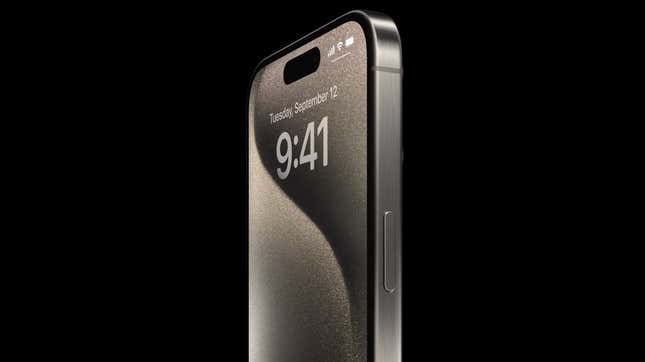 Say hello to USB-C
The European Union mandated that iPhones sold in the region adopt USB-C for charging by December 2024, a universal standard. Most Apple products have only supported charging via Lightning cable since 2012. Apple would still like you to seek out Apple-certified USB-C cables for your Apple gadgets rather than picking up a random third-party power supply, but you'll presumably still be able to share the cord with your Android-using friends and family.
Best of all, an updated model of the AirPods Pro (2nd generation) will have also include a USB-C port and can be charged from your phone.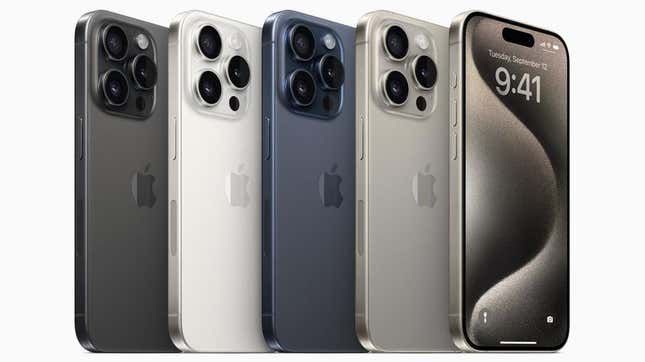 Meet the iPhone 15 Pro/Pro Max
The iPhone 15 Pro comes with a 6.1-inch Super Retina display, while the iPhone 15 Pro Max is fitted with a larger 6.7-inch Super Retina display. Apple also thinned out the bezels on both sides by about one-third by utilizing a new manufacturing process with the 15 Pro line.
The camera hardware in the iPhone 15 Pro received the most fanfare during Apple's event. The smartphone will continue to offer three lenses, including a 48-megapixel primary sensor and an improved telephoto and ultrawide lens. The company also revealed a new periscopic camera system, which should be more forgiving to physical movement as you take a photo. Periscope cameras let you zoom in further with less of the "digital noise" in the final product. Samsung's Galaxy S23 Ultra has similar hardware in its tertiary 10-MP camera lens with 10x zoom to help it stabilize faraway shots, and it'll be interesting to see which phone produces less fuzz off the tripod. The three-axis stabilization in Apple's Pro models makes 10,000 micro-adjustments per second, which is twice as many as the 14 Pro.
In what may be the most useful feature announced today, all the new iPhone models can now detect when a person, dog, or cat is in the frame and the device will capture depth information, eliminating the need to switch to portrait mode.
Apple says a new lens coating significantly improves Night Mode shooting and Smart HDR now has more dynamic range.
For people looking to shoot video, the Pro models are getting, well, more professional. They can shoot ProRes video in 4K at 60 fps and can record directly to external storage. Additionally, the iPhone 15 Pros are the first smartphones to support the Academy Color Encoding System (ACES), a global standard for color workflows.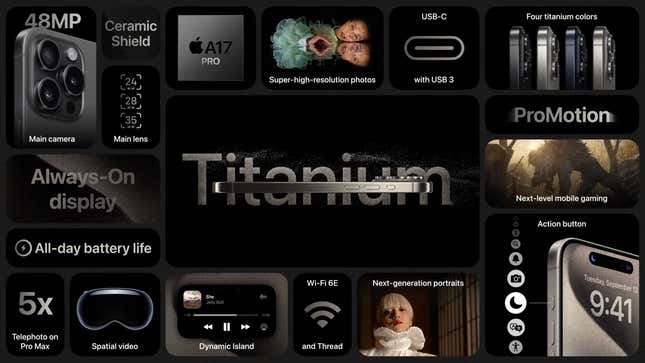 The iPhone 15 Pro and Pro Max have new flair: They both come in a titanium frame instead of stainless steel, akin to the Apple Watch Ultra. This will hopefully cut down on the fingerprints produced by previous models and strengthen the chassis. Apple says this new casing material also makes the phones lighter and more durable.

The iPhone's new side-facing Action Button will allow you to program a wide range of immediately accessible shortcuts. You can still use it to mute the phone, though. This little button on the device can perform various functions, including silencing notifications. It can also be programmed to launch an app, start a voice recording, kick off a Siri command, or even toggle accessibility settings.
Apple said that the Pro models are capable of 10gb/s transfers using a USB3 cable but did not specify transfer speeds for the base models.
The 15 Pro and Pro Max will be the first models to run Apple's A17 Bionic chip. This is Apple's first 3nm processor, joining the ranks of its rivals, namely Samsung (but Samsung didn't offer that chip in the U.S.). Both the regular and Pro models also use Apple's second-generation UWB chip, which helps increase location accuracy for the iPhone for apps like Find My and can now connect to devices from farther away. The iPhone's cellular connection technology will continue to come from Qualcomm, as revealed in a press release earlier this week amid speculation Apple might develop its own chips for calling.
The iPhone 15 Pro and iPhone 15 Pro Max will be available in black titanium, white titanium, blue titanium, and natural titanium.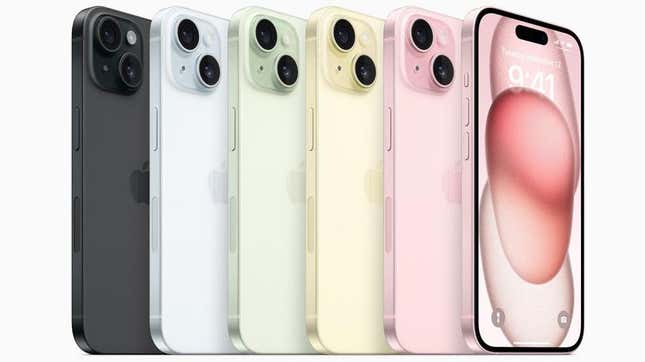 Meet the iPhone 15/15 Plus
The iPhone 15 and 15 Plus are the new base models of the iPhone. Like last year's iPhone 14/14 Plus, this year's 15 and 15 Plus feature last year's Pro hardware, repackaged and revived for a new generation of devices. The iPhone 15/15 Plus runs on the supercharged A16 Bionic chip and features the iPhone 14 Pro/Pro Max's primary camera system. You don't get a telephoto lens like on the Pro/Pro Max, but you get an improved camera system that produces clear, high-resolution photography. It comes with a 48MP Main camera and a new 2x Telephoto option to give users a total of three optical zoom levels. That's a big upgrade from the iPhone 14's 12MP main camera.
The new models also feature a supercharged longer battery life, color-infused back glass with a matte finish, and an improved OLED Super Retina display that can hit 2,000 nits in sunlight, Apple announced. If you prefer a physical mute switch on your new phone, the regular 15/15 Plus still has slider buttons on the left side of the device. The Dynamic Island, which replaced the black notch hiding the ear-facing speaker and the front-facing camera, also debuted on the base model of the iPhone 15. Like on the Pro variant, you can use Dynamic Island to receive real-time notifications on top of anything you do on iOS.
The new iPhone 15 comes in five new colors: pink, yellow, green, blue, and black.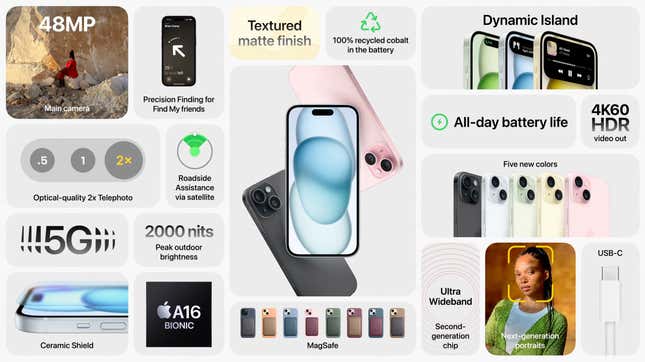 When can you buy the new iPhone 15? 
You'll be able to pre-order all the new models beginning at 5 a.m. PDT on Friday, September 15, with availability beginning Friday, September 22.
The base model of the iPhone 15 comes with 128GB of storage and starts at $799, while the iPhone 15 Plus begins at $899. The iPhone 15 Pro is available with a minimum of 128GB storage and starts at $999 while the Pro Max will cost you at least $1,199 for 256GB of storage. There's no price change from last year on the Pro but the top-of-the-line model is a hundred dollars more expensive this time around but it starts with twice the storage.