The Irish have beaten the rest of us to it. The Republic of Ireland is the first country in the world to move toward divesting from fossil fuels. The divestment process should be wrapped up in five years, per the Guardian.
First, the move to divest has to pass through parliament, though. The lower house of parliament passed a bill Thursday to sell off fossil fuel investments in its $9.3 billion national investment fund, including those in coal, oil, gas, and peat, which is organic plant matter extracted from swamps.
Now, the bill is expected to flow pretty easily through the upper chambers of parliament. If all goes smoothly, this bill should be law before the year ends. And the roughly $350 million currently invested in 150 companies can find a much more meaningful purpose in Ireland's portfolio.
This amount is small potatoes compare to how deeply embedded the U.S. is in oil and gas profits. New York City's pension alone has $5 billion invested in this corporate sector. Still, make no mistake: This is a big fucking deal.
The divestment movement has been gaining momentum around the world with U.S. cities like New York pledging to keep their public money out of the pockets of our oil and gas overlords. Banks throughout Europe have also taken steps to break financial ties with specific fossil fuel companies, especially after the battle the Standing Rock Sioux Tribe put up against the Dakota Access Pipeline in 2016.
G/O Media may get a commission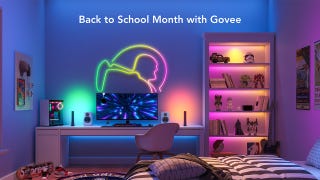 Back to School
Back to School Month with Govee Sale
An entire country though? That's unprecedented.
"The [divestment] movement is highlighting the need to stop investing in the expansion of a global industry, which must be brought into managed decline if catastrophic climate change is to be averted," said Thomas Pringle, the independent member of parliament who introduced the bill, to the Guardian. "Ireland, by divesting, is sending a clear message that the Irish public and the international community are ready to think and act beyond narrow short-term vested interests."
To a casual observer of Irish politics, this move may seem rather surprising. Ireland is known for its deeply conservative stances on many social issues, especially compared to some of its other European neighbors. Same-sex marriage was illegal in Ireland until 2015, and abortion is still a touchy topic. The country is finally going to reform its current policy, which is that a mother must keep the baby unless the mother's life is at risk.
The country's disdain for fossil fuel execs (or perhaps concern over climate change?) is less complicated, apparently.
Still, divesting its assets from these greenhouse gas-spewing corporations is one thing. Preparing for the hotter future is another. The country will see sea level rise, summer water shortages, and an increased risk of disease.
Solving those will take some serious action.