Your iPhone is a wonderful point-and-shoot cam, and grabs pretty solid HD video. Not so solid? The audio, unless you're recording something an inch away from you in a soundproof chamber. iRig's mic gives you pro-quality sound, mobilized.
Plusses
It does what you want a microphone to do—you make noises near it, and it records them cleanly and clearly. The build quality is admirable—substantive, comfortably weighty in your hand, a cord that's long enough to give you (or your subject) space, but not enough to turn into a spaghetti mess. In our field test above, our dashing intern Kwame (and the ever-dulcet Joel Johnson) show just how dramatic a difference the iRig makes, versus the iPhone's built-in mic. If you're considering anything beyond amateurish "Here's a 10 second video of my dog doing something funny" video clip, a handheld (or stand-mountable) mic like this would be a must. Singing, speaking, reporting, performance of any kind—all would benefit from the sonic boost.
Minuses
The iRig Mic's got a variable sensitivity switch, allowing you to toggle how much sound you want to suck up depending on your surroundings or setup. It works fine, but the mechanism itself is hard to adjust. No switch should ever require you to dig your nails into it. As well, the iRig's minijack output, meant for real-time monitoring via headphones, only works with apps that support it; the iPhone's built in video app is not one of those, be warned.
G/O Media may get a commission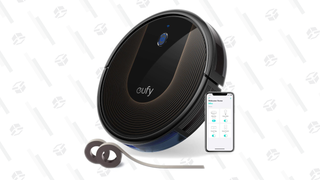 48% Off
Eufy BoostIQ RoboVac
Price
$60 at IK Multimedia
Update:IK Multimedia is sending us another iRig Mic to re-check the minijack output feature. We'll keep you posted!
Update 2: We've ascertained that the minijack output isn't broken, but rather isn't compatible with Apple's Camera app (which we used in our testing). IK Multimedia says it works swell with some third party apps (including their own).