It's been a long, winding road from the failure of Terminator Salvation to a new movie in the Terminator series. Now original star Arnold Schwarzenegger says he's ready to make two new movies very soon. But is this for real?
Plus check out the first official photo of the Doctor with his brand new companion!
Writer Damon Lindelof will rewrite the screenplay of World War Z.
Just who is the star-spangled villain in Iron Man 3...and is he even a villain?
A Thor 2 role might be recast, and a very familiar name is now attached to the role.
G/O Media may get a commission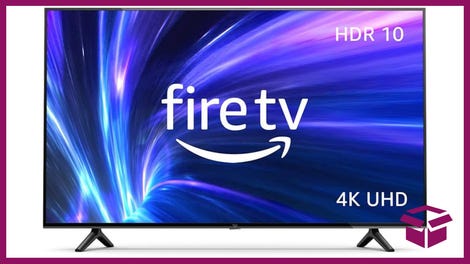 42% Off
Amazon Fire TV 50" 4K Smart TV
All that and tons of behind-the-scenes Amazing Spider-Man footage.
Spoilers from here on out!
Top image from The Amazing Spider-Man.
The Dark Knight Rises
The various tie-in books just keep on keeping on with the spoilers. Here's the latest, a pair of character descriptions for Bane and Catwoman from a book aimed at 3-7 years old. The descriptions mention some fairly major events for both characters:
"Bane is a super-villain with a bad attitude. When he decides to take over the Gotham City Stock Exchange, the city's in big trouble! Can Batman get there in time to save the day?"

"There's a ferocious feline in town, and she's out to steal from Gotham's wealthy citizens. Unfortunately, Catwoman makes a mistake when she visits venerable citizen Bruce Wayne and takes Bruce's prized family heirloom. She thinks she made a clean escape . . . but she doesn't know who she toyed with!"
[IGN]
---
The Amazing Spider-Man
Here's 25 minutes worth of b-roll footage, featuring tons of behind-the-scenes footage for the movie's various action and fight scenes. [Ace Showbiz]

---
Iron Man 3
It seems we may have jumped the gun with all those rumors saying Rubicon star James Badge Dale was playing the Iron Patriot in the movie. But, perhaps you're saying, didn't we actually see set photos of just exactly that? Well, it looked like we did, but the latest reports suggest what we actually saw was the new costume War Machine wears in the movie, and Iron Patriot isn't in the movie at all. (Dale, by the way, is supposedly playing Coldblood, which seems like a better thematic match for Ashley Hamilton's fellow villain Firepower anyway.) The fact that a white guy was in the suit instead of James Rhodes actor Don Cheadle is simply because, well, the stars don't actually walk around set in those giant suits unless they absolutely have to. So, that was just a stand-in. The rumors add that War Machine's armor is now ready for military use, which is why it has the new all-American look. [Latino Review]
---
Thor 2
Josh Dallas, who played Warriors Three member Fandral in the first film, will reportedly not be available to reprise the role in the sequel due to his commitments to Once Upon a Time. In his place, Marvel Studios is reportedly in talks with another genre show star, although this time one from a show that's already been safely canceled: Chuck's Zachary Levi is reportedly in early talks to take over the role. [Coming Soon]
---
X-Men: First Class
Havok actor Lucas Till discusses the upcoming filming for the sequel, and he reveals what he wants to see happen with his character:
"I don't know if you saw, but Havok shoots hula hoops out of his body. I remember when (director Matthew Vaughn) told me, and I was like, 'NOOOO!' It's going to ruin it for all the fans of Havok and I tried to make the best of it, but I really hope in the next one that the chest piece — because there's always that circle in the middle so you could tell where his power level was at — but not necessarily used as a device to channel the energy from. I want some gauntlets or something to shoot it out of my hands, and I want Polaris in there. I want a sexy green-haired girl to fall in love with. That's all I'm asking for."
He also confirmed a likely January start date for filming. [IGN]
---
Robocop
Abbie Cornish, whose previous films include Sucker Punch and Limitless, is reportedly in talks for a role in Jose Padilha's reboot. Specifically, she would play the wife - or widow, depending on your perspective - of Joel Kinnaman's Alex Murphy turned Robocop. [Deadline]
---
Total Recall
Here are two viral posters. [Shock Till You Drop]
---
Terminator 5
Considering how bumpy both the development process on a new Terminator movie and Arnold Schwarzenegger's would-be acting comeback have been, it's hard to tell just how real this is. But Schwarzenegger sure seems to think he is shooting not one but two new Terminator movies starting in 2013:
"I can't say too much. They want it held in secret if you know what I mean, but I will say that next year I will start filming it and it's going to be one of the hardest films I have ever done, I can tell you that already for sure... They have six months set aside just for filming, so I will be training and getting into the best physical shape I possibly can before filming starts. It does follow Salvation although some of the producers and franchise owner were not to happy about the job McG did with it, but they felt it was good enough to continue on and they want the fifth and sixth installments to be the closing of the franchise."
Again, considering how convoluted things have been with a fifth Terminator movie so far, and how many contradictory rumors have flown around, I'd advise taking this with a grain of salt until we hear a bit more. [Action Effects]
---
World War Z
Pretty much confirming that those seven weeks of reshoots are more than just some routine additional filming, the movie has reportedly brought in Prometheus and Star Trek writer Damon Lindelof to handle some rewrites. [Heat Vision]
---
The World's End
Here's a video in which Simon Pegg discusses the apocalyptic conclusion to the loose trilogy begun by Shaun of the Dead and Hot Fuzz. Basically, the movie is all about pubs.

---
Dredd
Here's a poster and two promo images for the new Judge Dredd movie, featuring Star Trek's Karl Urban as the man himself. [JoBlo]
---
Doctor Who
Here's the first official image of Matt Smith's Doctor alongside his new companion, as played by Jenna-Louise Coleman. The Doctor is wearing a new outfit and seems to have slightly changed his look, perhaps indicating that there will be another substantial passage of time between Amy and Rory's last adventure and the new companion's first, much like the two hundred years crammed in between "The God Complex" and "Closing Time" in the most recent series. [BBC]
---
The Walking Dead
Here's a set photo from the filming of season three that shows Michael Rooker back on set as Merle. Specifically, he was seen at the Woodbury set, which is the haven run by David Morrissey's Governor. It was already heavily rumored that Merle would be back, although I suppose we're not yet absolutely 100% sure he will be real this time and not another of Daryl's hallucinations. [Shock Till You Drop]
---
Eureka
Here are some promo photos for tonight's episode, "In Too Deep." You can also check out a sneak peek below. [Multiple Verses]
Here are short synopses for the next three episodes, which tend to suggest the big wedding between Carter and Allison is happening very, very soon:
In Too Deep - Eureka (5.08)
A submarine mishap ruins a romantic outing for Carter and Allison, and Jo must sort through pranks at Global Dynamics to save them.

Smarter Carter - Eureka (5.09)
Allison's brother visits to meet her new husband; Carter's intelligence mysteriously begins to grow exponentially.

The Honeymooners - Eureka (5.10)
Carter's honeymoon with Allison is complicated by saboteurs in Eureka.
---
Alphas
Here's the trailer for the second season of Syfy's superheroes show.

---
Lost Girl
Here's a trailer for tonight's episode on Syfy, "Death Does Not Become Him."

---
Arrow
Here's an extended preview for the CW's new Green Arrow show.

---
Teen Titans, Go!
Cartoon Network is reportedly working on a sequel series to the 2003 show featuring the same cast and producer. [IGN]
---
Teen Wolf
Here's a trailer and description for tonight's episode, "Ice Pick." [KSiteTV]

Scott tries to keep Derek from creating new werewolves; Chris Argent officially begins Allison's training; the new creature in town takes another victim.
---
Additional reporting by Gordon Jackson and Charlie Jane Anders.