The Wolverine has found a replacement for Darren Aronofsky. Awesome actors join Pacific Rim and The Hobbit. Robert Kirkman talks about keeping characters alive on The Walking Dead. Plus new trailers for Harry Potter and Transformers: Dark of the Moon!
Deadly Mississippi Tornado Kills More Than 2 Dozen | Extreme Earth
Spoilers from this point forward!
Top image from Cowboys & Aliens.
The Wolverine
James Mangold is reportedly the top choice of Fox and Hugh Jackman to take over directing duties. Mangold has directed at least one legitimately awesome movie in 3:10 to Yuma, but he also did Knight and Day, so make of this choice what you will.[Deadline]
---
Captain America
Here are some new promo photos. [ComingSoon.net]
---
Cowboys & Aliens
G/O Media may get a commission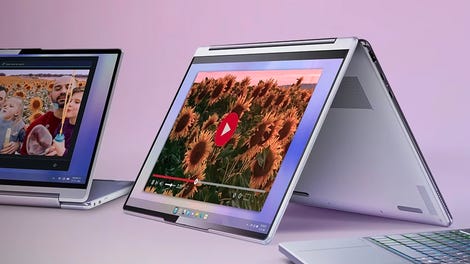 up to 70% off
Lenovo Spring Clearance
Here's a new poster. [IGN]
---
Pacific Rim
Comedic genius and It's Always Sunny in Philadelphia star Charlie Day is reportedly playing a professor in Guillermo del Toro's monster movie that may or may not be reminiscent of the Godzilla movies. [Variety]
---
Transformers: Dark of the Moon
Here's a sneak peek that was shown during Rosie Huntington-Whiteley's appearance on The Late Show with David Letterman. [TFW2005]

Here's a trailer featuring the dulcet tones of Linkin Park, who are truly the balladeers of giant robots fighting each other and turning into other things. [TFW2005]

Here's a low-quality version of a new TV spot.

And here's another poster. [MTV Movies Blog]
Meanwhile, in "things that definitely won't happen involving Steven Spielberg", Tyrese Gibson suggests executive producer Steven Spielberg as a possible replacement for Michael Bay on a hypothetical Transformers 4:
If Michael Bay decides to come back for Transformers 4, I'll be there. We'll make it happen. (Right now), I think we are all exhausted with the process. If this movie does what we are all assuming it's going to do, then, I think it's time to revisit this conversation. When it's time. There are no concepts, no direction, no nothing for Transformers 4, because everyone has been so focused on Transformers: Dark of the Moon.

But here is the safety net. Are you ready for this? Michael Bay decides to not come back for Transformers 4. There is always Steven Spielberg! I am not saying that Steven Spielberg is for a fact going to direct Transformers 4. But it is a beautiful safety net to know that one of the biggest, most respected directors in the world happens to be an executive producer on Transformers. He is someone who knows this world. And he could easily step in and direct Transformers 4 if he decided to. The thing is, there are a lot of directors who deal with producers who happen to not be Steven Spielberg. So if the director decides to bow out of their film, they are sent scrambling. "Who can we get to direct this?" What a hell of a safety net this is if Michael Bay decides not to come back. Steven Spielberg could easily step in and make it happen.
[TFLAMB]
---
Jurassic Park 4
Moving onto "things that probably won't happen involving Steven Spielberg", the director is reportedly meeting with screenwriter Mark Protosevich to kick around possible ways to continue the franchise. As has been pointed out elsewhere, we'll probably hear a lot more about this if Spielberg's other big dinosaur-driven entertainment Terra Nova turns out to be a big hit. So yeah... I wouldn't hold your breath. [The Hollywood Reporter]
---
Oblivion
Tom Cruise and Tron Legacy director Joseph Kosinski's sci-fi epic has set a release date for July 19, 2013. [/Film]
---
The Hobbit
Sherlock star Benedict Cumberbatch will reportedly voice the dragon Smaug opposite his costar Martin Freeman's Bilbo Baggins. As far as these things go, a dragon and a hobbit is actually a pretty good match for the relationship between their Holmes and Watson. [Deadline]
Meanwhile, Welsh actor Luke Evans, who has previously been seen in stuff like Immortals and Robin Hood, has been cast as Bard the Bowman. [Deadline]
---
Harry Potter and the Deathly Hallows: Part II
Here's the final theatrical trailer.

---
Ouija Board
Sherlock Holmes writer Simon Kinberg is reportedly working on a new draft of Adam Horowitz and Edward Kitsis's script. [LA Times]
---
Torchwood: Miracle Day
Here are some photos. [Den of Geek and Daemon's TV]
---
Fringe
Here's a lengthy interview with Anna Torv. [Fringe Television]

Elsewhere, Anna Torv says she hopes Olivia will have proper interactions with Lincoln Lee next season:
"I thought he was really fun on this side! But Olivia didn't get to meet him, because she was in William Bell mode [at the time]. I'm thinking both [of his alternate selves]. And that excites me. He's just a treat to work with."
[TV Line]
---
True Blood
Here's another promo photo of Sookie and Eric. [SpoilerTV]
---
The Walking Dead
Robert Kirkman discusses the implications of keeping Shane alive:
While we're mapping out this arc and figuring out this story, we'll pull something in from the comic and then we'll go, "OK, so how does Shane existing change this? What does Shane bring to the situation? What's going on with his character at this point and how does it affect this thing that's already existed." It's really neat for me to treat The Walking Dead TV show as an alternate dimension where Shane lived, and there's all this different stuff happening because of that. Shane really throws a wrench in a lot of stuff.

Are you now reluctant to kill him off?
Yeah absolutely. It's hard thinking about killing any character. If they're good characters, there are always more scenes to write, but this is the nature of things: There are zombies around. People gots to die. And after getting to know Jon Bernthal and see his portrayal of Shane, it's not an easy decision. He's past his expiration date by comic book standards, but Shane is by no means rotten. I think he's remaining fresh for a while. We'll see.
He also talked up the casting for season 2, saying he can't wait for people to meet the actor playing Herschel, but he wouldn't provide any hints as to who it is. You can read more at the link. [AMC]
---
Powers
Eleven-year-old actress Bailee Madison has reportedly been cast as Calista. Here's a description of her character:
An otherworldly young girl raised by her stepdad Eagle, a man with powers. When Eagle's wife is murdered and he goes on the lam, Calista comes to stay with Walker and develops a bond with him.
[Deadline]
---
Falling Skies
Here are descriptions for the first three episodes:
1×01 Two-Hour Series Premiere – Part 1: "Live and Learn"
The world is left in tatters after a sudden, unprovoked and unexplained invasion by aliens, leaving the planet's remaining human population to fight for survival against the occupiers. History professor Tom Mason (Noah Wyle- ER) has been named second in command for the 2nd Mass, but his real focus is on his three sons, one of whom has been captured by the aliens for an unknown purpose.

1×02 Two-Hour Series Premiere – Part 2: "The Armory"
While scouting for supplies, Tom, Hal and their squad encounter a gang of marauders determined to get their hands on the 2nd Massachusetts' weapons. Leading the gang is an ex-con named John Pope, who decides to use his hostages as bargaining material.

1×03 "Prisoner of War"
Dr. Michael Harris (guest star Steven Weber – Happy Town) joins the 2nd Mass with a theory about what might save the teenagers abducted by the aliens. But the plan could be derailed when Tom starts digging for answers to questions that have haunted him since the early days of the invasion. The 2nd Mass comes face-to-face with skitters and mechs when they attempt to rescue Ben.
Colin Cunningham, who plays former biker gang leader John Pope on the show, explains that the show will stick exclusively to its Massachusetts setting:
here's no communication. You're literally back to passing notes, having runners run from one encampment to another. Literally starting all over again. Nobody knows anything about anything, really, other than what they knew beforehand. Again, it doesn't get into it, but actually when the aliens are first discovered or when they first come down, they wonder, 'Are they peaceful? Are they not? What's the deal?'

Of course that's when the TV's are all working and everyone is talking about it and you realize that maybe these things are a bit hostile. Then wars start breaking out and of course there's no TV, no radio, no telephones, no nothing. It's done. There's the big bang, the big flash, and like I said, this is six months after all of that. I think there's an assumption that it is planetary, but for where they are right now they're just trying to pick of the pieces, literally, in their hometown. Like, if there's someone else, 'Oh, my God, lets help them,' and you start banding together again.
There's more at the link. [Daemon's TV]
---
Haven
Here are some photos for the second season premiere, "A Tale of Two Audreys." [SpoilerTV]
---
Additional reporting by Katharine Trendacosta and Charlie Jane Anders.