Hope everyone enjoyed California's drought-free year because dry conditions are back in a big, bad way.

The second snow survey of the year revealed a dearth of snow in the Sierra Nevada on Thursday. On the same day, the U.S. Drought Monitor updated its estimate to show nearly 44 percent of the state was in moderate to severe drought. While we haven't reached extreme or exceptional drought yet—the two worst drought rankings—the dismal snowpack is still cause for alarm.
When state water managers made their pilgrimage to the Sierras in search of snow Thursday, they found more of it on than they did in early January, but that's not saying much. During the January survey to snow stations near Lake Tahoe, they found a meager 1.3 inches of snow. Not good.
This time around, there was 13.6 inches on the ground—only 14 percent of normal for this time of year. Averaged across the state, snowpack sits at 27 percent of normal. 
G/O Media may get a commission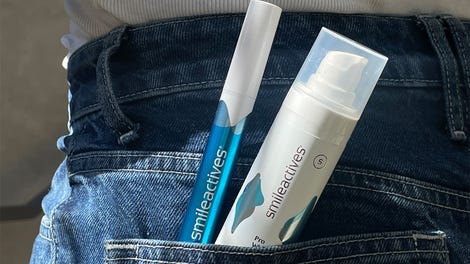 58% off
Whitening Powerhouse Pen & Gel Duo
"It's not nearly where we'd like to be," Frank Gehrke, one of the water managers, said, echoing what a lot of Californians are surely thinking.
The state has been hot and dry all winter long. That's led to drought expanding from just a bit more than 8 percent of the state at the start of the water year (Oct. 1 for non-water nerds) to the current wide extent. That growth of drought includes a small swath of severe drought, which is the first time that's made an appearance on the Drought Monitor since last winter's record snow and rain wiped out California's multi-year drought.
The dry conditions have helped spread record-setting wildfire flames in Southern California. With little rain in the valleys, wildfire risk has continued to remain high. Wildfire photographer Stuart Palley tweeted that Southern California continues to hold onto its summer brown in most spots, meaning an early start to fire season could be around the corner.
The lack of snow has left ski resorts to rely on manmade snow or in some cases, unable to open at all. This year's dry spell has some smaller ski resort owners contemplating how long their business will be viable.
"We have reserves, but at some point they're going to run out," Tim Cohee, the owner of China Peak, told The Sacramento Bee. "At that point you have to shut the resort down. There is a scenario—maybe it's not this year—but there is a scenario that says the ski area no longer exists because of these droughts."
California is no stranger to both dry and wet spells. The state gets half of its precipitation each year from atmospheric rivers, storms that draw moisture from the tropical Pacific into the region.
A massive ridge camped over the state has shunted atmospheric rivers and other storms into the Pacific Northwest. If that ridge breaks down, a few storms would certainly help make up for the early season dry spell (though as we've seen, rain on the parched and charred landscape can be disastrous in the form of mudslides so let's hope for precipitation in moderation).
But with each passing day, the precipitation deficit gets harder to make up. Water managers will take another look in March and a final one on April 1. And they're certainly hoping for better results on those visits to the Sierras.

The ridge has also locked in high temperatures, which can melt snow, kill trees, and suck moisture out of the soil, all factors that can make drought worse. Southern California has been particularly warm with some locations up to 18 degrees Fahrenheit above normal since November according to the Western Regional Climate Center.
The pattern is in part due to La Niña, a cooling of tropical Pacific waters that can cause warm, dry weather from Southern California to the Southeast (hello, Texas drought). But then there's climate change, which has boosted background temperatures, essentially kicking California while its down. It certainly makes the case that a Climate Emergency Mobilization Department might not be a bad idea after all.