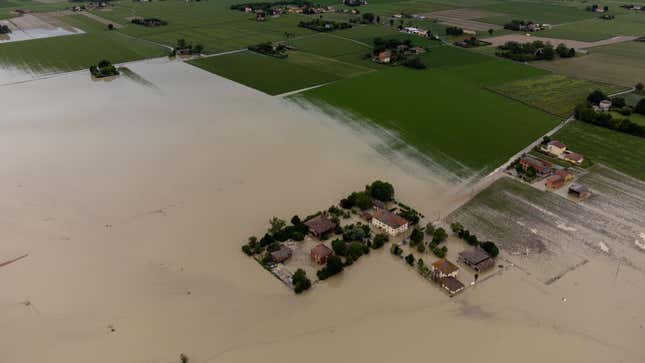 Parts of Northeast Italy remain under a red weather alert after devastating rains swept through the area last week. More than six months' worth of water fell from the sky in just 36 hours in the region of Emilia-Romagna and parts of neighboring Marche. Rivers swelled and breached their banks, submerging roads, homes, and farm fields in the important agricultural district. The heavy precipitation also triggered hundreds of landslides, cutting entire mountain towns off from ground-based emergency assistance, according to reporting from The Guardian.

Flooding has killed at least 14 people and displaced tens of thousands from their homes, as reported by the New York Times. Evacuation orders are still in place for more than 23,000 people as of Monday, according to a statement from the regional government. Some whose homes have become uninhabitable are sheltering with neighbors, while others are in emergency accommodations in gyms and schools. Up to 27,000 remain without electricity as of Sunday, and "incalculable" damage has been done to crops and livestock, per CNN.
Floodwaters are starting to recede, and a reprieve from rain is in the forecast. But the true toll of the damage incurred is still likely to rise as infrastructure impacts become clear. More than 600 roads remain closed, and 1,629 volunteers are actively working to provide assistance, per Emilia-Romagna's government.
Some are referring to the floods as a once in a 100-year event. Pierluigi Randi, president of the professional meteorological association, AMPRO, told Italian news outlet La Repubblica that the rainfall and subsequent inundation were the worst that the region has seen in a century. "It is probably the most serious alluvial effect of at least the last 100 years," he added.
Similar to what happened in California earlier this year, prolonged drought preceding Italy's intense rainfall amplified the storms' impacts. Parched soil absorbs water less readily and is more prone to collapse in landslides. The one-two punch of extreme dry and extreme wet creates a dangerous weather whiplash, which may be on the rise with climate change. A scientific study published this month found that boomerang back-and-forth precipitation trends could become more than 2.5 times as likely as they were between 1979 and 2019 by 2100.
In Italy's case, though there hasn't been enough time for a formal attribution study, some scientists have suggested human-caused climate change likely played a role in intensifying both the long-standing drought and rains. Yet others have also pointed out that the critical infrastructure holding rivers at bay in Northeast Italy has been poorly maintained and managed for decades.
Without efforts to mitigate climate change, shoring up river banks can only help so much, Barbara Lastoria, a hydraulic engineer at the Institute for Environmental Protection and Research in Rome, told the New York Times. "Rising temperature is like gasoline in the engine of extreme phenomena: It has to be dealt with first."
These photos show how the vast flooding has affected people and places in Italy.