We know: You're freezing. New York's a slushtrap, the Midwest is doing its best Hoth impersonation, and the West Coast is... uh... well, we'll just skip the discussion of California weather. We can help you! GEAR can help.
Nau Down Hoodie
You'd like to be swaddled in goose feathers but you don't want to look like a two-year-old sent out into his first blizzard. We get it, and more importantly, so do the folks at Nau. Their Down Hoodie is stuffed with 850-fill featherwarmth, rocks a trick diagonal zipper, and is slim-cut to look as hot as it gets inside.



Restoration Hardware Pocket Hand Warmers
If you want warm hands, not a chemistry experiment, ditch those disposable pocket warmers—the ones where you mix the two powders in the cellophane bag. Restoration Hardware sells the old-school version: fill it up with lighter fluid, spark it, and keep your mitts warm for up to 12 hours. We're sure it's perfectly safe...



G/O Media may get a commission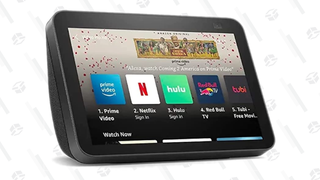 The North Face NSE Tent Bootie
Face it: Your feet are the real losers of the Snowpocalypse. They're the ones always submerged in the cold white (or brown, or gray... or yellow. Gross.) stuff. Cozy. Down. Slippers. Nuff said.



Master B600D Series Master Kerosene Salamander
Space heaters are for amateurs. You want to get warm, crank up 600,000 BTUs of diesel-fueled heat—enough to raise the mercury in a 14,000 square-foot warehouse. Not recommended for your apartment, but then, you could probably stay cozy top of a mountain if you stood close enough to this beast.



Vintage Rodeo Leather Rabbit Fur Aviator Hat
The air doesn't get much chillier than inside of an uninsulated, WWII-era airplane flying sorties at 30,000 feet. That's why the flyboys of yore wore cozy hats like these. The planes may have gotten much better, but it's tough to improve on rabbit fur and leather for a warm noggin.



Perfect Fit Safe Low Voltage Heated Electric Throw Blanket
The concept of a heated blanket is not new, but Perfect Fit makes some marked improvements on the design. This one heats up in 15 minutes and draws only 25w when in use. Sew it into Snuggie-form (mind the wires!), grab an extension cord, and wear it till April.



Smartwool Lightweight Boxers
When it's this cold out, the term "Blue Balls" takes on a much more sinister connotation. Keep your naughty bits toasty with Gizmodo's favorite blend of wool, fashioned into underwear form.



USB-powered Heated Hand Warmer
Too cheap to pay for heat? Us too! Which is why we're pretty stoked about this fleece-covered mousepad with an infrared heating element inside. Your left hand will be so jealous. (The joke you're thinking of is too easy...)



Hudson Manhattan Rye Whiskey
New York City was once famous for its rye whiskeys. It is, after all, the birthplace of the "Manhattan." Tuthilltown Spirits pays tribute to the tradition with Hudson Manhattan Rye Whiskey. Many of us drink too much of this, and you don't hear us complaining about the cold.



The Pajama Warming Pouch
Getting into bed when it's chilly can be miserable. You strip off your nice warm clothes, put on frigid PJ's, and climb into a cold bed. Luckily, The Pajama Warming Pouch can help with at least half that problem. It's a satin lined bag that will heat your PJ's to 118f in just ten minutes. Win.