Killjoys' first season comes to a close with Escape Velocity, it's a packed episode that wraps up most of the first season's storylines while launching everyone into what promises to be an interesting followup. Either it's showrunners are really confident that they'll get a second season, or they've just left us on a really annoying end note.
The episode opens with a bunch of masked men dressed in as Monks marching into the Bazaar and opening fire. It's why Alvis was arrested at the end of last week's epsiode. Our Killjoy team thinks that he's been set up, and they talk about their next steps after their heist. Dutch asks John to get Carleen looking at the weird computer thing that they stole, and they need to figure out what mess they've gotten themselves into. While they're talking, Alvis comes on the town's PA system, confessing to his crimes, as the Company puts Westerly into curfew. They have to save Alvis . Trouble is coming.
Dutch goes into Hills to see what happened: he tells them that one of the monks was killed, but before he died, he told investigators that Alvis put him up to it. Dutch convinces him to say goodbye to Alvis. She gives him a necklace that the monks asked her to give to him, and tells her that he confessed because they threatened to kill the rest of the monks. He tells her to forget about him, and asked him to look into something. When Arkyn was terraformed, it went wrong, and as a precaution, bunkers were constructed on Westerly just in case something terrible happened. He asks her to get access codes so that his friends can escape. He's got a contact and wants her to go to him.
G/O Media may get a commission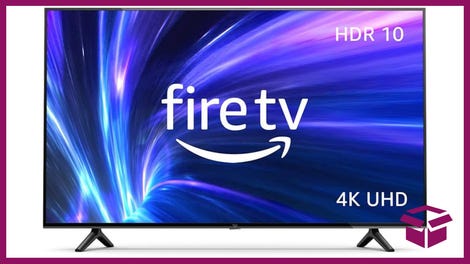 42% Off
Amazon Fire TV 50" 4K Smart TV
At the Leith Bazaar, John and D'av go to Bellus and tell her that Level 6 is real, and they ask her for more details. She tells them that it's always been rumored, but that it's just that, a rumor. Some agents go missing every year or get killed, but she's heard that some of them are forced into Level 6, where they're connected to things like gene splicing and whatnot.
They return, John chats with Carleen, who's working on the computer. He asks her to be careful - the stuff she's working on is scary, and Klyhen might be after her. She gets to work, and when she turns around, he's standing there, and cuts her throat before threatening her, asking where the liquid went.
John, D'av and Dutch go to Alvis's contact, The Rat King, underground, dressed as monks. They find an entire underground world of people who aren't supposed to be on planet, hiding from the Company. They meet the king, and tell him that they'd like to trade - he tells them to prove their faith. John recounts a blessing, and the man agrees to hand over the codes. He has something else, too: the IDs of the monks who carried out the massacre - he confirms that they were impostors, and that Alvis was framed.
Returning to the surface, they learn that the Nine are holding a vote to see whether or not 7th generation Westerlands can actually immigrate to Leith. Westerley is on the verge of rebellion. Delle Sayeh calls in her debt to Dutch and summons her to Qresh. Before they leave, Pawder catches up with them and asks John to find her mother to give her a message. D'av stays behind to help Alvis, and promises Dutch that he'll be waiting for her when she returns.
Dutch and John head up to Qresh, and Sayeh tells her that she'd like her to act as security during the vote - they've received death threats. John finds Pawder's mother, and tries to pass along her message, only to be told that she doesn't have a daughter.
Back on Westerley, D'av gives Hills the passes from the fake monks, and tells him that Alvis was set up. Hills tells him that he's just following orders from above, even if there are riots in the streets. He goes back to the streets and catches sight of Khlyen in his quarters, who's found the liquid.
John gets an automated call from Carleen, and sees camera footage of Khlyen murdering her, right as D'av calls up to tell them that he's potted the man. Dutch tells him that she has a bad feeling about the vote. D'av tells her that he's going to follow Khlyen. Dutch tells John that they're leaving, and they begin to take off. As they're leaving, they catch sight of a man carrying the genetic bomb that they captured several episodes ago. They confront the man, and get the gun away from him, only to watch Sayeh set it off, killing a number of people in the ceremonial room - another bloodline wiped out.
She tells John that it's a coup, and that Khlyen asked that Dutch be up on the planet, what with what's about to happen back at home. Dutch, meanwhile, gets into a fight with the man with the gun, who seems to be one of Khlyen's agents: she stabs him through the eye, and he barely flinches before he tells her that he's Level Six. John shows up right before he kills Dutch, and shoots the agent in the head. They then head back home to Westerley, to intercept D'av.
Lucy isn't able to get in touch with D'av. Dutch wonders why there was an assassination in the first place - the RAC doesn't do political stuff. On the way out, they intercept a transmission - the bombers are headed to Oldtown to wipe out the place. They race to the surface and head to the bar, and they tell people to take shelter and head for the tunnels. Pree says goodbye to his bar.
Meanwhile, D'av is after Khlyen, who confronts him before taking him down with a stun stick. Khlyen tells him that he's the reason he's back in Dutch's life as he beats him senseless without breaking a sweat: it was her kill warrant to grab D'av that brought her to his attention. He tells him that she needs him in her life. D'av tells him just to kill him, to which Khlyen tells him that he's got something more productive in mind for him.

Alvis is sitting in his cell, prayer beads spread out around him. His jailer comes in and tells him that he's about to kill him, when Alvis activates the beads: they jump up in the air and bounce around, missing the sitting monk, but killing the guard. Alvis slips out and meets up with Dutch and John. They tell him that they're headed off world with Lucy. Alvis and his people are going underground. Pawder decides to stay behind, saying that they'll need a doctor.
John and Dutch head for the hanger with their own people, where they meet up with Hills. Dutch yells at him, saying that he's set all of these events into process, and realizes that he pulled the alarm to evacuate the civilians. He tells her that he doesn't have the stomach to deal with this, and grants her access to Lucy.
On Lucy, they get ready to leave - John tells her that they need to leave, and D'av would want them to leave - they need to have faith in him. Lucy takes off, and they presumably leave him behind as the bombers fly over the city. Down below, Alvis and his people get into the bunkers, where they'll be safe from the bombs. Up on the streets, people are running around as the bombers take the city apart. The Rat King and his sister look into the sky, while Hills finds one last drink at the bar.
Watching the destruction, Dutch says that Khylen probably has D'av. John gets another automated message from Carleen. It's the data from the computer, and it looks DNA, something to do with Level Six.
Dutch records a message for D'av, telling him that she knows he's out there, and that she'll find him, no matter what it takes. As she talks, we see that D'av is in a facility. There's people screaming in the other room, and next to him is Fancy Lee, who's hooked up to a bunch of tubes, and his eyes are all black. He stumbles outside and finds that he's on Arkyn, the moon that the Company wasn't able to terraform. He's in the Red 17 facility.
Roll credits.
Wooboy. There was a lot there, and overall, this was a pretty interesting finale. A lot of stuff was addressed: the uprising of Westerley's civilians and their relationship with the other moons, for starters. This is a storyline that's been building for a while, and I think if you go over the season again, it'll pop out pretty cleanly and form a nice arc.
It's also abundantly clear that Khylen is up to quite a lot, and that whatever Red 17 and Level 6 are, they're pretty heavily involved in some scary things: genetic engineering and weapons, all with the political power to boss around the Quad's most political families. There's a disconnect between how a mercenary / bounty-hunter group has that type of clout, but there you have it.
Did this work as a season finale? Sort of. It feels like one of those mid-season finales that SyFy used to pull with Stargate a while back: there's clearly quite a bit more story to tell here, and they're not pulling back from it at all. They're either really confident in a second season, or they've left us with a crappy series finale. According to Michelle Lovretetta in an interview with the Hollywood Reporter, the show's creator, they've got quite a bit more planned out, and they're just waiting to hear word. What's also pretty interesting to hear is that they're open to a crossover with SyFy's other space show, Dark Matter. So, we'll see what happens there.
At the end of the run, though? I'm pretty happy. Way back when, I compared Killjoys to Firefly, which begs a little more explanation. Killjoys certainly isn't as good as Firefly was, but it feels very much like the same sort of show: a crew onboard a spaceship, which is something that I've been missing. It reminds me heavily of the types of shows that I watched years ago, like Farscape and Stargate SG-1, shows that also took a season or two to really sink into their stories and become something great. Hopefully, Killjoys will be given the same opportunity to grow, because now that the world has really been established, there's a lot of stories to tell in this world.