It's official guys. Disney has just confirmed that the next Star Wars: Episode VII will be directed by JJ Abrams. Yep, the guy in charge of Star Trek is officially in charge of Star Wars.
Deadly Mississippi Tornado Kills More Than 2 Dozen | Extreme Earth
Abrams, who has done his part in making geeky things cool for the mainstream, will direct Episode VII while Michael Arndt, the guy who wrote Little Miss Sunshine, will write the screenplay. Though Abrams once sorta, kinda backed off from doing Star Wars, he said:
"To be a part of the next chapter of the Star Wars saga, to collaborate with Kathy Kennedy and this remarkable group of people, is an absolute honor. I may be even more grateful to George Lucas now than I was as a kid."
Abrams is pretty much like a distant cousin to the Star Wars universe because he's worked with ILM and Skywalker Sound on all of his films. It's going to be interesting to see how he balances his workload as he has his name attached to multiple projects at the moment (Mission Impossible 5, Cloverfield, and whatever comes after Into Darkness for Star Trek). Also, are we sure there isn't a rule about Star Wars and Star Trek crossing swords like this?
Here's the full press release:
After a bevy of emails and phone calls, the formalities have been wrapped up, and at long last everyone can exhale and properly share the word with an excited Internet. Yes, J.J. Abrams will direct Star Wars: Episode VII, the first of a new series of Star Wars films to come from Lucasfilm under the leadership of Kathleen Kennedy. Abrams will be directing and Academy Award-winning writer Michael Arndt will write the screenplay.

"It's very exciting to have J.J. aboard leading the charge as we set off to make a new Star Wars movie," said Kennedy. "J.J. is the perfect director to helm this. Beyond having such great instincts as a filmmaker, he has an intuitive understanding of this franchise. He understands the essence of the Star Wars experience, and will bring that talent to create an unforgettable motion picture."

George Lucas went on to say "I've consistently been impressed with J.J. as a filmmaker and storyteller. He's an ideal choice to direct the new Star Wars film and the legacy couldn't be in better hands."

"To be a part of the next chapter of the Star Wars saga, to collaborate with Kathy Kennedy and this remarkable group of people, is an absolute honor," J.J. Abrams said. "I may be even more grateful to George Lucas now than I was as a kid."

J.J., his longtime producing partner Bryan Burk, and Bad Robot are on board to produce along with Kathleen Kennedy under the Disney | Lucasfilm banner.

Also consulting on the project are Lawrence Kasdan and Simon Kinberg. Kasdan has a long history with Lucasfilm, as screenwriter on The Empire Strikes Back, Raiders of the Lost Ark and Return of the Jedi. Kinberg was writer on Sherlock Holmes and Mr. and Mrs. Smith.

Abrams and his production company Bad Robot have a proven track record of blockbuster movies that feature complex action, heartfelt drama, iconic heroes and fantastic production values with such credits as Star Trek, Super 8, Mission: Impossible Ghost Protocol, and this year's Star Trek Into Darkness. Abrams has worked with Lucasfilm's preeminent postproduction facilities, Industrial Light & Magic and Skywalker Sound, on all of the feature films he has directed, beginning with Mission: Impossible III. He also created or co-created such acclaimed television series as Felicity, Alias, Lost and Fringe.

Past Star Wars veterans, dating back to the classic trilogy, offered words of praise from their direct experience with Abrams:

Visual Effects Supervisor Dennis Muren, ASC, whose credits include the original Star Wars trilogy as well as landmark films such as E.T. and Jurassic Park, also worked with Abrams on Super 8. "He puts everything he has into his work," said Muren. "He totally immerses himself. He's got such a visual eye, which is so important to the Star Wars films. It seems that a lot of the same things that were in George when he made the first Star Wars films are also in J.J. I think he's going to fit into the other movies perfectly, with the energy that J.J. has. We're kick-starting Star Wars again with dynamite. It will knock people out, including the people who get to work on it. I think it's a great choice."

Ben Burtt, responsible for such iconic Star Wars sounds as Darth Vader's breathing, R2-D2's beeps and the classic lightsaber, has worked with Abrams as sound designer and sound editor on Star Trek and Super 8. "J.J represents the next generation of filmmakers from those that were making Star Wars when I started," said Ben Burtt. "When he was a teen, he was a fan of Star Wars, and a great deal of his love for movies came out of his reaction of that first Star Wars film. You feel that he's already invested so many years in it, and he's going to propel it forward in a new way. In other words, you're having a fan who has grown up and developed tremendous directorial skills finding himself at the steering wheel to take the franchise into the next stage. I feel like I'm there watching history turn over from one era to another."

Matthew Wood, who served as supervising sound editor on Super 8, similarly grew up as a Star Wars fan before working on the films through the prequels. "Working with him, it was so obvious to me that J.J. and I have the same nostalgic love of that era. Now we have someone from that generation who is going to be at the helm of the Star Wars franchise that I've known and worked on, so it's a great circle. Just seeing what he did with Super 8 and capturing those moments, and knowing what was so special about that era, it's going to speak to a new generation of audience as well."
G/O Media may get a commission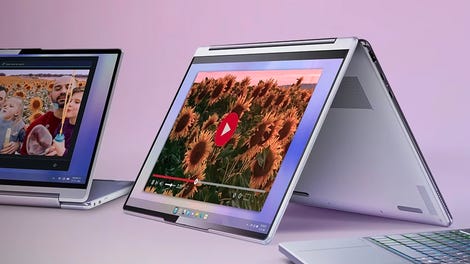 up to 70% off
Lenovo Spring Clearance