This week, television gives you Shark Week, plus the debut of Stan Lee's documentary on real-life mutants. Warehouse 13's Claudia and Eureka's Fargo hook up twice! Superman fights a frost giant! Plus an animal uprising, True Blood and Futurama!
Is AI Moving Too Fast? | Future Tech

Today:
It's Shark Week! The week when instead of television jumping the shark, the shark jumps over television! To celebrate, the Discovery Channel is showing the Shark Attack Survival Guide at 9 PM, followed by Day Of The Shark 3 at 10 PM. And that's definitely our pick of the day.
It's not quite as deadly as a shark, perhaps, but this week's Fish Warrior on the National Geographic Channel focuses on a "Colossal Catfish." That's at 9 PM.
But before either of those things, there's a new Scooby Doo: Mystery Inc., called "Revenge Of The Man Crab," on the Cartoon Network at 7 PM. Did you know that Velma and Shaggy are dating? And Velma is pressuring Shaggy to get more intimate? That's what Wikipedia says, anyway. This clip of the Man Crab in action is pretty great stuff:


That's followed on the Cartoon Network by a new Johnny Test at 7:30 PM and a new Adventure Time With Finn and Jake at 8 PM.
G/O Media may get a commission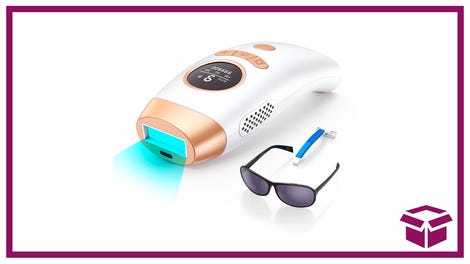 58% Off + Coupon
IPL Hair Removal Device
There's also the season finale of James May's Toy Stories at 10 PM on BBC America — It's called "Model Airplane."
Movies:
FX has I, Robot at 5:30 PM, followed by Ghost Rider at 8 PM. Feel the drama! And if you can stay up late enough, TCM has Demon Seed with Julie Christie at 1 AM tonight. And then at 1:40 AM, Encore has Blindness. And if you stay up really late, Encore has On Her Majesty's Secret Service, among the most way-out of the James Bond films, at 5:30 AM.
Tuesday:
There's a new Warehouse 13 tonight, and it's our pick of the day. Last week's episode, with the contrast between Myka working out her feelings about femininity and Claudia going on a tough first date, has grown on me the more I think about it. And tonight's episode features Eureka's Fargo arriving at the Warehouse to help update the computer system, triggering a nasty computer virus. It's can't miss TV! Check out a clip:

There's also a new Unnatural History on the Cartoon Network at 8 PM.
Shark Week continues on The Discovery Channel, with Sharkbite Summer, Top Five Eaten Alive and Shark Bite Beach, from 7 to 10 PM. Then there's a new episode of postapocalyptic reality TV series The Colony at 10 PM.
Syfy has a marathon of The X-Files all day, from 9 AM to 4 PM.
Movies:
During the daytime, AMC has a pretty hard-to-beat lineup of Star Trek: First Contact, Pitch Black and The Terminator, from 10 AM to 5:30 PM. Also, Cinemax is showing E.T.: The Extra Terrestrial at noon. And then end your day by watching Cleavagefield, the R-rated Cloverfield spoof, at midnight on Cinemax.
Wednesday:
Tonight's pick of the day is the U.S. premiere of a British series called Wonders Of The Solar System, featuring an actual rock star/physicist. From the release:
Hosted by rock star (literally – he was a member of the U.K. band D:Ream whose hit song "Things Can Only Get Better" was chosen as Tony Blair's election theme in 1997) and physicist Dr. Brian Cox the five-part special series takes viewers each week on a global adventure that is part visual feast, part mind trip, part astronomy deep dive. With shaggy rocker good looks and tastes that range from skateboarding to mosh pits, Brian is a captivating guide who explains how the laws of nature have carved spectacular landscapes throughout the solar system.
He skateboards and has shaggy rocker good looks! Here's a clip:

Shark Week continues! There's nonstop sharks from 7 PM to 11 PM on the Discovery Network: Air Jaws: Sharks Of South Africa, Air Jaws II: Even Higher, Ultimate Air Jaws and Best Bites: Shark Week.
There's also a new Monsters Inside Me on Animal Planet at 7 PM. And a new Chasing Mummies on the History Channel at 10 PM.
Syfy has an Early Edition marathon from 9 AM to 4 PM.
Movies:
FX is showing Next, starring Nic Cage, at 8 PM. What do you follow such a masterpiece with? Another showing of Next, at 10 PM. It's like deja vu deja vu.
Thursday:
There can really only be one pick of the day today — the first episode of Stan Lee's Superhumans on the History Channel at 10 PM. Stan Lee no longer asks who wants to be a superhero — now, instead, he's traveling around the world with Daniel Browning Smith, the most flexible person in the world, looking for people who gain extraordinary abilities from genetic "mistakes." In the first episode, they meet "Electro Man." How can it be bad? Oh, right.
That's preceded on the History Channel by a new episode of The Universe at 9 PM, all about Mars.
But there's also a new Futurama, on Comedy Central at 10 PM. Humanity is enslaved by a race of intelligent cats, and the episode focusses on Amy and Nibbler.

Does Shark Week continue? It does! Discovery features Deadly Stripes: Tiger Sharks, Jaws Of The Pacific, River Monsters and Into The Shark Bite, from 7 to 11 PM.
Also, the National Geographic Channel has the season finale of Naked Science at 10 PM.
There's a new episode of the frequently SF-tinged Burn Notice on USA at 9 PM.
Syfy is showing the Twilight Zone all day, from 9 AM to 4 PM.
Movies:
Tonight, Showtime is showing the awesomely weird Zerophilia at 2:45 AM, and Syfy has Mimic 3: Sentinel at 3 AM.
Friday:
Eureka completes the crossover with Warehouse 13, and it's once again our pick of the day. From the blurb:
Claudia Donovan visits Eureka to see if Fargo's promises of wondrous devices are true, but she finds herself in the middle of a mystery suitable for Warehouse 13 when objects begin to appear randomly around the town and GD, and it must be solved before there are deadly consequences.
Here's a sneak peek:

That's followed at 10 PM, by a new Haven.
Movies:
TMC is showing Igor at 11:30 AM, followed by Superhero Movie at 1 PM. TNT is showing Men In Black twice in a row, at 8 PM and 10 PM, and Cinemax is showing Spider-Man and Spider-Man 2 back to back starting at 8 PM. Also at 8 PM? Deep Blue Sea, on BET for some reason. At midnight, FX has The One, and the always reliable Cinemax has Lust At First Bite at 12:45 AM.
Saturday:
There can only be one pick of the day, and that's Frost Giant, on Syfy at 9 PM. Okay, hear me out here. It's an original movie about a giant — made out of ice! And facing this frosty foe is none other than Lois & Clark star Dean Cain. How can it fail? Oh, right. Behold some clips:



Convinced yet?
There's also a new Being Human on BBC America at 9 PM. And a new Celebrity Ghost Stories (wait, what?) on Biography at 9 PM also.
Shark Week! At 9 AM, Discovery asks the all-important question, Sharks: Are They Hunting Us? followed by Shark Attack: Predators at 10 AM. Then, starting at noon, there's How Not To Become Shark Bait, Surviving Sharks, Day Of The Shark, Best Bites: Shark Week, Shark Bite Beach, Shark Attack Survival Guide, Day Of The Shark 3, Into The Shark Bite and Ultimate Air Jaws.
Movies:
Encore has Bicentennial Man starting at 4:30 AM. TNT is showing Lara Croft: The Cradle of Life followed by Starship Troopers, starting at 1 PM. Armageddon is on FX at 3 PM. Diamonds Are Forever and You Only Live Twice are on Encore, starting at 7 PM. Also, Paycheck is on Ion at 9:30 PM.
Sunday:
Tonight's pick of the day must be the Animal Planet's documentary The Uprising, at 8 PM. Just read this amazing blurb:
Animal Planet explores the possibility of an animal uprising with dramatic reenactments, first hand accounts and commentary by animal experts. THE UPRISING features surprising examples and emerging patterns of animal aggression and asks the question - is the animal kingdom out for blood? Narrated by Richard Belzer, THE UPRISING closely examines cases involving fatal interactions between animals and humans. From feral dogs to cougars, coyotes to pythons, monkeys to elephants - creatures big and small are making a deadly impact on human life. Even the traditionally amenable appear to be turning on man like never before.
Dramatic reenactments!
And if that isn't enough animalistic insanity for you, National Geographic Channel has a new special, And Man Created Dog, at 9 PM. It traces the ways in which humans have re-engineered dogs to be our perfect companions, across hundreds of thousands of years.
But the only animalistic stuff you really care about is humans and vampires having animalistic sex, right? In that case, there's a new True Blood on HBO at 9 PM. That's followed at 10 PM by a new episode of the "it's getting good, I promise" show The Gates on ABC. And there's another new Boondocks on Adult Swim at 11:30 PM.
Movies:
It's the double feature you've been waiting for! HBO has The X-Files: I Want To Believe and Space Chimps back to back, starting at 5:15 AM Sunday morning. ABC Family has Freaky Friday at 8 AM, and Comedy Central has The Hot Chick at 10:30 AM, for a weird body-swapping double feature. Syfy is showing a mixed bag of movies, including Boogeyman, The Prestige, Ultraviolet and Underworld, all day. TNT has Deep Impact at 11:30 AM. FX has Terminator 3 at 2 PM, followed by Doomsday.