Josh Brolin hypes up the story of Infinity War. David Ayer talks about Suicide Squad's take on Harley Quinn. Matt Damon ponders his Jason Bourne future. Sony's chairman talks about the meaning behind Spider-Man: Homecoming's title. Plus, new stills from the return of Fear the Walking Dead and a new look at MacGyver. Spoilers Now!
Avengers: Infinity War
Josh Brolin promises a strong story for the film:
I literally can't say one word about it, but it's an incredible story. There's no script yet, but I do know the story inside and out and it's an amazing story. I sat at a table and listened to the story and was completely and utterly blown away. I was told it by all the people involved - it was a large table, I'll put it that way!
---
Spider-Man: Homecoming
Sony Pictures Chairman Tom Rothman explains how the film's title fits into the movie:
It's relevant to the story because it takes place in high school and there is a scene — that I guess I can give a little thing — at a homecoming dance. I've actually seen the dailies of it because we already did the high school shooting of it in the first couple weeks. It's fantastic!

But it's also a homecoming to Marvel. And a homecoming to the cinematic universe that Spider-Man belongs in. So it's a pretty unprecedented deal between two studios, but we're really proud of it. And all I can tell you is, those guys at Marvel — I think the technical term is — they know their shit.
G/O Media may get a commission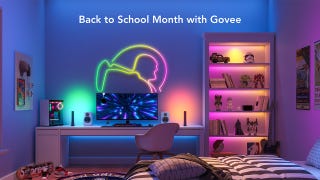 Back to School
Back to School Month with Govee Sale
[IGN]
---
Suicide Squad
Here's the latest TV spot for the film, with a few snifters of new footage.
David Ayer discusses the film's characterization of Harley Quinn:
She represents so many dichotomies in today's world where everything is so sensitive and you can't talk about anything or represent anything and you can't do anything. She doesn't care. She transcends everything. That's what is so fascinating about her. She's so many things, and such a powerful woman who is living life on her own terms and so honestly in the moment. And, a person who has an incredible joy in the moment. It's great to be able to work with that character. Margot is kicking her out of the park. Unbelievable. She's doing her own stunts, too. I've never seen that. Incredible.
[CBR]
Meanwhile, Adewale Akinnuoye-Agbaje says people will grow to love Killer Croc.
I think you are going to love him before you really get to hate him. You're going to love this guy. I think you are going to fall in love with this guy, man. Yeah, you are going to have little furry Croc, little Croc slippers. He's adorable. And he says in the movie, "I'm beautiful." He owns it.
[CBR]
---
Jason Bourne
During an appearance in South Korea to promote Jason Bourne, Matt Damon discussed his future with the franchise, and his inevitable replacement (err, again):
[I'm] definitely going to be replaced some day by some new young Jason Bourne. That happens to everybody and they reboot these things, and that's totally fine. The only control I can exercise is over the ones that I'm part of. I'm the curator of them as long as I'm involved and that's why I battled so hard to make sure that we got the same creative people to get involved in this one.
[/Film]
---
Thor: Ragnarok
Mark Ruffalo has shared a goofy little video from the set to Twitter.
---
Kingsman 2
Here's a picture of Colin Firth on set, courtesy of co-star Pedro Pascal.
---
Sausage Party
Here's another TV spot for the adult animated movie.
---
The Walking Dead
It's already time to fire up the Negan Kill speculation mill again!
As part of an ongoing series speculating just who Negan will bludgeon to death in the seventh season, TV Guide postulates Maggie Green as the most likely candidate—mainly because actor Lauren Cohan has been posting images to social media while the show has been back filming that seemingly indicate that she is nowhere near the Atlanta shooting locations of the show, and that noted Walking Dead spoiler group Spoil the Dead has only sighted Cohan on set once, during filming for the premiere. Which would make sense, if she was there to film her death scene and little else.
They also speculate Cohan could be posting the images in an attempt to distract fans on social media from the real victim, so, as always, take this all as a bit of solid speculation rather than an actual rumor for now.
---
Fear the Walking Dead
New stills from the show's midseason return have been released—find another at the link. [TV Line]
---
MacGyver
Finally, here's a new set video going behind the scenes at the show's return:
---
Additional reporting by Gordon Jackson. Banner art by Jim Cooke.