The latest Star Wars casting rumor will thrill Lost Girl fans. Could Will Smith be in Independence Day 2? There's a new Mad Max photo. Find out what Tyrion's doing in Winds of Winter. See new pictures of Daniel Radcliffe in Horns. Plus Agents of SHIELD, Thor and Outlander. Spoilers ahead!
Top image: X-Men: Days of Future Past.
Star Wars: Episode VII
What did we do before we spent every day dissecting Star Wars casting rumors? Hard to remember. In any case, this time around, the rumor is that Ksenia Solo (Kenzi from Lost Girl) is playing Han Solo's daughter. This makes total sense, since her last name is already Solo, and thus she wouldn't have to change her last name to play this character. That said, I'm in, but only if Trick shows up as well. [Jedi News via Yahoo]
And then there's a slightly more reliable report... apparently actor Liam McIntyre (Spartacus) did an interview at Dragon Con, in which he said he had read for the role of a Jedi in this film. The details are somewhere in the Sept. 6 Rebel Force Radio podcast, but I wasn't able to find it in there. [Rebel Force Radio via Jedi News]
And one final piece of casting news: Showbiz411 reports on a casting call for an unnamed Disney film directed by J.J. Abrams. They're seeking the three following people:
[YOUNG MAN] Early 20s. Handsome, but not necessarily heroic. He is witty and smart. Physically fit.

[MAN] Late 20s. Physically fit, handsome and confident.

[YOUNG WOMAN] Late teens. Physically fit, raw energy, independent and with a great sense of humor.
G/O Media may get a commission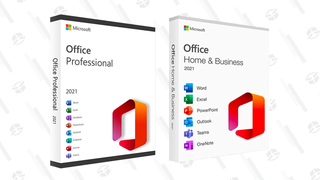 89% off
Microsoft Office Professional 2021 Lifetime License
The earlier casting call that was leaked had seven roles — so have four of them already been cast? Hard to say. [Showbiz411 via Slashfilm]
---
X-Men: Days of Future Past
Jennifer Lawrence tells SciFiNow that she's naked for a lot more of this movie, and this reflects a change in her character's attitude to her mutant identity:
I'm naked... But when I do get to wear clothes, I love the '70s outfits. Some of the Mystique look is a little different, but we're still using the same paint. But she's different in this film too. She was struggling – like a lot of normal humans – with the way she looked, and she was covered up a lot in the first movie, but this time she is Mutant and proud.
[SciFiNow]
---
Mad Max: Fury Road
Here's the first really decent official photograph of Tom Hardy as Mad Max. [AICN]
---
Amazing Spider-Man 2
Dale DeHaan says that going from indie movies to the Spider-Man series wasn't as much of an adjustment as he'd feared: "My assumption was that it would be artistically compromised, but it was actually a great luxury to have four months to prepare and six months to shoot... I left 'Spider-Man' feeling very fulfilled artistically, creatively and personally."
---
Thor: The Dark World
Disney released official descriptions of all the film's major characters, which include some minor spoilers:
THOR (CHRIS HEMSWORTH)


Thor Odinson is the Prince and future King of Asgard, an advanced alien civilization. Once arrogant and impulsive, Thor was banished to Earth by his father, Odin. The experience taught him humility, but put him into conflict with his adopted brother Loki. After saving the Earth from Loki's schemes alongside the Avengers, Thor now faces a new enemy — one that threatens to destroy everything he cares for.

JANE FOSTER (NATALIE PORTMAN)


Jane Foster is an astrophysicist who met Thor when he was exiled to Earth by his father. The two had an intense attraction in the short time they were together, and through Jane, Thor learned the value of humility and the heroic nature of humanity. After being separated since Thor's first visit to Earth, Jane has moved on with her life… but now finds herself pulled into Thor's world once again by an ancient evil.

LOKI (TOM HIDDLESTON)


Loki Laufeyson is the adopted brother of Thor, raised alongside him from birth by Odin. Upon learning his true lineage, Loki sought to conquer both Asgard and Earth but was stopped by Thor and the Avengers. Still arrogant and unrepentant, Loki sits in the dungeons of Asgard, with only his mother Frigga seeing any hope for him. But when an ancient enemy seeks the destruction of Asgard, Loki finds his loyalties tested.

DR. ERIK SELVIG (STELLAN SKARSGÅRD)


Dr. Erik Selvig is a fellow astrophysicist and mentor to Jane Foster and was with her when Thor arrived on Earth. Selvig's mind was possessed by Loki, who forced him to aid in his invasion of Earth. Loki's mind control was lifted after Thor and the Avengers defeated him, but Selvig's mental state has deteriorated due to Loki's influence. Selvig now finds himself at the center of cosmic events once again as two worlds collide.

HEIMDALL (IDRIS ELBA)


Heimdall is the sentinel of Asgard with the ability to see and hear events galaxies away. He stands at his post in Asgard's Observatory, watching over the cosmos and protecting Asgard from any and all intruders. As one of Odin's most trusted warriors, Heimdall is beyond reproach… but now Asgard faces an enemy that even Heimdall cannot see.

MALEKITH (CHRISTOPHER ECCLESTON)


Malekith is the cruel leader of the Dark Elves, a race of beings said to be older than the universe itself. Born into darkness, Malekith led his people in a war against the Asgardians, but they were thought to have been destroyed thousands of years ago. Malekith survived, however, and now seeks to transform our universe, plunging it back into eternal darkness.

ALGRIM/KURSE (ADEWALE AKINNUOYE-AGBAJE)


Algrim/Kurse is Malekith's trusted and loyal lieutenant. He fought at Malekith's side during the initial war with Asgard thousands of years ago, but now their time is running out. Algrim is called upon to make the ultimate sacrifice and is transformed into the monstrous Kurse. With a new and terrifying power, Kurse seeks to destroy Thor and Asgard in preparation for Malekith's arrival.

DARCY LEWIS (KAT DENNINGS)


Darcy Lewis is Jane Foster's intern, a quirky but quick-thinking poli-sci major who found herself in the middle of Earth's first contact with an alien civilization. And while she doesn't always understand everything that's happening around her, she doesn't hesitate to speak up about it. When Jane discovers an ancient cosmological event affecting the Earth, it's Darcy who has to pick up the slack when Jane disappears.

VOLSTAGG (RAY STEVENSON)


Volstagg makes up one third of the Warriors Three, Asgard's greatest and most loyal warriors. Large and imposing, Volstagg's skill with an axe is matched only by his appetite. With Fandral and Hogun, Volstagg has fought alongside Thor on many adventures across the cosmos. And while the stories of his exploits are often elaborated, he's a hero to the Asgardian people.

FANDRAL (ZACHARY LEVI)


Fandral is Asgard's finest swordsman, which serves him well as a member of the Warriors Three. Alongside Volstagg and Hogun, Fandral fights to protect Asgard from any and all foes. When not using his sword to smite his enemies, Fandral uses his charm and good looks to woo the ladies.

HOGUN (TADANOBU ASANO)


Hogun, often known as Hogun The Grim, is the deadliest of the Warriors Three. With both spiked mace and blade, Hogun defends Asgard as well as his own home, the peaceful planet of Vanaheim. Though he rarely speaks, his loyalty to Thor is legendary… as is his disapproval of Fandral and Volstagg's frivolous natures.

SIF (JAIMIE ALEXANDER)


Sif is one of Asgard's most formidable warriors. Skilled and fearless, she's a trusted and faithful ally to Thor. During his banishment, Sif saw Loki's treachery and risked all to return Thor to Asgard…but on Earth, she saw that she had lost Thor's heart to another—the human Jane Foster. Now at the end of a long campaign to free the Nine Realms from strife, Sif seeks to rekindle her relationship with Thor.

FRIGGA (RENE RUSSO)


Frigga is wife of Odin and mother of Thor and Loki. The glue that holds the royal family together, Frigga knew that there was more to Odin's banishment of Thor than met the eye, just as she now sees that there's more within the villainous Loki than the others see. But when Asgard is attacked, Frigga will fight to defend those that she loves at any cost.

ODIN (ANTHONY HOPKINS)


Odin is King of Asgard, Protector of the Nine Realms, and father to Thor and Loki. Odin's long reign is coming to an end, however, and while disappointed with Thor's arrogance at first, he now sees that Thor is ready for the throne. But when an ancient enemy returns, Odin questions Thor's allegiances… for if Thor is to be king, he must choose duty over his heart's desires.
Check out some new posters, including a character poster of Malekith. [First Showing]
Chris Hemsworth says he's not getting tired of playing Thor (and this quote could be read as him saying that Thor is a two-dimensional character, but I think the comma is misplaced and he's actually saying he wants to keep Thor from "just being a two-dimensional character):
To be part of something that people love — whether it's Thor on his own or Thor in The Avengers — is a chance you get once in your career, if at all. I'm not going to complain about it, certainly, but it's a challenge each time you do it because you don't want to fall into just Thor, just being a two-dimensional character.
[Hollywood Reporter via Comic Book Resources]
---
Independence Day 2
According to Roland Emmerich, Will Smith is having meetings with him about the film: "I sometimes say no, Will Smith will not be in it because he didn't want to do it at first. Now we have a meeting planned, we want to talk about it again. Anything can happen." [Coming Soon]
---
Riddick
Writer/director David Twohy talks about where Riddick is as a character in this film:
Hm, I hadn't thought that he was chattier in this than in other movies. But you never want to explain him so much, or have him talk so much that he demystifies himself, because there's a mystique and that has to be respected about the character. There is an evolution of his character in that he begins the movie as a guy who thinks that maybe he's lost a step – he's gotten maybe a little slow, a little fat, and crime of all crimes, maybe he got civilized. And even though he's been dumped on this world and left for dead, he's viewing it suddenly as not a dumping ground, but a proving ground – to see if he can get back to the man he was. So that's an interesting little evolution – can I get the edge back? So that's why he says, now it's just me and this no-name world now. We're zeroing the clock, and I'll see if I can not only survive, but reign supreme. So that sort of gets us all back up to speed, and if you want to think about it in a broader sense, it could be a parallel for the franchise as well. Because some people say, hey, you guys got big and bloated in the second movie, and now it's time to get back to basics.
---
Selfless
Natalie Martinez (Under the Dome) will costar in this Tarsem Singh-directed film as the wife of Ryan Reynolds' character. Ben Kingsley and Matthew Goode also co-star. The film is described as " the tale of a terminally ill billionaire who undergoes an experimental procedure to transfer his consciousness into the body of a younger man, only to be hunted by the killers who murdered his host." It's written by Alex and David Pastor, writers of the underrated plague movie Carriers. [Deadline]
---
Poltergeist
Jared Harris has joined the film as "Carrigan, a larger than life TV personality who left the world of academia behind to become the star host of basic cable TV show Haunted House Cleaners." Nicholas Braun is also in talks to join the film. [Slashfilm]
---
Horns
Here are some more pictures of Daniel Radcliffe sporting the titular horns. [Film School Rejects]
---
Game of Thrones
This is actually a book spoiler for The Winds of Winter — but I guess it'll turn into something on the TV show down the line. George R.R. Martin read a Tyrion chapter at a convention, and there's a rough summary online. In a nutshell, Tyrion, Penny and Jorah Mormont are fighting with the Second Sons on the side of the Yunkish, against Meereen. But the dragons Rhaegal and Viseron are burninating all of the Yunkish troops, and then the Ironborn show up and fight on Meereen's side as well. So Tyrion and Jorah agree that they're fighting on the losing side, and they convince the Second Sons' commander, Brown Ben Plumm, to switch sides. They were "Queen's Men" all along, they decide. [A Forum of Ice and Fire via The Mary Sue]
---
Agents of SHIELD
Here's a new one-minute teaser for the pilot, airing Sept. 24. (And incidentally, I'm getting tired of typing all the periods — I'll probably start treating SHIELD the same way I treat UNIT, and the TARDIS. Just FYI.)
Some more clues about which Marvel universe characters might be turning up on this show, via a feature in the Wall Street Journal:
The show will introduce new characters, many of them products of weird science, but the writers also enjoy access to Marvel's back catalog, which they research using a private database created for the show. Future episodes will incorporate characters from new Marvel movies, such as the "Thor" sequel due in November, most likely. However, certain characters are off limits to the "S.H.I..E.L.D." team, either because their star power is reserved for the big screen, or because producers don't want to muddy the Marvel universe. "We can never use the word 'mutant,'" says Ms. Tancharoen, referring to the X-Men, a separate team of Marvel heroes.
[WSJ ]
---
Once Upon a Time
Here's a new teaser.
---
Arrow
Stephen Amell tweeted a photo of what appears to be a flashback scene involving Deathstroke. [Examiner]
Here's a season 2 promo. [TV Equals]
Episode seven will be titled "State v. Queen". [SpoilerTV]
---
The Walking Dead
Here's a new Michonne promo photo. [SpoilerTV]
---
American Horror Story
Here's another mysterious teaser. [Shock Til You Drop]
---
Beauty and the Beast
Annie Ilonzeh (Arrow) has been cast in the guest role of Beth, "a high school friend of Catherine (Kristin Kreuk) who is a strong-willed, dynamic journalist….When Beth is an eyewitness to a frightening assault, she causes big problems for Cat." Meanwhile, Blair Redford is guest starring as Zach "a long-lost Army buddy of Vincent's (Jay Ryan) who turns out to be a terrifying opponent and a dangerous threat." [TV Guide]
---
The Originals
Phoebe Tonkin talks about what's next for Hayley. [KSiteTV]
---
The Vampire Diaries
Kat Graham talks about how Bonnie's death will affect her love life. [SpoilerTV]
---
Sleepy Hollow
Episode nine will be called "Feast and Famine". [SpoilerTV]
---
Haven
Here are a bunch of episode titles for the upcoming fourth season.
13th Sep 2013 S04E01 – Fallout

20th Sep 2013 S04E02 - Survivors

27th Sep 2013 S04E03 - Bad Blood

4th Oct 2013 S04E04 - Lost and Found

11th Oct 2013 S04E05 - Countdown

18th Oct 2013 S04E06 - The New Girl

25th Oct 2013 S04E07 - Lay Me Down

TBA S04E10 - The Trouble with Troubles
According to a tweet from Emily Rose, Kenneth Mitchell is guest starring this season. [SpoilerTV]
---
Once Upon a Time Wonderland
Genre MVP Keith David will be the voice of the Cheshire Cat. [TVLine]
And in episode five, this show is casting the role of the King, who is described as "50, handsome, clever, and has a British accent." Also being cast: the role of "Mother/Woman." She's described as "50, was once beautiful, has a daughter who disappoints her, and has a British accent." [SpoilerTV]
---
Outlander
Scottish actor Graham McTavish (The Hobbit: An Unexpected Journey, 24) has joined the cast as Dougal MacKenzie, an uncle of the lead character Jamie Frasier played by Sam Heughan. Gary Lewis (Billy Elliot, Gangs Of New York) has also joined the cast as another uncle, Colum MacKenzie. [SpoilerTV]
Additional reporting by Amanda Yesilbas.